Honda Days Italy 2000
If you ever want to have a good time in Italy, make sure you hook up with the Valkyrie club in Italy. You will be hard pressed to meet a finer bunch of folks. The fellowship was great, and the Italians really know how to trick out a bike. I have alot more I will say about this trip when I get back from Daytona, but here are some of the pics that I took while I was there. Check out the Italy Chapter of the VRCC HERE.
Here are some of the Valks that were there.
It's the same everywhere you go, people love to look at the Valkyrie.

They had a fastest time race when we were there. Guess what bike won.
And the winner is.

This is one of the most customized Valkyries I have seen.
These are my Bro's, They made me feel like a King. Sil and the Sheriff have really put together a great club here in Italy, but there were members there from Austria too. They are all great people, and like most of us, they love to eat.

These are the guys who took care of this poor lost Valkyrie Rider.
Here are some more really cool bikes. They have some parts that I have never seen before.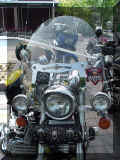 The highlight for me was riding a Valkyrie Interstate in Italy with all my Bro's. What a great time that was. A big thanks to Sil an the local Honda dealer that cut me loose with that bike. I was going down the road thinking
"It's good to be me :-)"

I have more pics somewhere, but I'll have to look for them. Here are some of the Shadows and other custom bikes that they had there.
Like I said, this was a life time experience. I made new friends that will always be in my thoughts. Thanks to all the Valkyrie Brothers and Sisters that this such a special time for me.