LOOP FOR LIFE CHARITY RIDE - AUGUST 19, 2000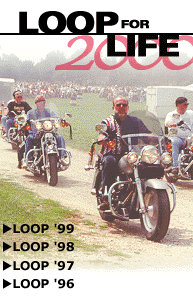 Dear Friend,
The Loop for Life is a charity fund raiser benefiting the Methodist Childrens Hospital and their special programs.
In our third year for '98, we accomplished our goal to raise $40,000 which fully funded the out-door playground next to the Children's Pavilion at the Hospital. This year the Children's needs have increased and our challenge has been raised to $60,000 for two special programs that will benefit the children greatly.
Corporate sponsors have several options to make a donation and have their company associated with the Loop. Please review the different sponsorship levels and choose the one that suits your needs, level of generosity and your intrest for Company exposure.
The Loop for Life is fully supported by the Marion County Sheriff's Department who provide the secort around I-465, Indianapolis. Riders return to the fairgrounds for an afternoon of fun, prizes, food, and entertainment.
Thank you for you consideration. Please make your check payable to Methodist Childrens Hospital and send it no later then July 1, 2000. Please provide suitable camera-ready artwork for T-shirt and other print materials. Your donation is tax deducible as permitted by law.
With radio, television coverage and word of mouth we are preparing for 1500 riders this year to meet our goal. With your sponsorship, you will help us realize this goal and make a difference in a childs life.
Sincerely.
Harvey S. Mover
Chairman & Founder
Methodists Childrens Hospital
Children's Hospital Serves children one day to 18 years old
Over 4,000 average annual admissinos
Over 50 Pediatric Care Beds:
33 Bed Pediatric Unit
13 Bed Pediatric Rehabilitation Unit
11 Bed Pediatric Critical Care Unit
Life Line air ambulance service
Level One Tramua Center
Pediatric Designation
Most state-of-the-art facility in Indiana
About Methodist Health Group - How are the Speciality Programs at Methodist unique?
| | |
| --- | --- |
| Cancer Center... | Treats more newly diagnosed cases than any other Indiana hospital |
| Emergency Medicine & Trauma... | The only training program in Indiana |
| Heart & Lung Institute... | One of the Midwest's most innovative cardiovascular centers |
| High Risk Maternal/Newborn Program... | One of only two full-service programs in Indiana |
| Neurosurgery Service... | One of the largerst neurosurgery programs in the U.S |
| Regional Trauma Center... | One of only 2 Indiana certified Level 1 trauma centers |
How is Methodist contributing to new kowledge, innovation and expertise?
Over 250 active clinical research projects, an investment of over $3.3 million annually
Provided Indiana's first major medical advances in:

Heart transplants
Pancreas transplants
Neonatal Intensive Care Unit
Heart-lung transplants
Computerized tomography
Artifical hearts
Magnetic resonance imaging
Cardiac assist devices
Mammography
Kidney stone lithotripsy
Laparoscopy
Kidney dialysis
Infertility procedures
Implantable insulin pump
Private, inpatient hospice services
Voice restoration devices for laryngectomees
Specialized teaching programs include almost 200 medical/health professionals
Trained more than 1/3 of all primary care physicians in Central Indiana
>>To Register for this event - Click here
.