KSVRCC
Chapter Of The

Your Kansas VRCC State representative is "Valkhound" Dana in Eldorado.
Email Dana by removing the nospam below:
dmccoy4332 nospam @aol.com
The Kansas VRCC Webmaster is "Raymond" from Andover.
w0qnx nospam @sbcglobal.net
Please send a message to both if you are interested
in Valkyrie riding in Kansas.
---
I have set up a Yahoo Group mail list for communication between Kansas Valkyrie riders.
To subscribe send a blank email to
ksvrcc-subscribe@yahoogroups.com
Yahoo will send you an email to follow. I encourage you to join the mailing list if you are interested in information in the Kansas area. This is a closed list free of spam or email address stealers.
---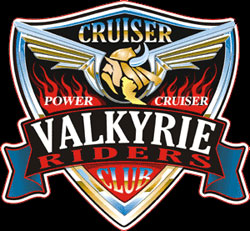 http://www.valkyrieriders.com/ks/isgrows.gif
http://www.valkyrieriders.com/ks/rayrides.MOV
http://www.valkyrieriders.com/ks/blackpearlondyno.MOV
http://www.valkyrieriders.com/ks/MyDad.mpeg
http://www.valkyrieriders.com/ks/pearl.htm
http://www.valkyrieriders.com/ks/winghotscott.wmv
http://www.valkyrieriders.com/ks/noshine.gif