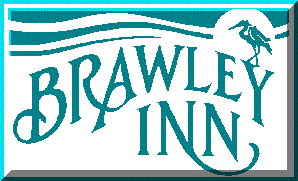 The Brawley Inn
575 Main Street
Brawley, CA 92227
(760) 344-1199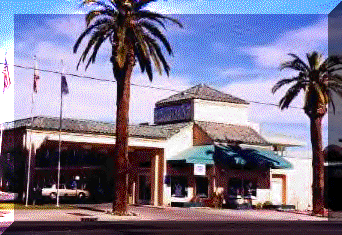 Want to know a little bit about Brawley, Go Here:
Services Provided by the Brawley Inn
Our guests can expect the following services:

Free Local Airport Shuttle (we fly out our dead and wounded)


Guest Laundry (that's in addition to your shower)


Meeting Facility (you know, the parking lot)


24hr. front desk and security (we've seen these guys, so mind your Ps & Qs)


Electronic door locks (stun guns for the adventurous)


Pool & Spa (that's in addition to your shower)


Micro misting system (see "Pool & Spa")


Fitness Center (after the feed at Mike & Fukiko's, You're Gonna Need This)


25" remote TV with 42 channels & Free HBO (Yea! Cartoons!)


Fax & photo copying (body parts excluded)

Each and every morning our guests enjoy a spectacular complimentary continental breakfast.
Which includes:
three cereals

three fresh fruits

assorted danishes

croissants

bagels

cream cheese

assorted jellys

juices and

delicious coffee
Guests also have the option of staying in one of our suites. Our suites are spacious and include a refrigerator, microwave, whirlpool, and a video cassette player.
A shopping center is located within walking distance. Services include a Rite Aid Drug Store, video rental store, 24 hour donut shop, restaurant, barbershop, dry cleaner, supermarket, and a bank with an ATM machine.
Directions:
The Brawley Inn is located South of the Salton Sea. From Interstate 10 take the Highway 86 exit in Coachella and turn south towards Brawley. Highway 111 is an alternative route but Highway 86 is an easier drive. The Brawley Inn is on Main Street on the west end of town. If you drive Highway 86, the Brawley Inn will be on the left as you enter town.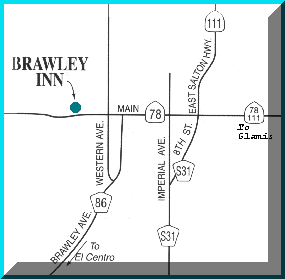 From Interstate 8 take the Imperial Avene exit in El Centro and continue north. Imperial Avenue turns into Highway 86 on the north end of El Centro, continue driving on Highway 86 for 15 miles. Once in Brawley turn left onto Main Street and the Brawley Inn will be on the right.
Hint: There are 3 State Highways that intersect in Brawley. Highway 78, Highway 86, and Highway 111 all intersect on Brawley's Main Street. The tip here is to remember Main Street. The State Highway numbers can get confusing to the first time traveler.