April 17-18, 2004
Ride with the
SoCal Valkyrie Riders Cruiser Club
on a





Death Valley Raid
Our dragons will be riding high
and taking no prisoners on our raid of
Death Valley!



After pilfering, scavenging the land
and taking over
Scotty's Castle
we'll find a cave for the night to scratch in.
(of course, with hot & cold running streams & queen sized rocks for everyone)
In Beatty Nevada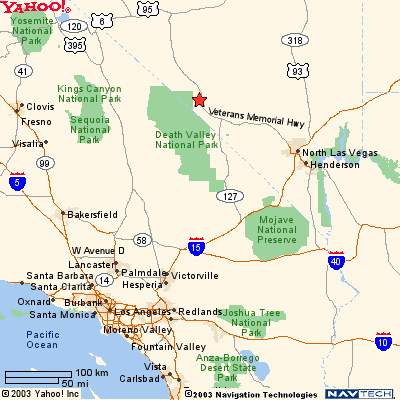 Click map for Interactive map
the raid continues with
entertainment, food, and celebration!
At dawn we'll return to our land, and forever hear the
fractured fairy tales of Yore, when the
VRCC dragons laid waist to Death Valley in the
Death Valley Raid
Keep an eye on the Temperature in Death Valley
If things start to heat up we'll come up with an alternative
Sign Me Up!
Haven't been on a group ride in awhile (or before), then check this out and become more
comfortable riding with your Bros. Been doin this for years and think you have it down
pat, then check this out to make sure we got it right....

We depend on You!

Riding in a Group
Southern California Event Calendar