A Day Ride
to
Kernville
Details
We'll meet where the 138 (to Wrightwood/Silverwood) and the
15 Freeway cross at the



station just past San Bernardino at 0800.
Kickstands up at 8:30
From there we'll stop at the
Arco Station, in Mojave, on highway 14 for gas
and anybody that wants to meet there.
We'll then meander our way to Kernville for a
fantastic lunch and entertainment!
Where Joe will convert his Interstate into
a carnival merry-go-round ride in 1 hour.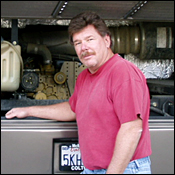 Q:
As the leader of the Southern California Chapter of the Valkyrie Riders Cruising Club, can you tell us a bit about the group and what you do?
A:
I have had several hobbies over the years, but the one that takes most of my time currently is motorcycles. I ride a big street bike, a Honda Valkyrie Interstate, with a 1532cc six-cylinder flat engine design, that is probably one of the fastest cruiser-style motorcycles ever built. My wife and I ride in excess of 12,000 miles a year for pleasure, and are very active in a club, the Valkyrie Riders Cruiser Club, which is an international club of over 23,000 members. I am currently the Southern California chapter's "fearless leader," or chapter head.
We'll return home up the GrapeVine down the interstate 5 slab
For a day Ride Ride!
Sign Me Up!