May 18,19,20 2012
Friday, Saturday and Sunday.
.
So.Cal. Valks Ride To Utah.
Ride report
and
Pictures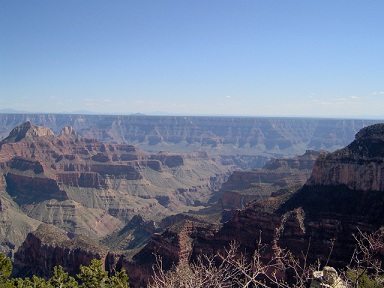 What a wonderful weekend. 8 bikes with 9 bodies made it a great ride. 5 bikes met up at the Chevron station for the ride to North Las Vegas. The weather was calm and cool until we got to the Nevada border. Then is got a little breezy, but nothing we couldn't handle. Flybynite rode up with us but had to turn around after visiting his uncle. Nice to have him along even if it was for just the half day. After a nice lunch it was time to make our way to Hurricane Ut. It was warm but not bad. We got in around 3:30 to check in at the Rodeway Inn. For dinner we all went across the street to Subway and brought them back to the rooms and hung out in front. Beautiful evening to spend outside and enjoy our sandwich and each others company.
Saturday morning we all met for breakfast at JB's diner. Kickstands were up around 8:45 for the 147 mile ride to the North Rim. Once again it was a beautiful clear and cool morning for our ride into Zion. It was quite busy so we had to wait a bit to get in. We were hoping to have the fellows who had passes to get the others in but it was not to be. Some of the advantages to being 62 I guess. It was a bit of slow going though the park for a while but once we got out it was smooth going. All the different landscapes made for a great ride. From beautiful rocks to desert to forest made for a nice ride. We stopped at Jacob Lake for gas and a break before entering the North Rim. The road to the Rim was freshly paved and was great. We arrived at the Rim and spent about an hour and a half checking out the sites and views. Wasn't as crowded as the last time we were there so it was real nice. Then it's back to Hurricane but not before we stopped again at Jacob Lake for lunch. It was real nice although all I had was a milkshake. I was still full from breakfast. I had John lead us out of the park and back because I wanted to follow the group for a change. We made it back with plenty of light left and it was cooling off nicely. We all made our own plans for dinner as some of us were not as hungry as others. The rest of the evening we spent talking and having a good time in front of our rooms.
Sunday we all left at different times with Elmer being the first and Wayne, MIke, Morgan and myself leaving around 9:00am. I stayed at Wayne's house on Sunday and had a nice visit with Teri and Wayne. The ride home on Monday was much cooler with no traffic.
Thanks to all who took pictures and Michael K for the cool slide show.
Back to the Utah Ride Details.
Southern California Event Calendar