It was a great two weeks of riding in some of the most beautiful country and roads in America.
We started out on Tuesday June 2nd for our first stop in Hurricane Utah. It was just 4 of us. John G, Wayne, Rick and myself. It was a warm ride with it getting to around 92 degrees by the time we hit Hurricane at 3:00pm or so. Wayne had to work as little late on Tuesday so he didn't arrive until 9 pm. We sat and relaxed and decided where and when we should leave the next day.
Wednesday morning kickstands up at 8 am for our first full day of traveling. We made our way thru Zion and Brice canyon. Rick had never been to Brice so it was good to show him around a bit. Weather couldn't have been better and I don't think it ever got to 80 degrees. Our stop for that night was Price Utah. I believe it was around 359 miles for that leg.
Thursday morning once again it was kickstands up around 8am. We had decided to make our way around the Flaming Gorge National Recreation area. Fantastic roads and country. The reservoir is huge and goes on for miles. So many different colors of greens and browns of the mountains. We stopped at a Harley dealership in Vernal Utah. I can't really say it was a Harley dealership as he sold pretty much everything else as well, (Honda, Yamaha, Kawasaki) and much more. Rick new the owner Randy Beers and we had a nice visit with him. With our break done we once again hit the road to Pinedale Utah. I think it was a 329 mile day.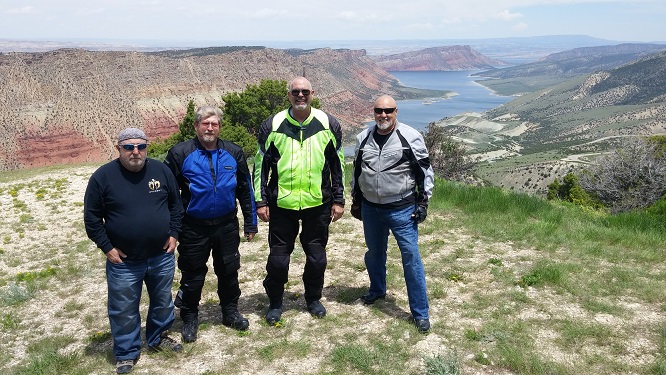 Friday 8am we are off to the Grand Teton and Yellowstone parks. Leaving Pinedale was the coldest morning we had at 40 degrees. We had to stop along the way and put on some warmer gear. It was overcast much of the day but it as beautiful all the same. Traffic thru Jackson wasn't to bad being a week day and the tourist season hasn't really started yet. Luckily we all park passes or it would have cost us a fortune to get in all the parks.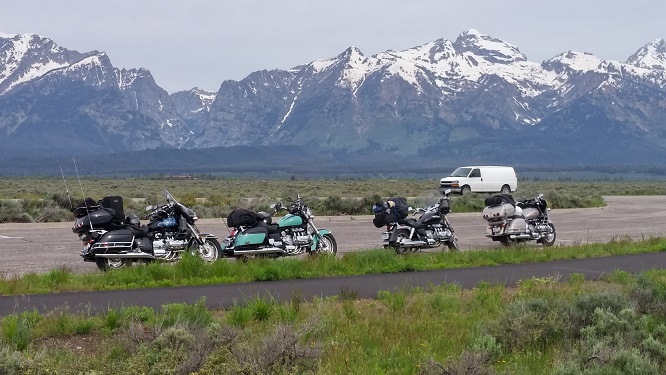 Here is a shot of the bikes at the Grand Teton.
After the photo shoot it was time to head into Yellowstone National Park. What a wonderful place to see and ride. We took the southern route around Yellowstone Lake. Man that's a big lake for sure. Seem like it went forever. We only saw on bison and a Coyote along the way. I was hoping to see more wild life. We stopped for a break and gas for a bit and continued our ride thru. At the east exit we stopped for a photo shot and met and nice full time RV couple. They were nice enough to take out picture by the sign.