It was a long ride so the report will be long as well.
Day 1 for me was Thursday the 20th.
Michael K from AZ and Gary from NM met me at my house around 11:30am. We left at 12:30 for the ride to Castaic to stay the night. I gave them the tour of our local mountains along Angeles Crest Hwy and Big Tujunga rd. It was quite nice in the upper elevations at around 80 degrees. With a couple of stops along the way we got into Castaic around 5:30. We checked into the Roadway Inn and had a meal at Mike's diner across the street. Oneway Wayne from Vegas rode out to meet up with us at the motel. He got in around 8:00pm and we had a great visit until we turned in around 11:00pm.
Day 2, the ride to Red Bluff.
Up at 7:00am for the continental breakfast and kickstands up at 8:00. We gassed up and hit the 5 fwy north to the 99. We did make a slight detour to my friend Terry's house for a break and drink. We stayed about an hour and a half and made our way back to the 99 hwy. It was a long and warm ride with a few stops for gas and bite to eat along the way. Wayne left us in Sacramento to go visit an old friend. It was great to see him and ride with him if only for a short time. It was around 6:30 when we arrived in Red Bluff. There was already a few Valks there already. Dick and Margo invited us all over to his house for a nice BBQ. He grilled some steaks, potatoes, beans and veggies for us all and boy was it good eaten. Then it was back to the rooms for some much needed rest.
Day 3, The ride to Lassen and beyond.
It was up a 7:00am again for breakfast and kickstands up at 8:30. 11 bikes showed up for the days ride and the weather was perfect.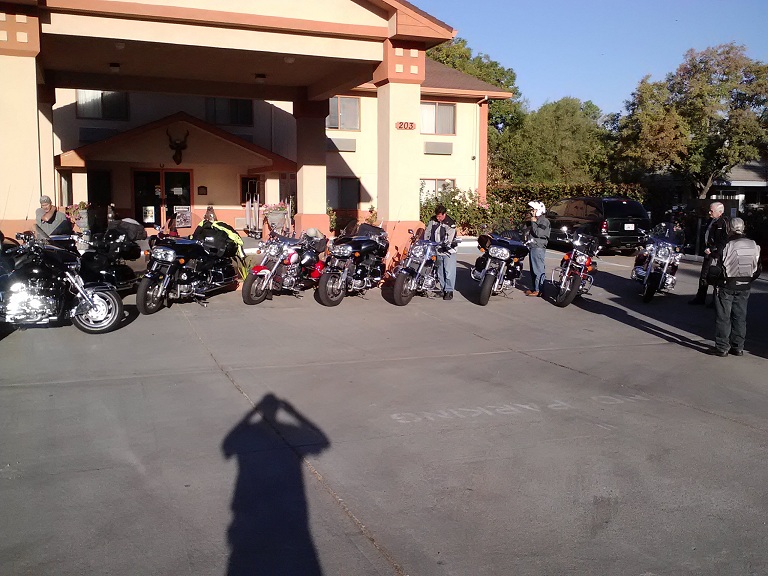 Dick quests on this ride were as follows, BigMac, John G, Glenn, Chuck, Larry,Kelly, Brad, Michael K, Gary, Bill. I wish I could remember where they all came from but alas I can't. Dick and Margo then lead the way to Lassen National Park. He took us down some fantastic roads. One stop was by these wall made just from the local rock of the area. He called them Chinese wall as they were first built by Chinese emigrants years ago. The current owner of the land is now building more of these walls around his property and will be more than 30 miles worth by the time he is done. He uses the walls for cattle corrals.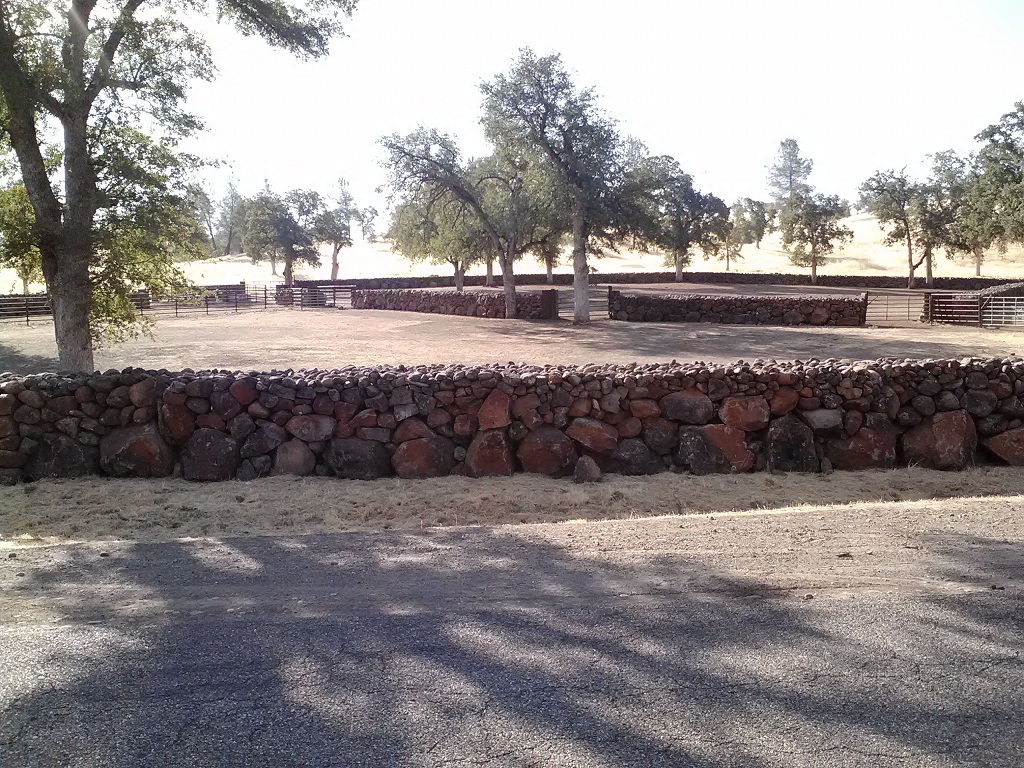 Once again it was off to Lassen and to check out the park. The park was beautiful and we all split up a bit to take our time and see the sites. We did have a problem with one of our riders though. Chuck somehow got his signals crossed and went ahead of us thinking he needed to catch up with us. He didn't know that we were all checking out the sites and we're to meet at the end of the park road. He never did find us and if you read this Chuck I'm sorry for the confusion. We were running late so the lunch location was closed that we had planned on. No big deal though we just made our way along and had lunch at a Black Bear restaurant in Mount Shasta. After lunch is was more riding on beautiful roads to Klamath Falls OR. We stopped at this great view of Mt Shasta and took some pics.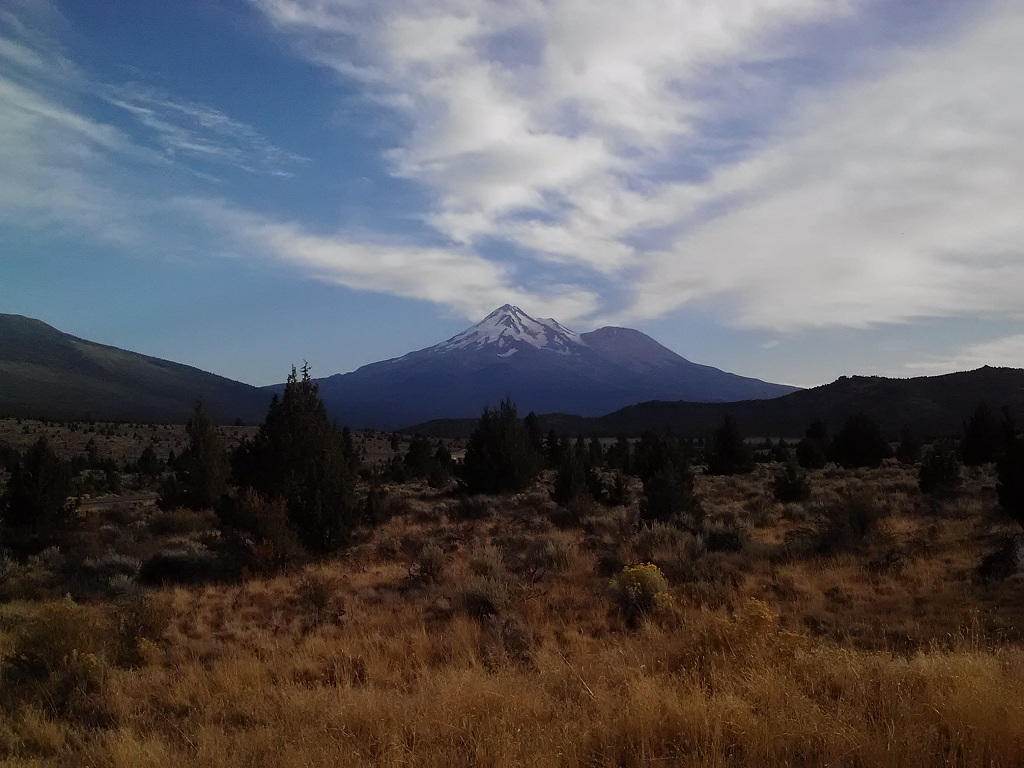 We got in around 6:00 and got our rooms. Since we all had a late lunch some of us just when and got some nice cobbler at the local diner. 4 of the riders only had a day and made there way home. I'm glad they could join us if only for the day. It was great to meet and ride with them.
Day 4 Crater Lake
Once again it was an early start after the continental breakfast. George from Klamath Falls joined us for this days ride. He lead us for a nice tour out of the city and up around Klamath Lake.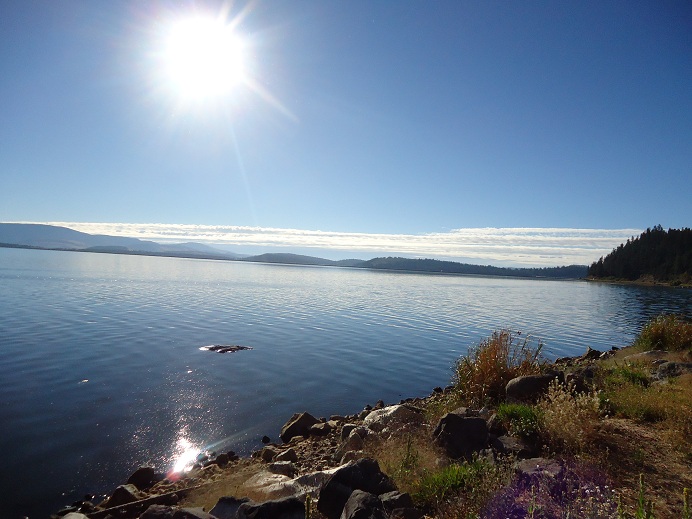 Dick took the lead from here for the ride up to Crater Lake. Once again great weather and roads and we were all having a good time. As we were about to enter the park I noticed my kickstand was not going up all the way. I held the bike while John G took a look for me. I seems the bolt that holds the kickstand spring was bent and about to fall off. I remember that I hit a rock along Angeles Crest Hwy and I think that's what caused the damage. So in the parking lot of the information center and with the help of John and the others I replaced the bolt with a spare I had with me. It didn't take to long so if was off again to Crater Lake. Once we arrived we decided to have lunch at the Crater Lake Village. The lunch was very nice and of course the view was spectacular.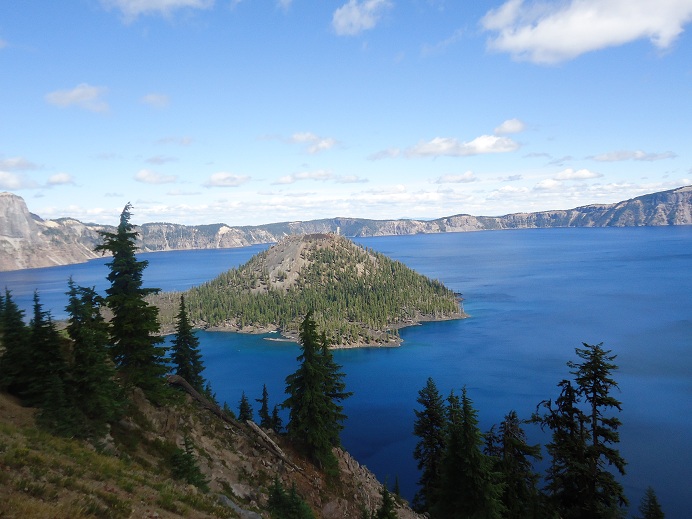 After lunch we all decided to take our time and ride around the lake. So we broke off into smaller groups and agreed to meet back at the village at a pre determined time. Once we done with our ride around the lake it was now time to head to Ashland OR. Brad told us about some great places to stop along the Rouge River so we did!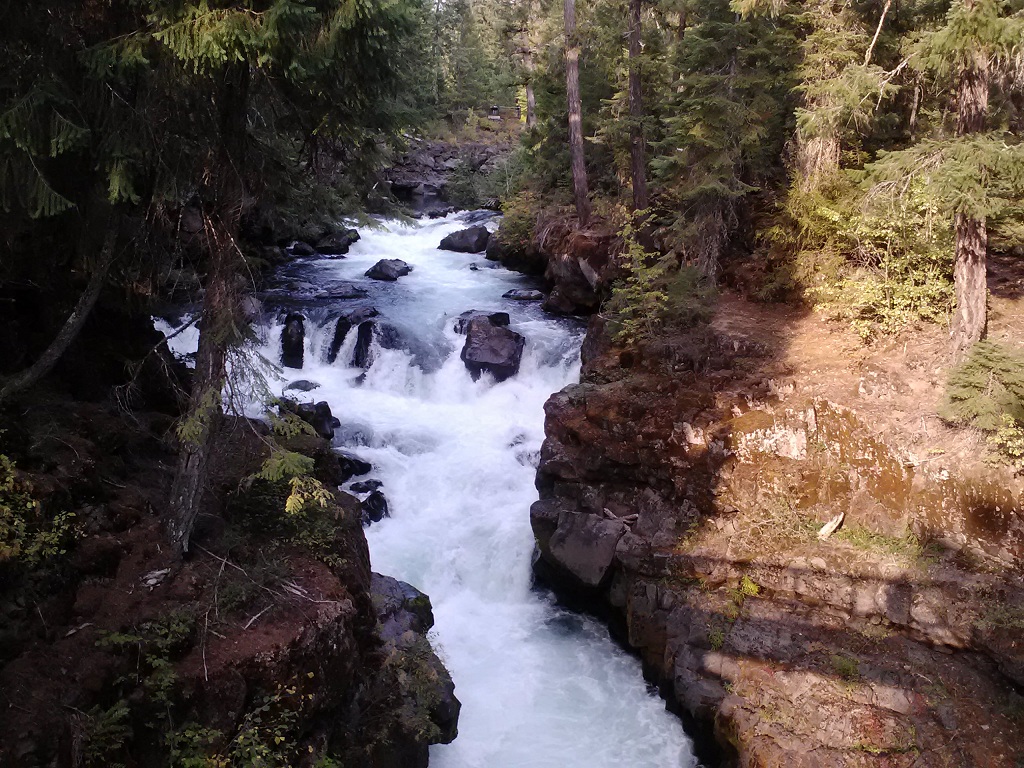 Got into Ashland just about dark and checked into the rooms. George had left us as we got out of the park and it was nice to meet and ride with him as well.
Day 5 Ashland back to Red Bluff.
Dick got us going around 8:00am for the final loop back to Red Bluff. This loop was a beautiful ride thru the Trinity Alps. We traveled thru some great canyon and mountain roads and followed some great rivers. Weaverville was out stop for lunch and Dick had this nice sandwich shop in mind for us. Great food and the gal was really funny. As you can see Michael K was enjoying himself.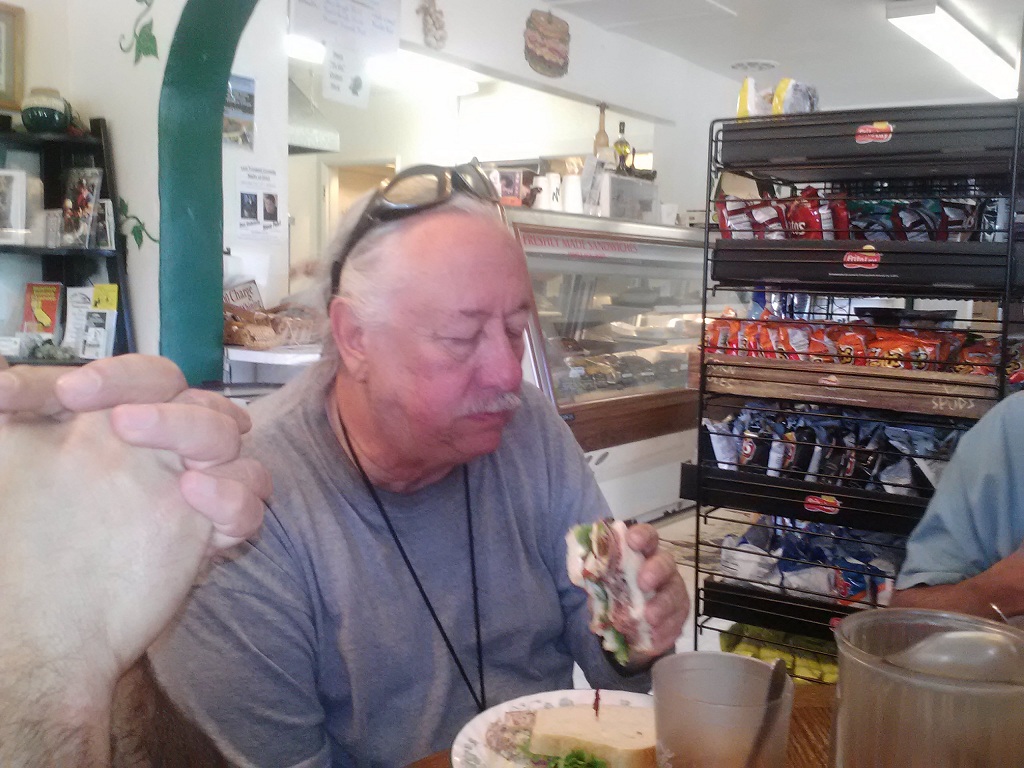 Dick took us on hwy 36 back into Red Bluff. This is one of the most fun roads I've ever been on. And it has a lot of hills and curves.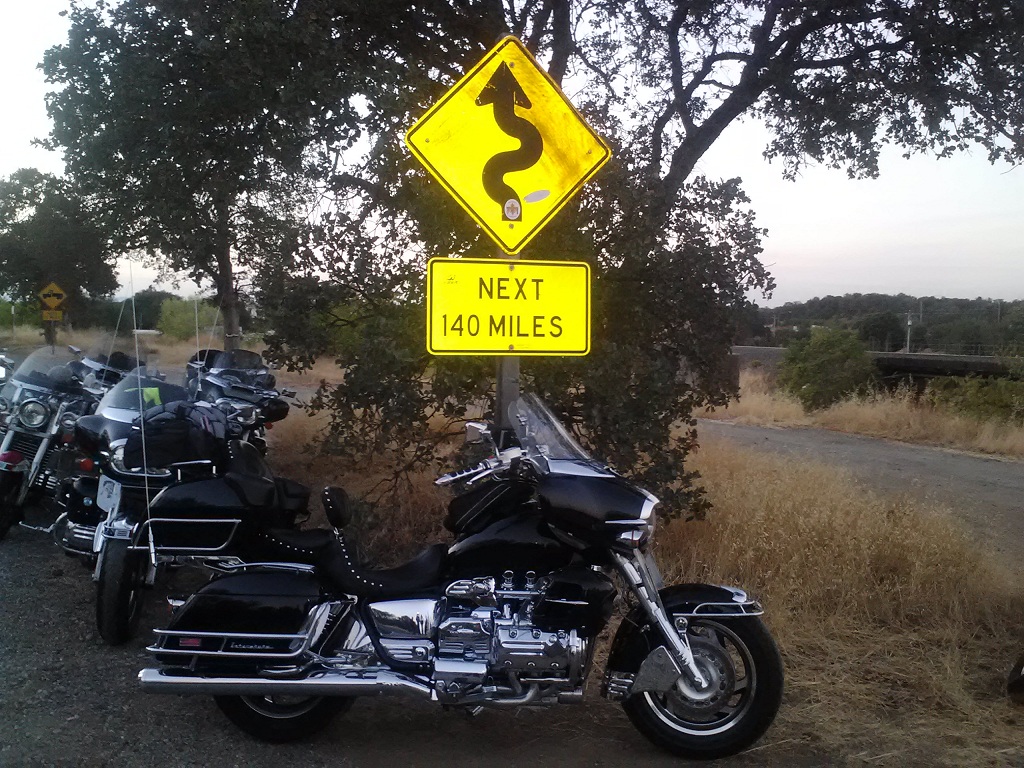 We got back to Red Bluff and while some went to their rooms, Brad, Gary and I went over to Dicks out to due a petcock repair on Brads bike. I use the opportunity to do my laundry and take a shower.
Anyway that's about it or at least all I can remember at this time. Special thanks to Dick and Margo for their hospitality and all the hard work they put into making this ride happen. This is one of the top 5 I have been on with the VRCC and will remember always.
I'll post more pictures as they come in.
Dave