SoCal Valkyrie Riders Cruiser Club
Death Valley Raid 2

Battle Plans
We'll be staying at
The Stagecoach Hotel & Casino
900 E. Highway 95
Beatty, NV 89003
(775) 553-2419

(make your reservations now)


1 room = $38.50

Use the code "VRCC" for the
special rate

We'll meet where the 138 (to Wrightwood/Silverwood) and the
15 Freeway cross at the




(click map for interactive map)
station just past San Bernardino at
8:30am!
Kickstands up at 9:00am
From there we'll fly into Trona, then
into Death Valley with a couple of rest stops along the way.
In Trona we'll gas up and pick up a few
members that'll be joining us on the raid!
We'll make our way to
Scotty's Castle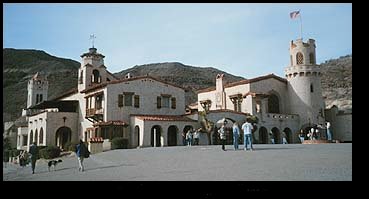 for a tour through the castle.
The group that went last time can take a different tour this time.
(the tour will cost $8.00/ person)
After we're done taking over the Castle we'll head to the
StageCoach Hotel & Casino
for some gambling, food, and celebration!
on the
Death Valley Raid 2
Sign Me Up!
Back to Death Valley Raid 2 Home Page
Southern California Event Calendar