Rock Bottom
Restaurant & Brewery
One Pine Ave, Long Beach
Pine Ave & Ocean
562-308-2255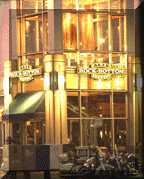 1pm - 3pm
We'll be eating outside on the patio, overlooking (if you look real hard) the ocean. The patio tables seat 4, and it's one check per table, so choose your dining mates well. RockBottom is within a stone's throw of the convention center (if you can throw real hard). We'll leave our bikes parked at the convention center and walk up to the restaurant. It's only a short (slightly uphill) 2.5 mile stroll. You'll be fine. Click Here for the walking map.
As the leading restaurant brewery group, Rock Bottom prides itself on a tradition of fresh, handcrafted beers and a diverse menu that are the cornerstones of the 23 Rock Bottoms across the country.
Each Rock Bottom Brewery offers a warm, inviting and casual dining experience with outstanding, attentive service. The moderately priced menu features a medley of items ranging from Smoked Salmon and Fish and Chips to Brown Ale Chicken and Tenderloin with Roasted Garlic. A variety of interesting salads, White Cheddar Mashed Potatoes and the restaurantīs own handmade Beer Bread and Asiago Cheese Dip complement any meal. The fresh, handcrafted beers brewed on premise, range in style from Pale, Brown and Red to Stouts and Specialty Ales, each crafted from the Brewmasterīs original recipes.