Ride Report for our trip to InZane 2017.
By Dave McKennan (aka BigMac)
Joining me on this years ride was John Gera, Donna Gera, George Ostin (aka Nautibrit) and Steve Frank (aka Grumpygus)
Day 1
June 20th I start my ride to Las Vegas to meet up with John, Donna, George and Steve. I left my home at 6:45 am in Moreno Valley Ca. for the 250 mile ride to Vegas. I stopped in Barstow for a quick break and then on to Baker. By the time I got to Baker it was already 101 degress.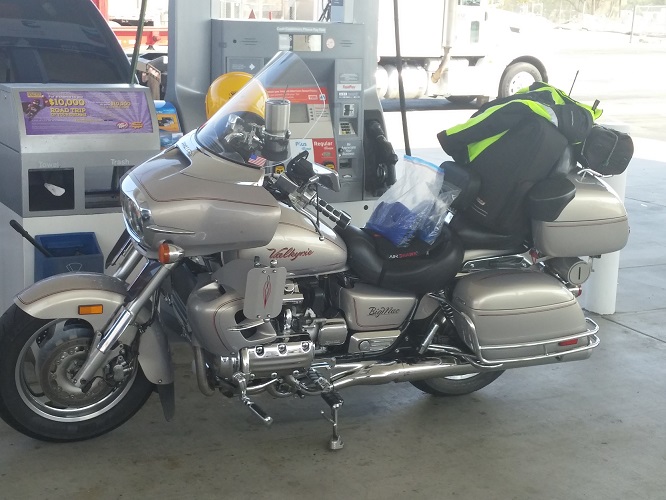 Time for the Cool Vest and neck cooler.
I arrived in Vegas at 10:30am and it was already 107 degrees. Fortunately Arizona Charlie's had a room available and let me check in early. George, Steve arrived around 2:00 or so and it was around 118 degrees. John and Donna arrived just about an hour sooner. Although John was on his bike, Donna was in her car. We all got cooled down and met up with Wayne and Sam to have dinner at the buffet. It was nice because on Tuesdays it was 2 for 1 night. After dinner is was time to hit the sack and get ready for the next days ride.
Day 2
On this day we decided to leave early and try to beat some of the heat. So it was kickstands up at 7:00am for the ride to Nephi Utah. It was around 335 miles or so and we decided to just supper slab it all the way to get out of the heat as soon as possible.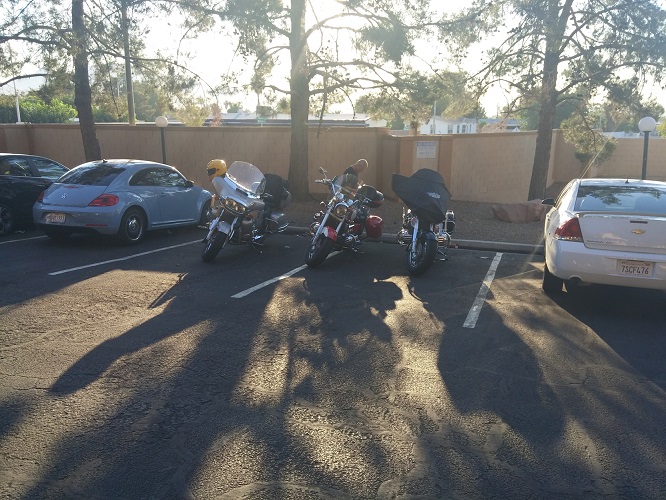 Here's George getting his bike loaded up to hit the slab.
One of our stops along the way to Nephi George has a loose foot peg to take care of. Steve tried to ride the Sinclair dinosaur.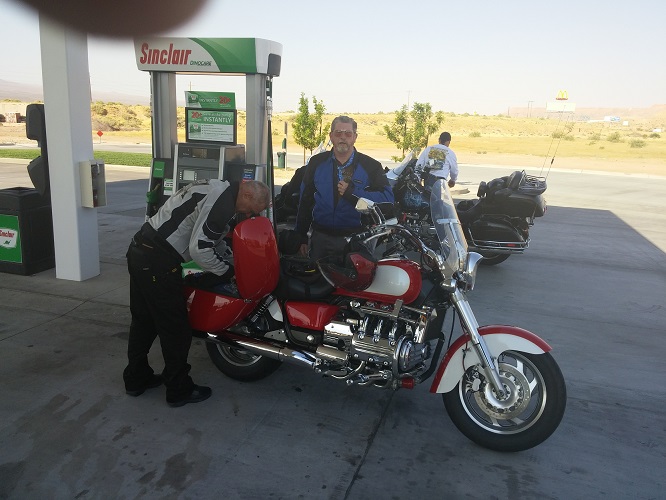 George with John giving moral support!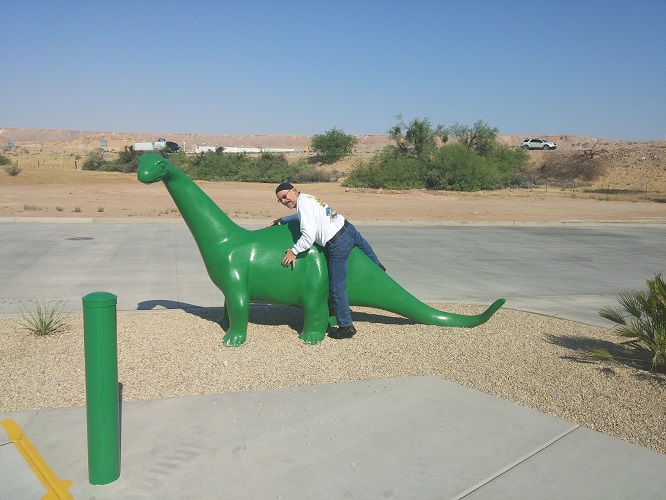 Steve trying to ride the Sinclair Dinosour!
Our next stop was Cedar City Utah for a breakfast.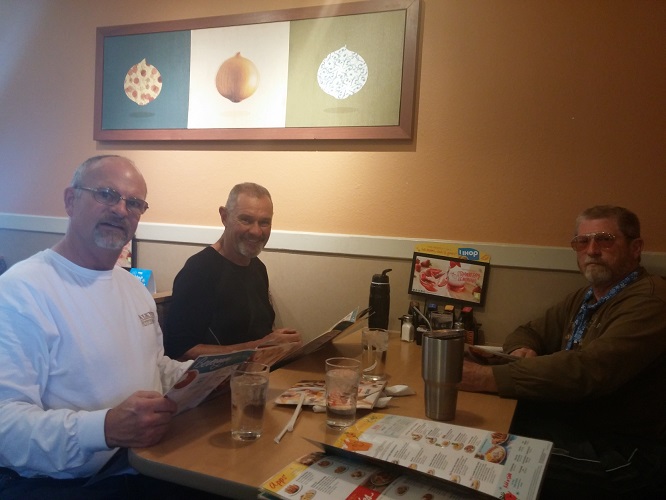 Found a IHop to eat at and we where all very hungry! There was a big fire to the east of us that was burning a long time. Made the air a bit hazy for a while. It was nice to get up and see some green on the hills though.
We got into Nephi Utah around 4:00pm. It was in the 90s but we never did put on our cool vest. For dinner we ate at this neat place that has trains running above your head.
Day3
Day 3 our ride was to Lava Hot Springs. George new of this great ride thru the Nebo Loop. It goes from Nephi to Payson Utah and I would say it is one of the most beautiful roads I've been on. There was no other cars on this road which was great. Barely one lane wide in some parts with sharp switch backs. George nearly got up close and personal with an elk that crossed in front of him.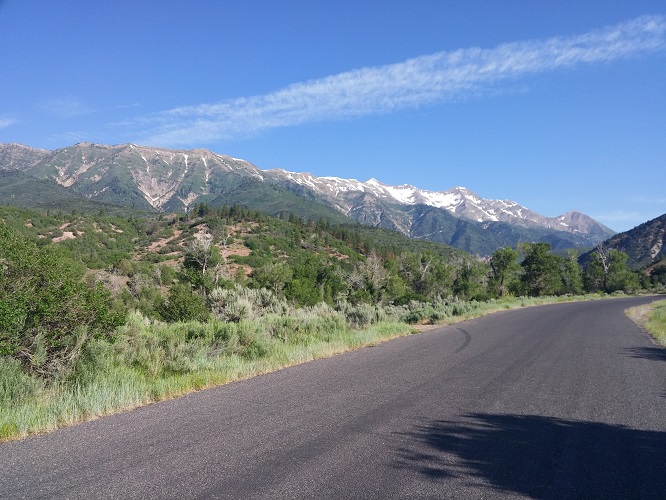 It was nice to see some snow on the peaks.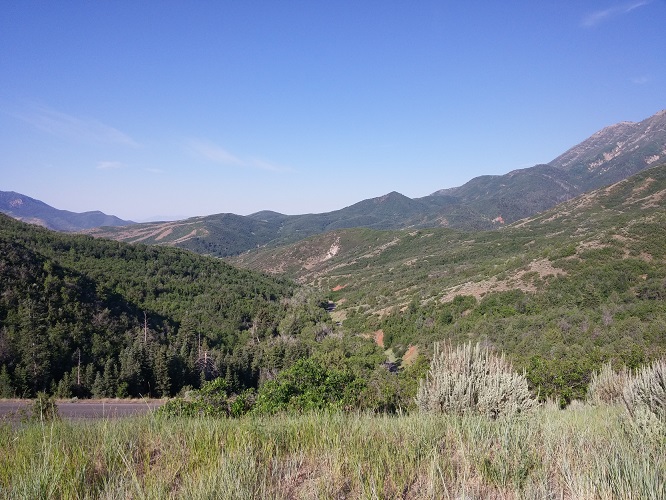 Beautiful Views to be seen!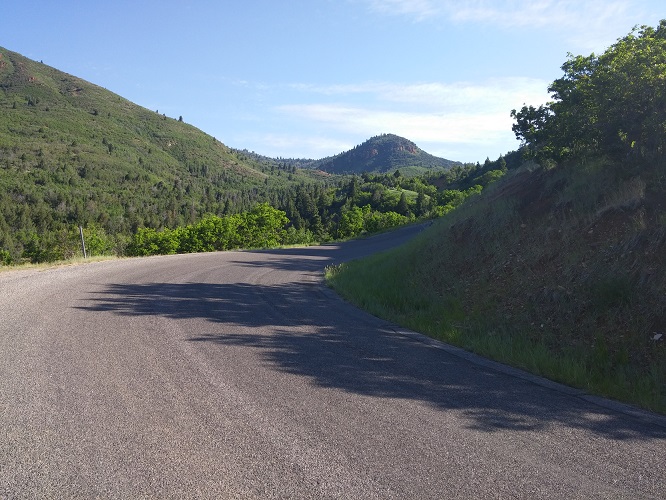 Great road for motorcycles!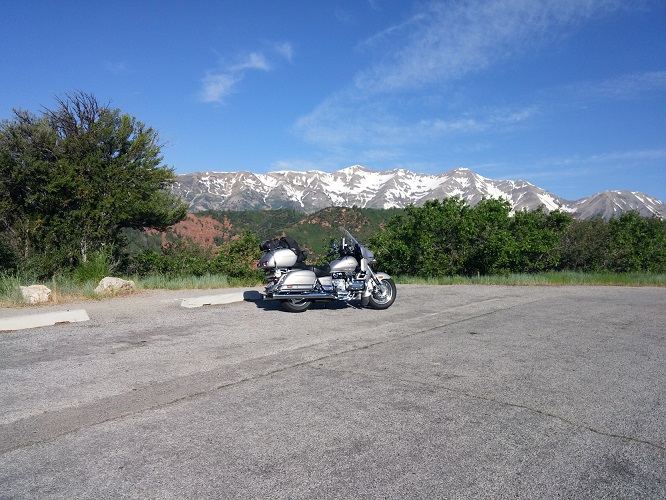 The money shot!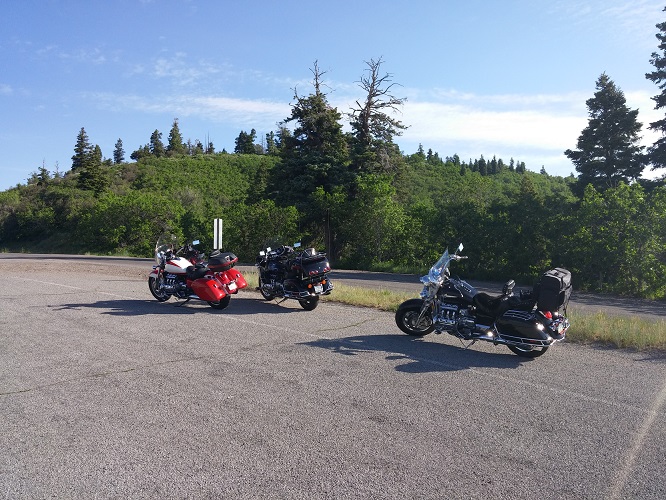 Couldn't of asked for a better day.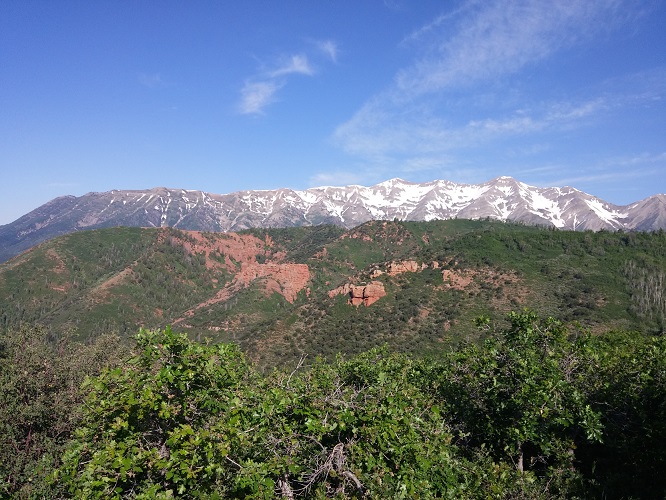 Man the views!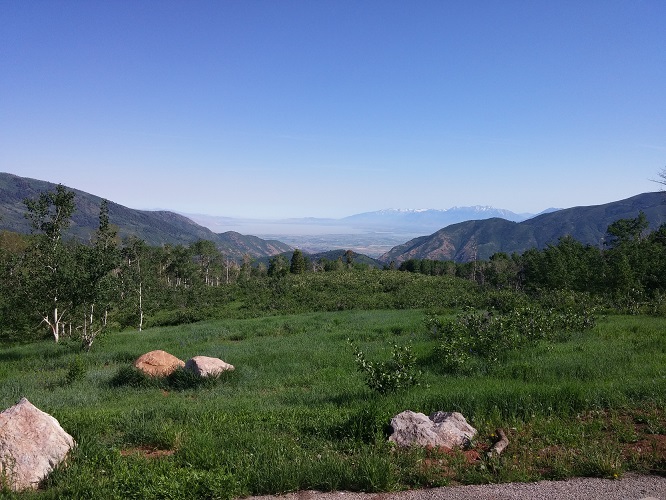 You could see almost for ever!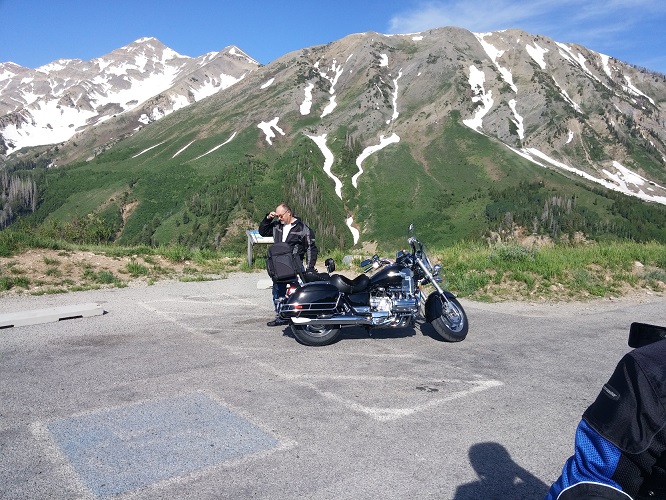 Steve taking it in.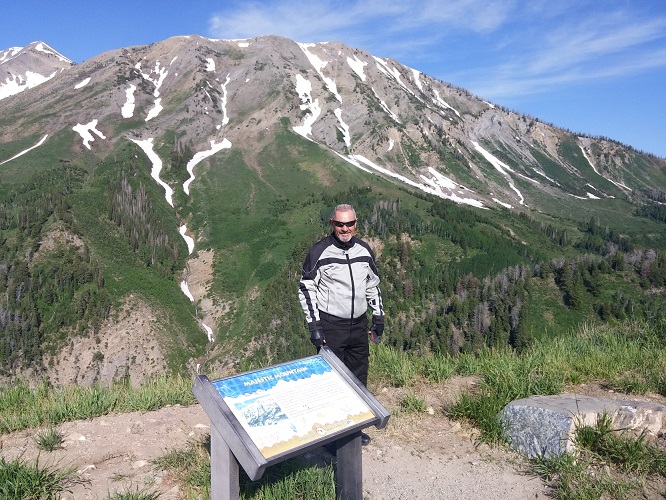 George enjoying the views.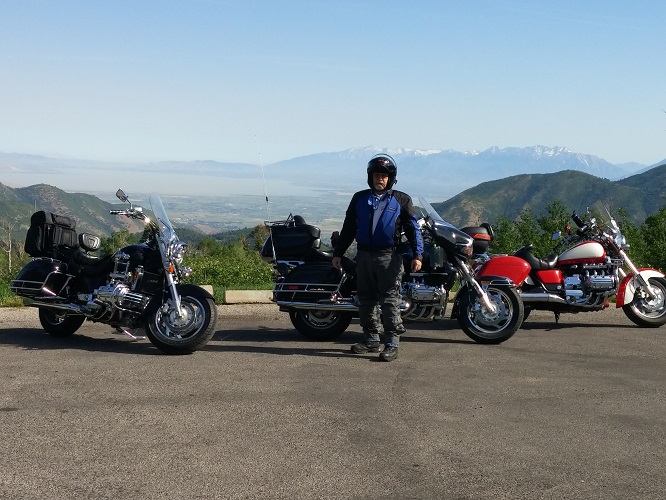 Many places to stop along the way. John loving every minute!
Although this road was only around 35 miles long it was wonderful. Unfortunately once we got into Payson we had to hit the Super Slab to Ogden and then we could take a scenic route Bear Lake and Lava Hot Springs.
Next stop was at Bear Lake. Beautiful place to fish and boat.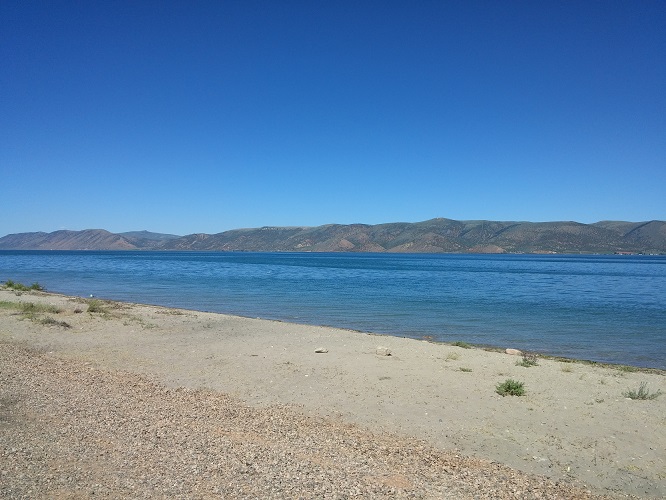 It was very large.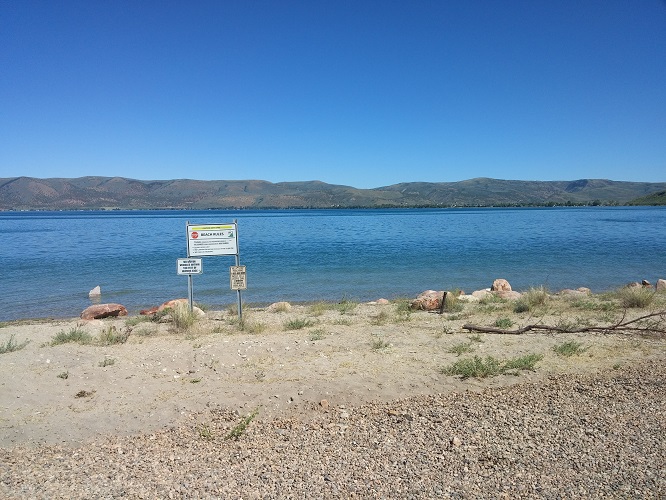 We went thru the town of Soda Springs which was along the Oregon trail.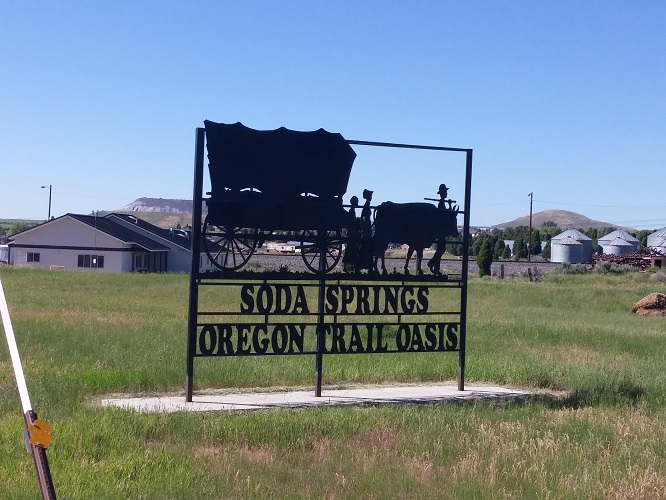 Cool place for sure!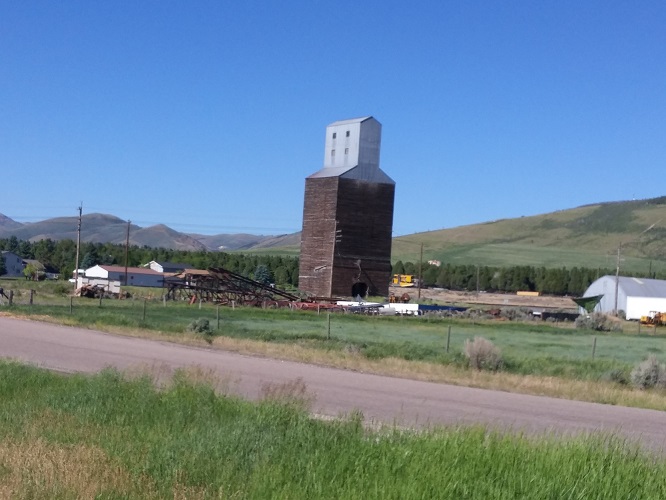 It was just about 30 miles or so to our room in Lava Hot Springs. We stayed in this 100 plus year old hotel called Riverside Hot Springs Inn. George took advantage of the hot springs as well.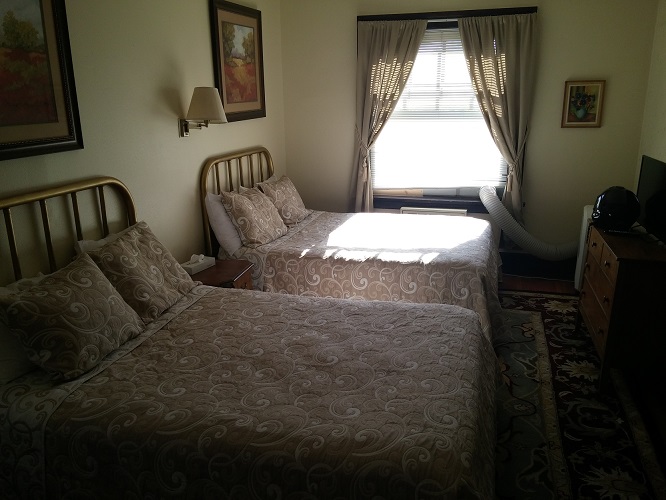 Rooms where very comfortable.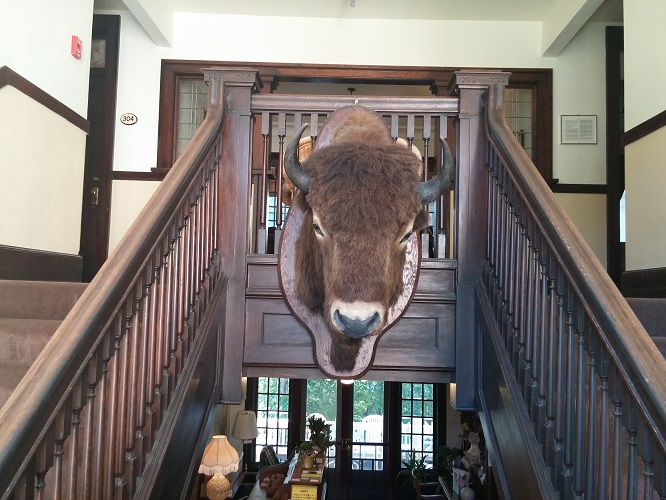 This is what you saw climbing the stairs.
We found a nice place for dinner and called it a day.
Day 4
Day 4 we're going to the Grand Tetons and beyond. This is where John and Donna split up with us for the day. So it was just the 3 of us to make our way to Bozeman Montana.
George let me lead us to the Grand Tetons via hwy 34. This is a great motorcycle road and we where lucky with hardly any other cars on the road.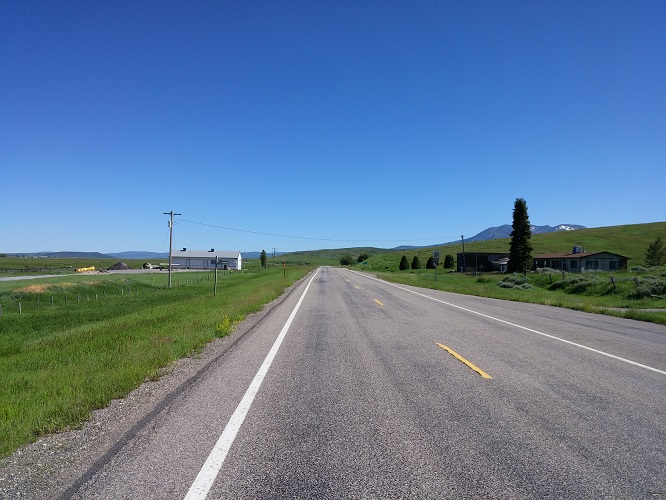 Just beautiful open road thru Gray Valley.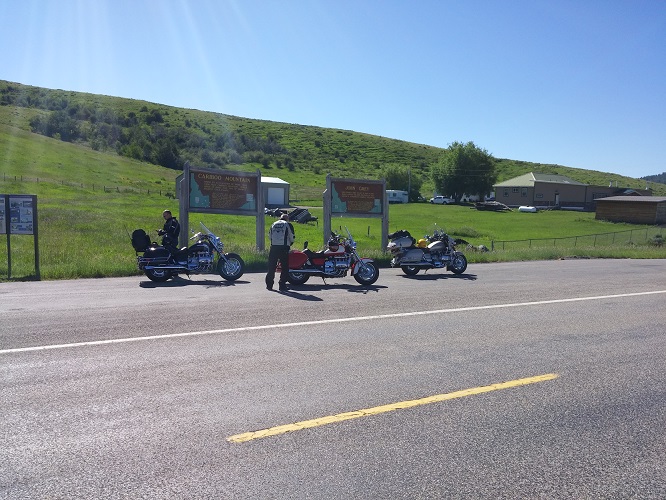 Had to get off and take it all in for a bit.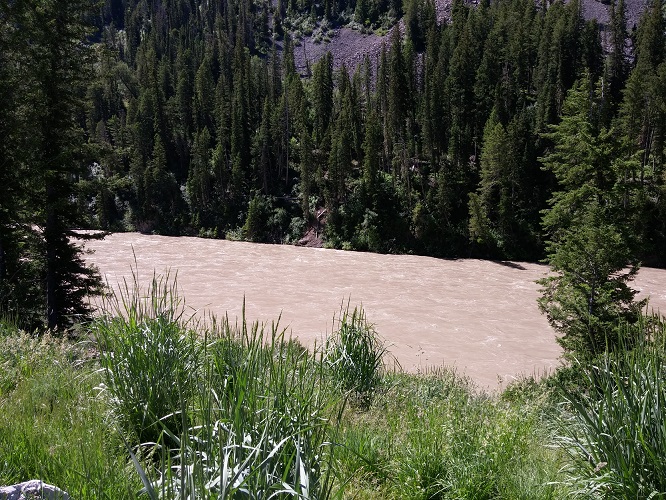 We stopped to take in a view of the Yellowstone river. It was quite muddy looking from all the run off this year.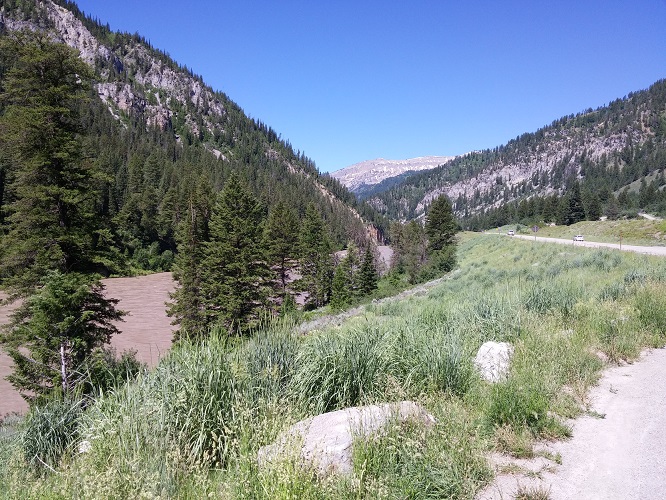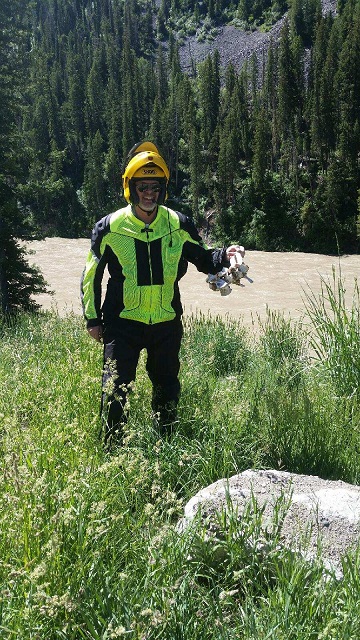 I found this spine from an Elk or something. It was very large!
We had planned to go into Jackson but with all the traffic we found an alternative root around the west side if Jackson. Since it is part of the Grand Tetons park we had to show our passes to go thru. Just before that we stopped for gas and I suggested we get a few things to eat for lunch.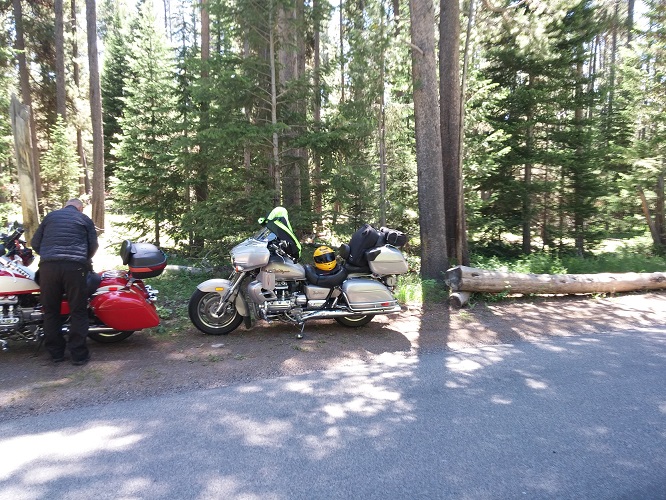 Found a nice shady spot to stop.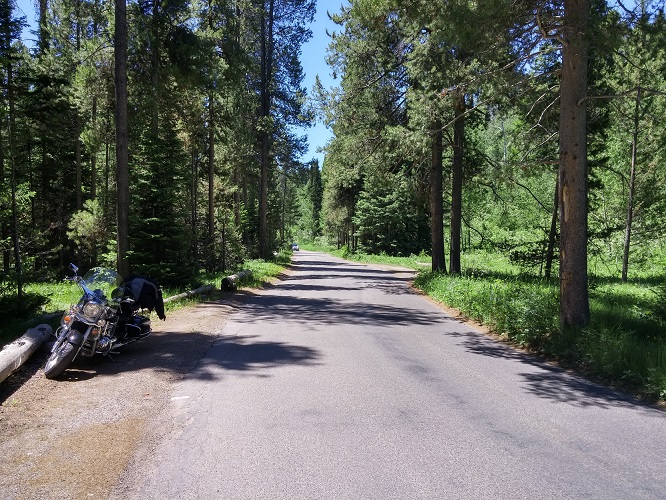 Great road although there was about of 2 mile stretch that was not maintained so it was slow going.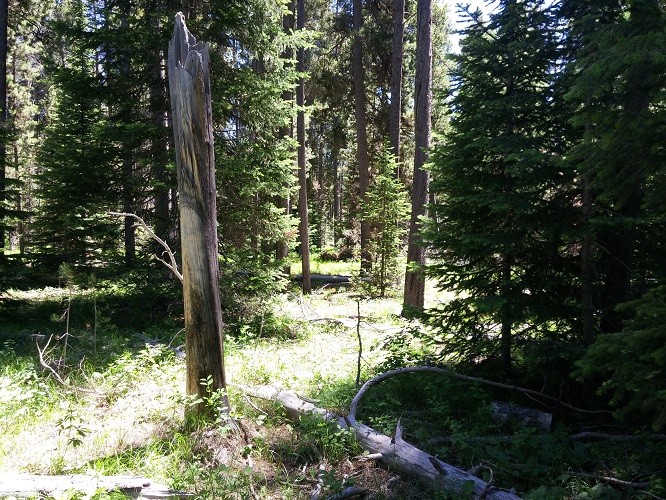 The forest was very dense at this point. They said we had to be Bear aware.
After lunch we continued on thru the park and into Yellowstone.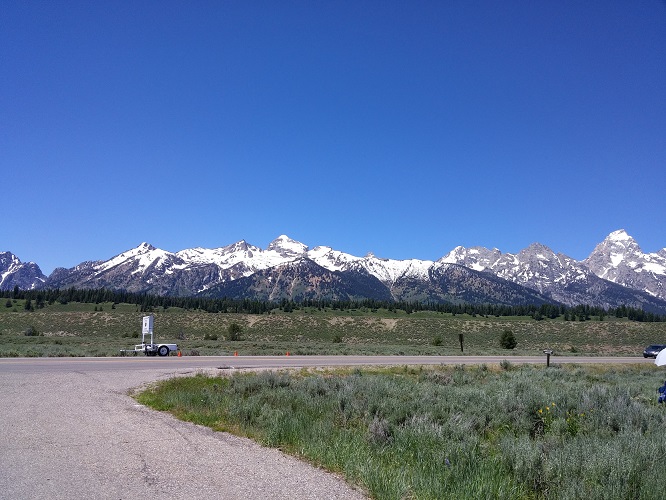 Tetons as usual are just beautiful.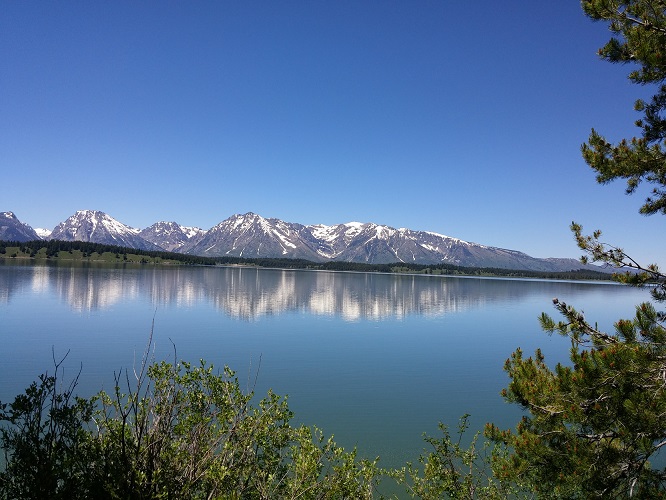 Almost like a mirror!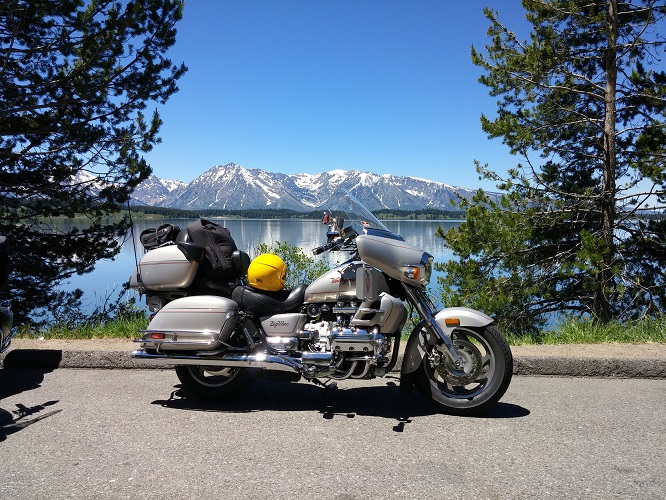 And yet another great view!
I don't have any pictures of Yellowstone as we were just passing thru. We did stop at the Old Faithful for gas and a break. It was a great ride thru the park and we exited from West Yellowstone to head north to Bozeman for 2 nights. We got in around 5:00 pm to our rooms. They gave us a nice room with 3 beds in separate rooms.
Day 5
Today we decided to take a day ride north of Bozeman and explore the country side. Roads are wide open with very little traffic. It seems weird to have 70 mph speed limits on a 2 lane road. You would never see that in California that's for sure. Donna left the car in Bozeman and rode with John this day.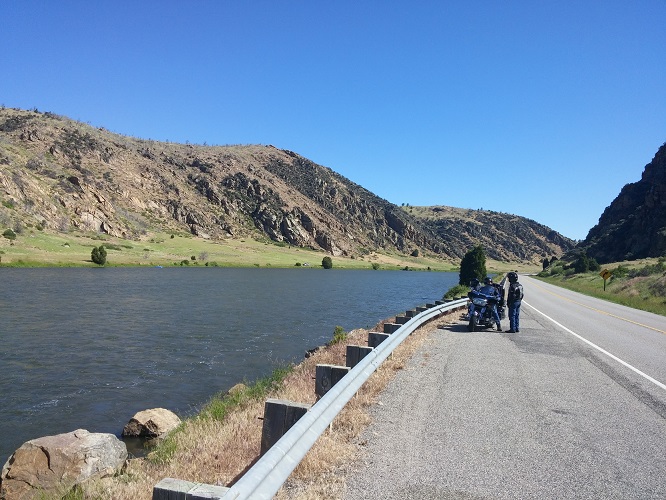 Beautiful ride along the Madison River.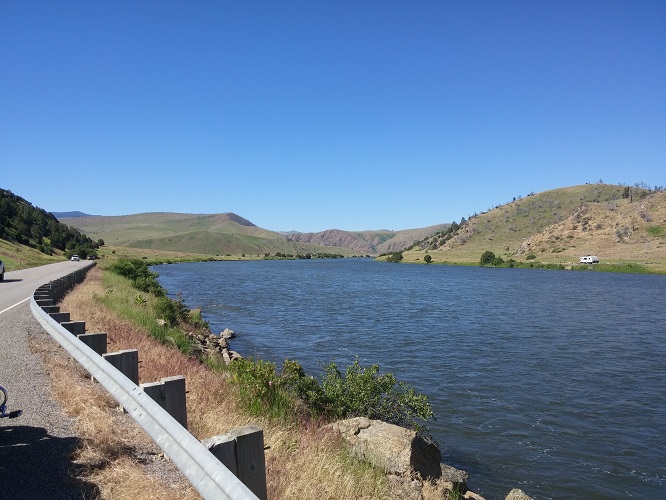 Saw some fisherman and people camping along the river.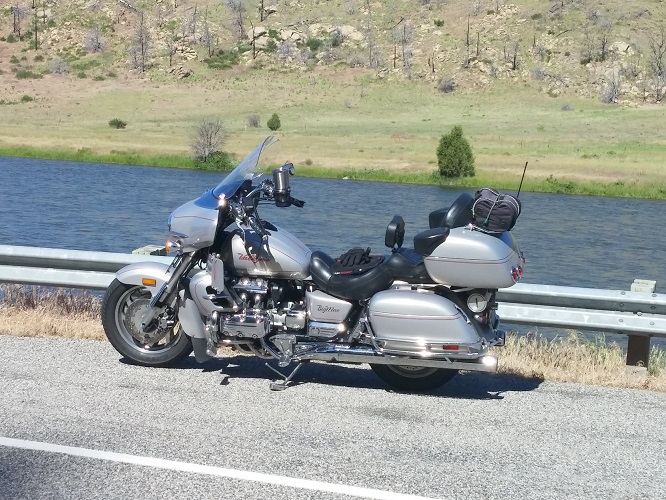 Of course you have to have the bike shot!
We stopped for lunch at this great Cafe called the Branding Iron. I don't remember the town but the food was great and I had probably the best Lemon Meringue pie I've had in years.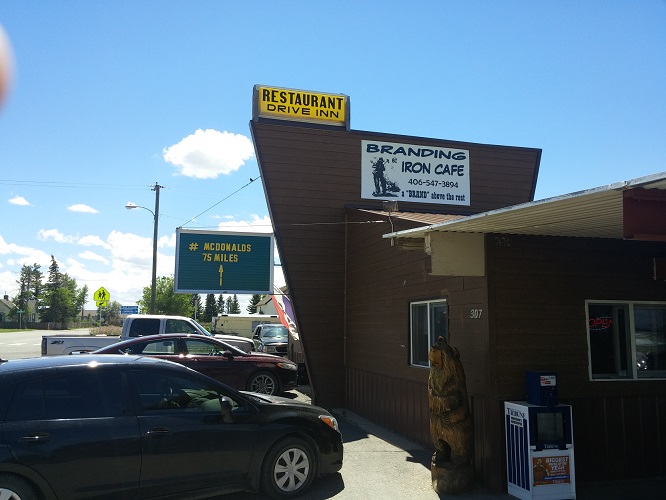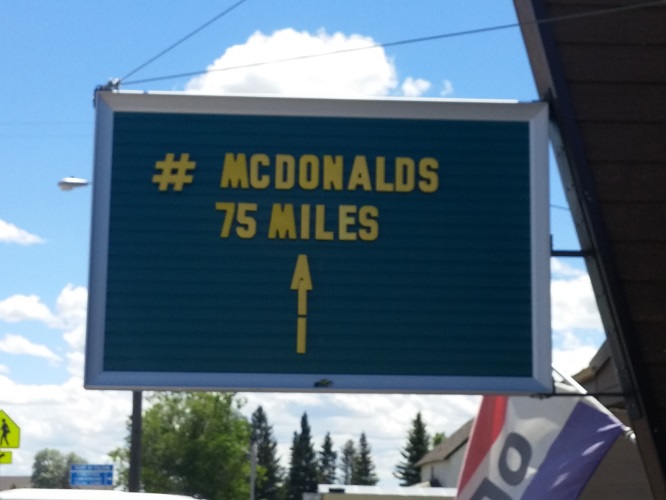 Owner has a sense of humor I would say!
Roads were fantastic and the sky was truly Big Sky.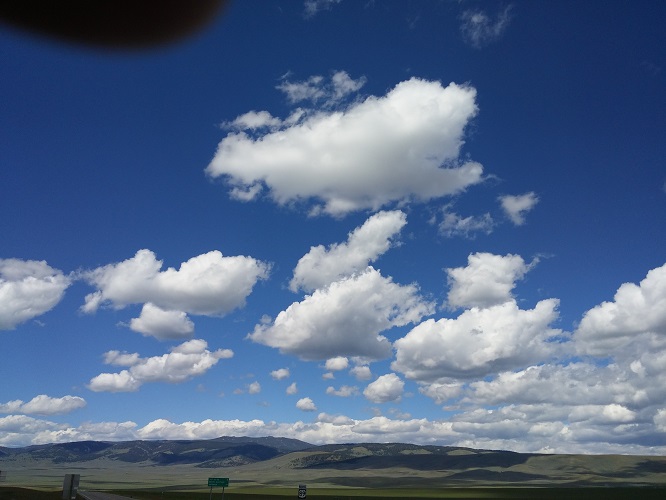 Lots of open road for sure!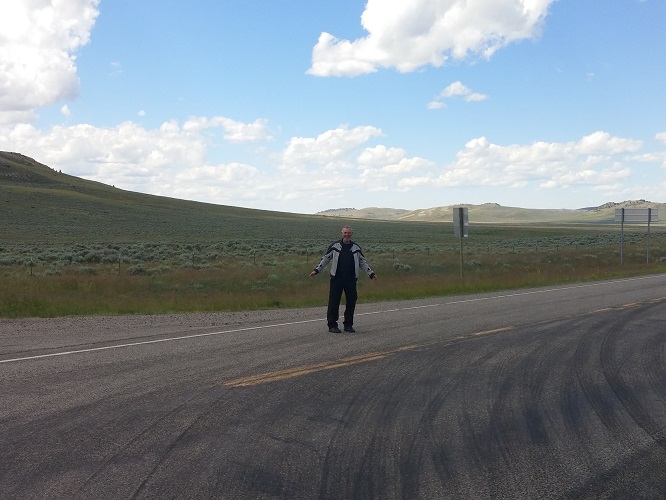 George didn't have to worry about getting run over.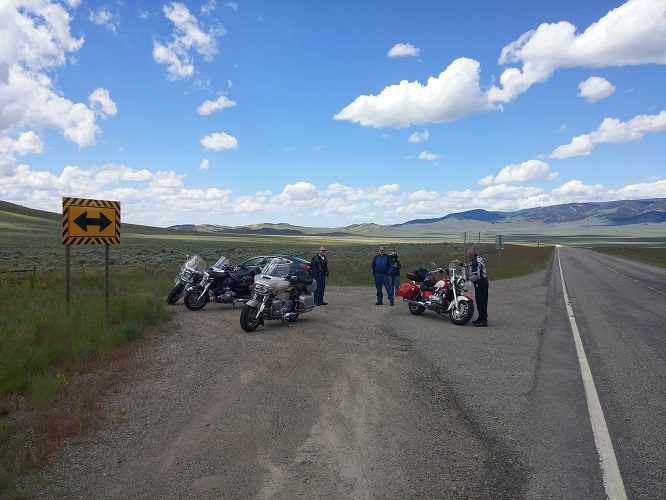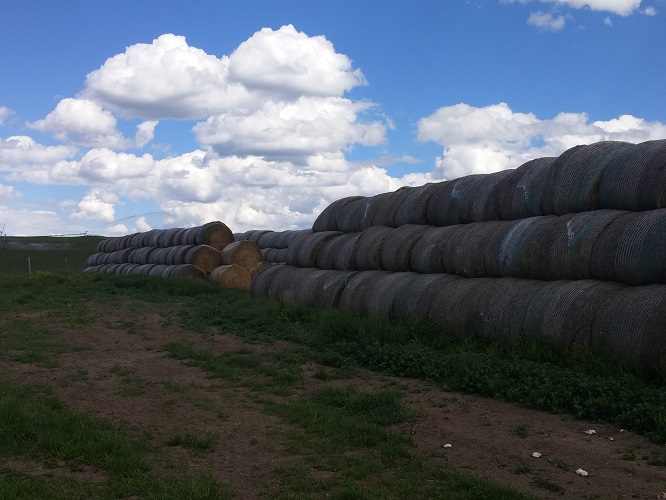 Lots of hay in Montana.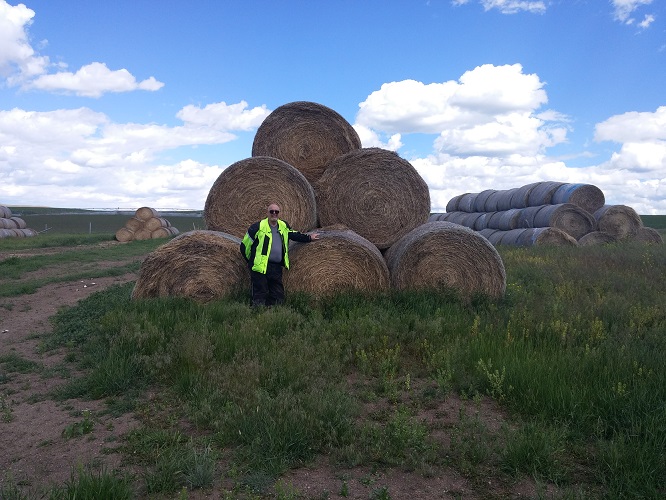 I'm 6'6" so you can see how big they are. There between 1500 and 2000 pounds.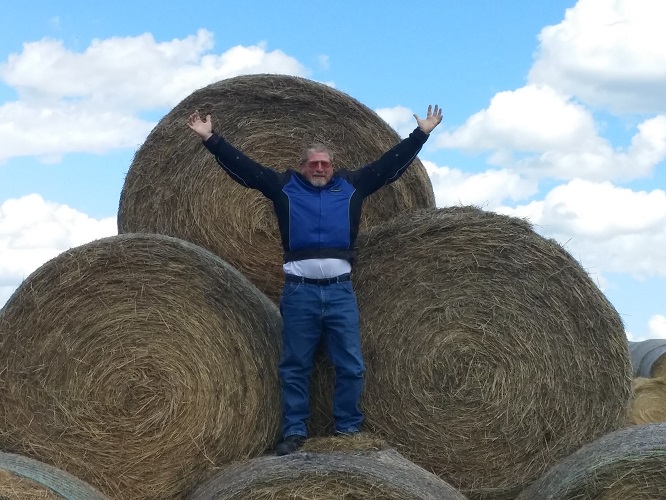 \
John a little more athletic than I am.
We did around 250 miles this day and made for a great ride.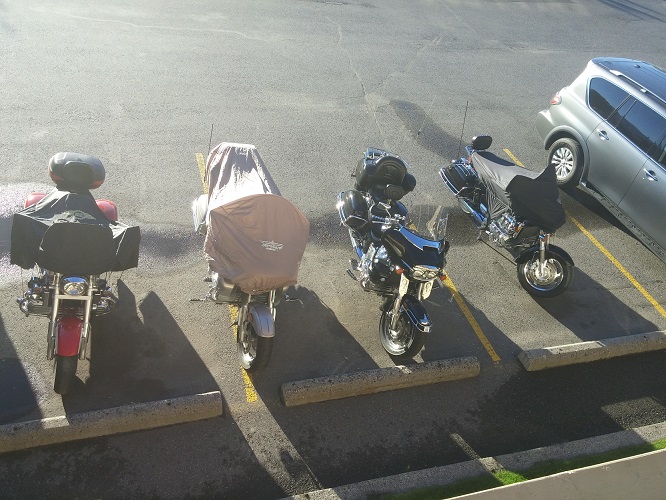 All put to bed for the night. Tomorrow it's off to Billings.
Day 6
Day 6 it's off to Billings. We have a route that will take us 250 miles up thru Yellowstone and Beartooth pass. Our first stop was in Gardiner MT which is right along the Yellowstone river.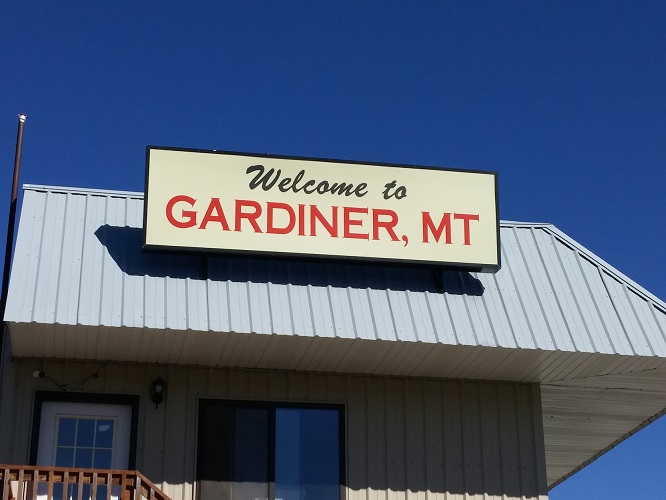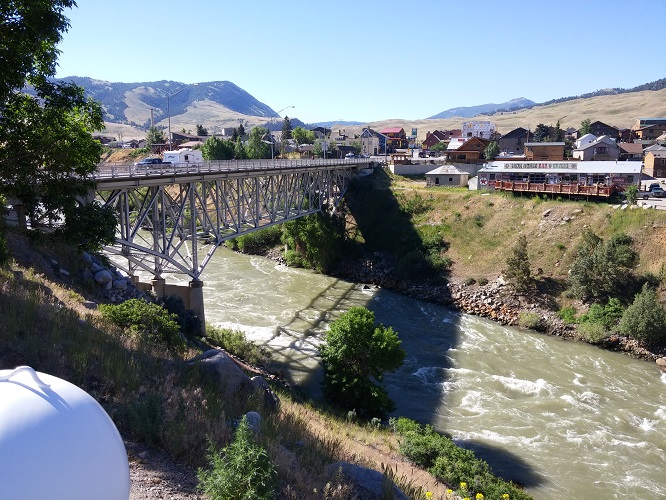 Yellowstone river is still a bit muddy.
After gas and a break it was off to the North entrance to Yellowstone NP.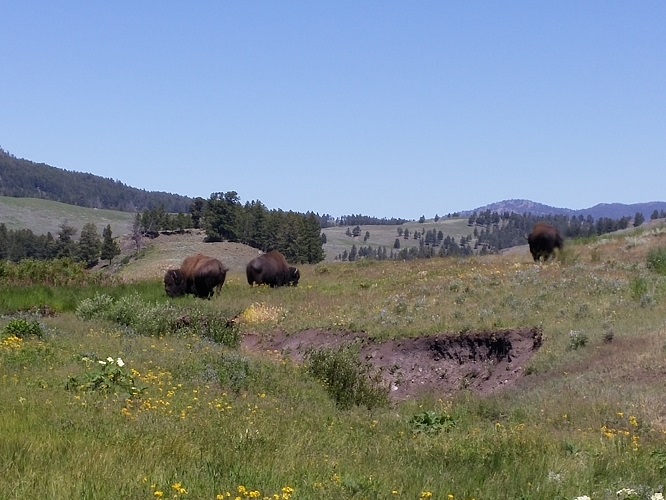 We of course saw some Buffalo.
Traffic got a bit backed up when someone saw a
Bear and her cubs. They almost completely blocked the road and pissed us off. There stopping to take pictures and here we are on bikes with a bear and her cubs near by.
We got thru Yellowstone and stopped in Cooke City for lunch. Nice little town and the food was good.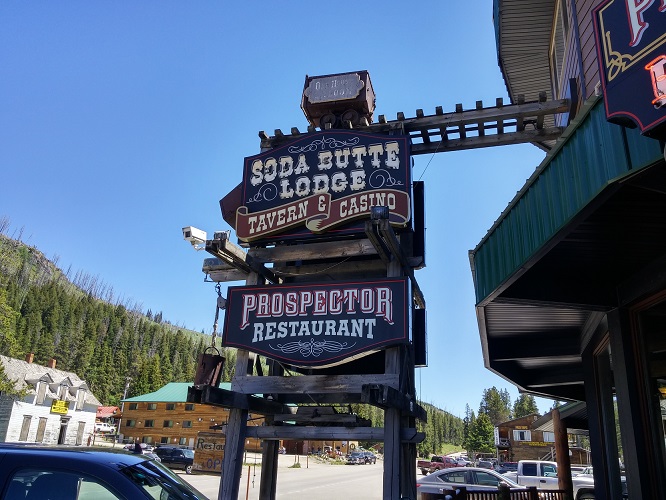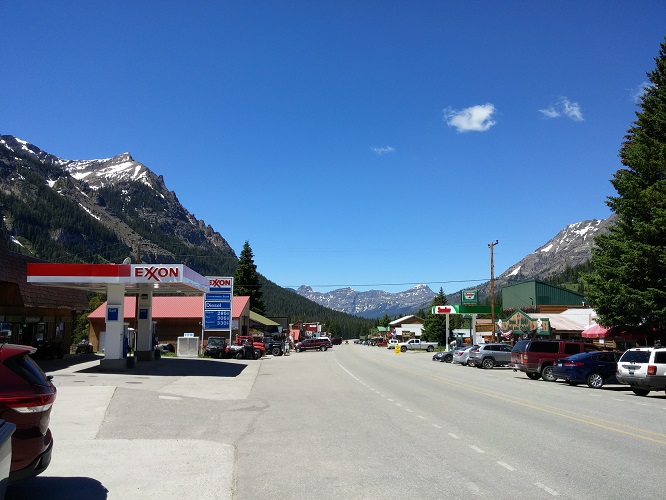 Main street Cooke City.
After lunch it was off to Beartooth Pass.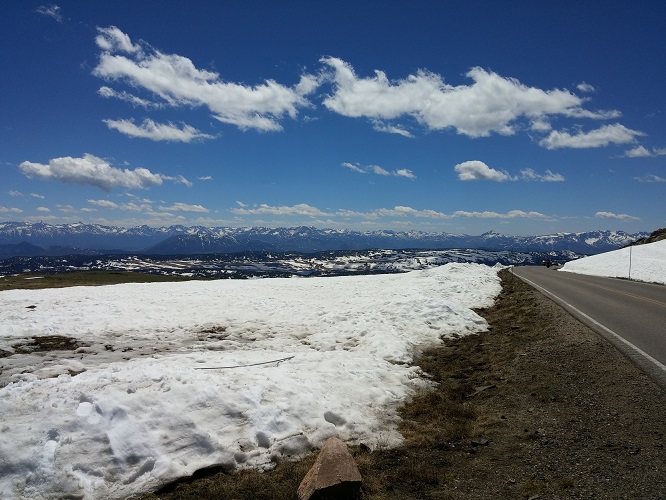 Breath taking!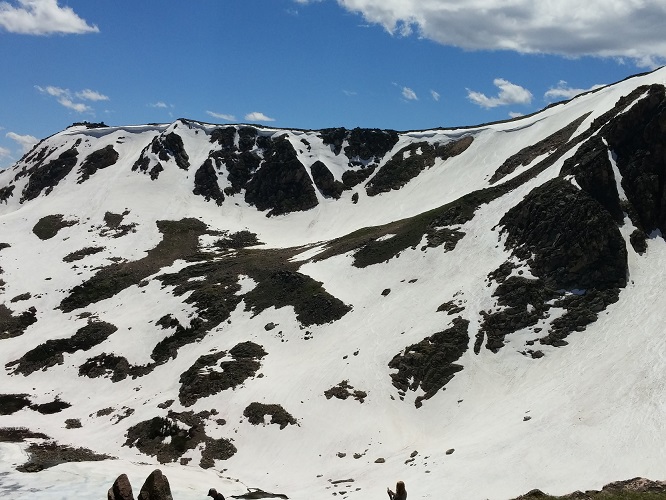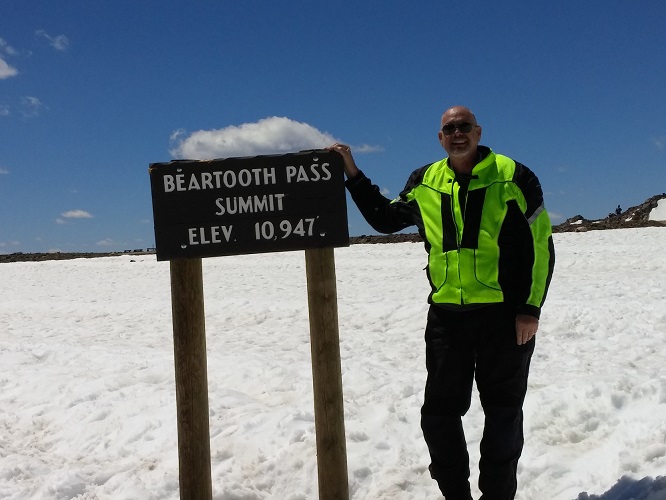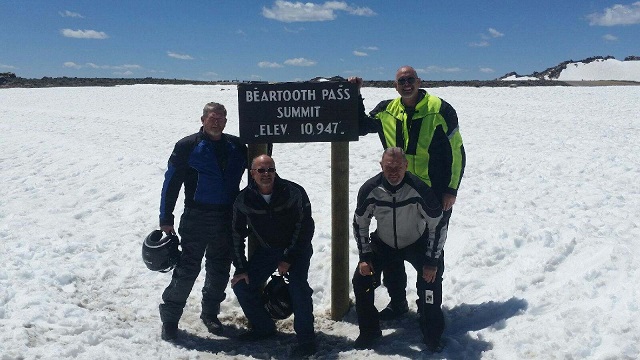 Although almost 11,000 feet the bikes ran great.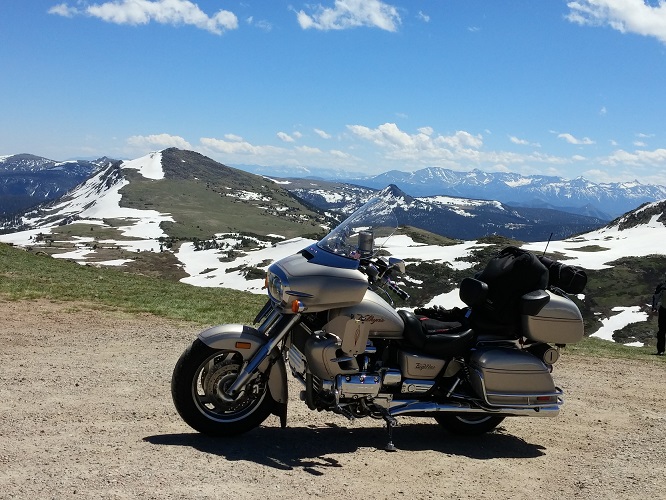 Once again the bike shot!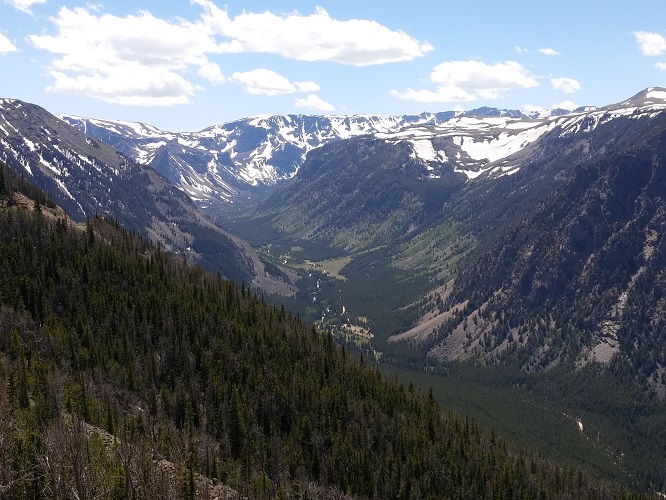 This is a view on the way down the north side.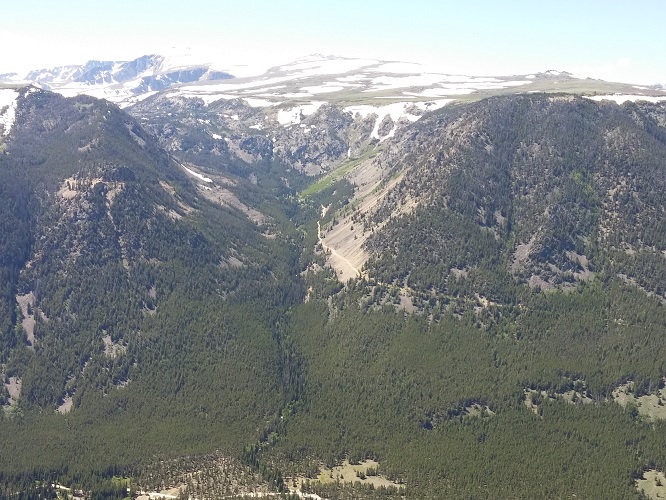 Pictures don't due it justice!
We had a wonderful ride into Billing. We arrived around 4:00 pm so it gave us plenty of time to check in get cleaned up. Looking forward to the Sunday BBQ.
Day 7
Day 7 was a rest day for me. I just hanged around and washed up the bike. Great to see all the Valks and meet new friends. We did go to Cabela's to have a look around.
Day 8
Day 8 we decided to take a ride to the Little Bighorn Battlefield. Although it looked like rain that didn't stop us. Steve's friend Bill took a scenic route thru the country side and for the most part we stayed off the 90 hwy. We did stop in Hardin Montana for gas and a break on the way in. Steve's friend Bill is an old High School buddy and Steve's sister Vicki joined us.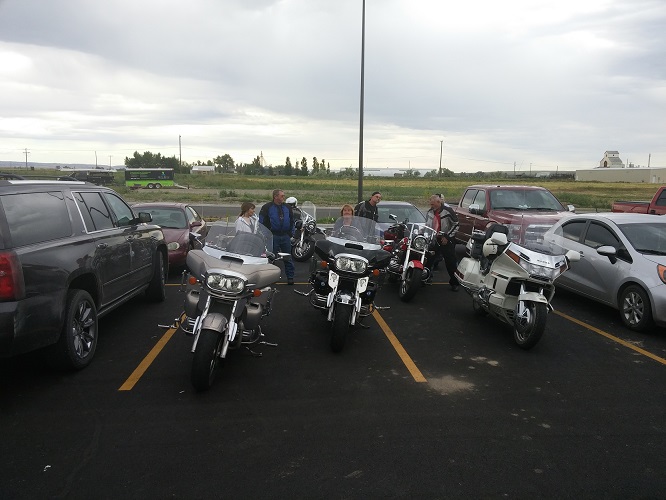 When we arrived at the Monument the weather started to close in on us. I covered my bike just in case and I'm glad I did.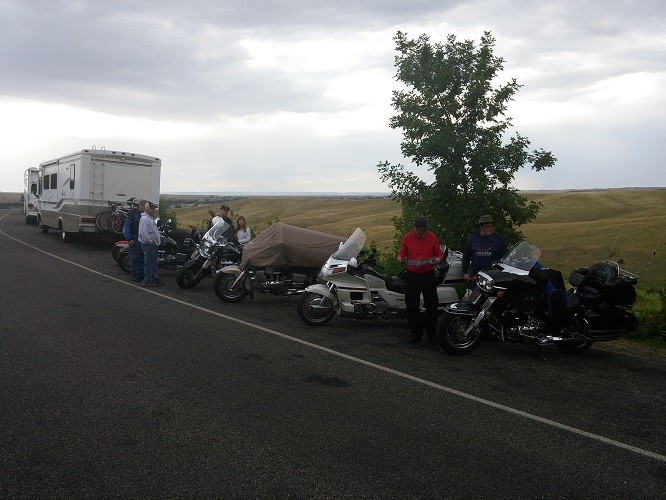 Getting kind of dark out there!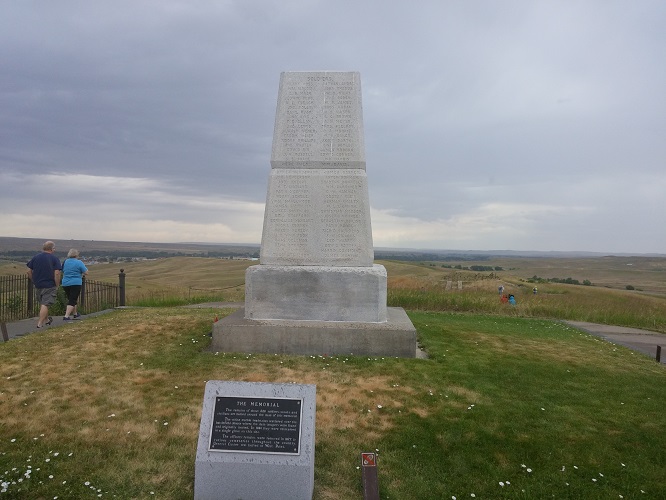 It was hard to read all the names of those who fell.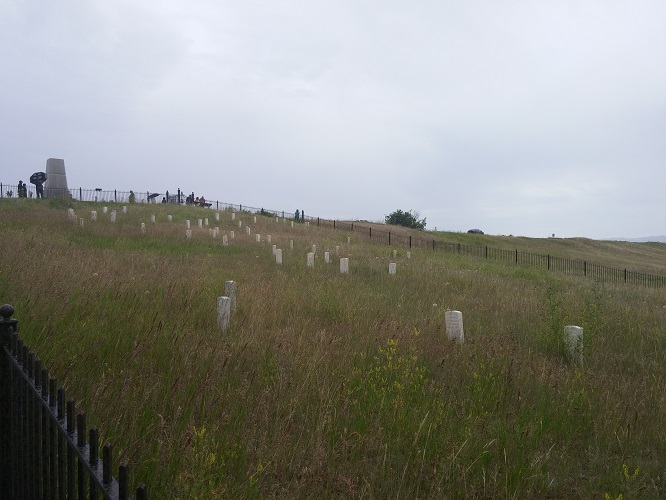 These are the markers of where the men fell in battle.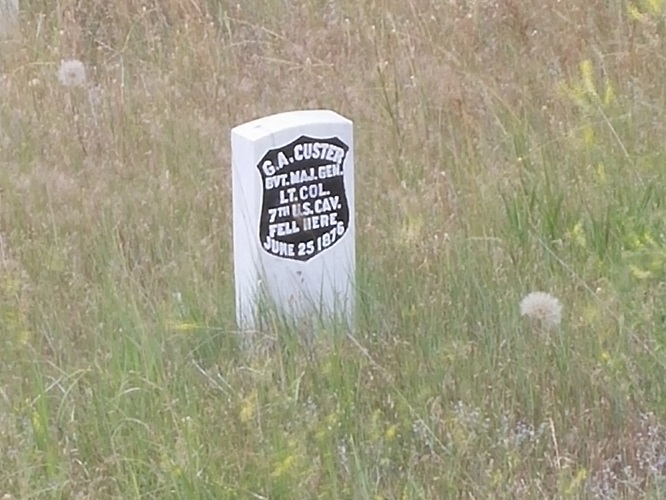 Custers marker.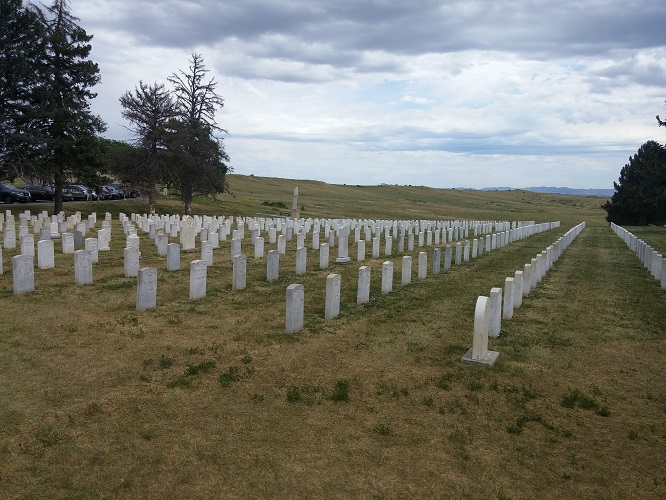 There is also a National Cemetery of fallen solders from other wars. None of Custer's men are buried here. It was closed in the 70's from what I understand.
As we listened to a ranger give a talk about the battle it started to rain pretty hard. Luckily it had ended by the time we were ready to leave.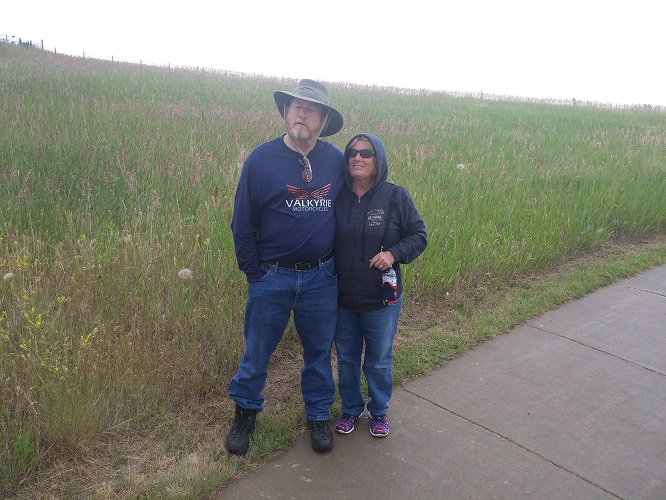 John and Donna checking out the site. Donna rode with John on this day. She liked riding in the rain.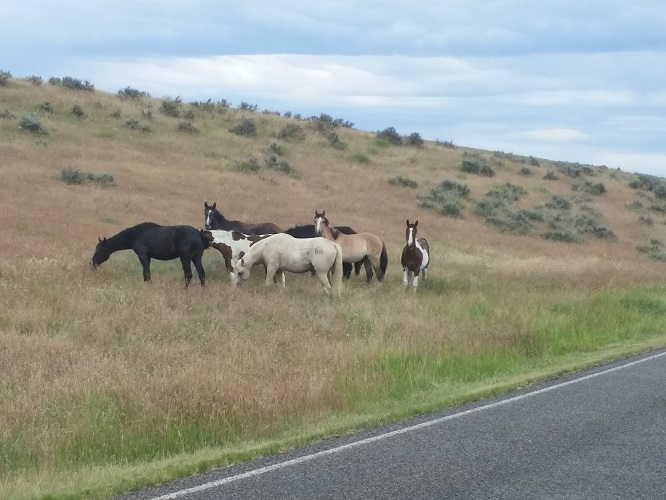 These horses were on the road to the area where Reno engaged the Indians. It's about 5 miles from the Custer Battlefield.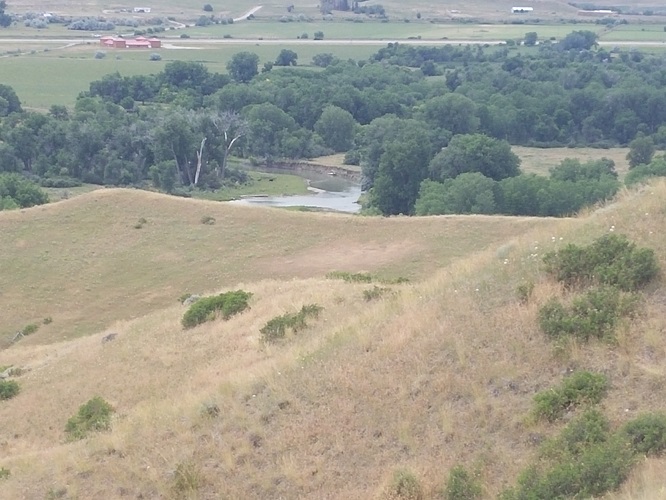 This is a view of the Little Bighorn river from where Reno fought his battle.
The ride back was a bit wet as we hit a down pour on the way in. By the time we got back to the Red Lion we had all dried out.
Day 9
Day 9 is the day we went on the Joe Boyd memorial ride to lunch.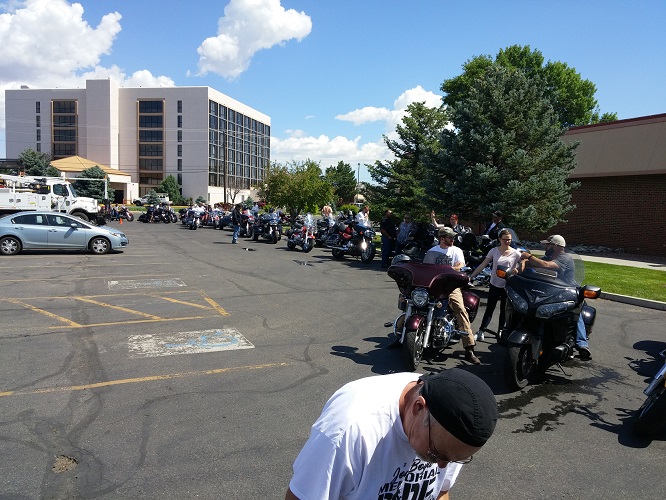 I believe around 80 bikes joined in with a police escort. It was about 4 miles to the lunch.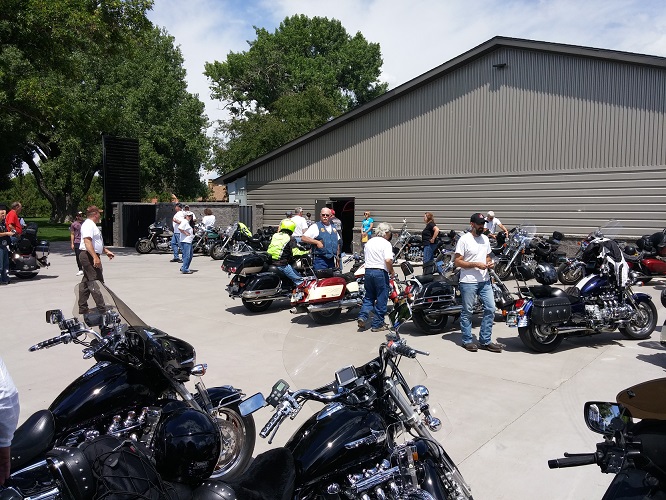 Lots of great looking Valks.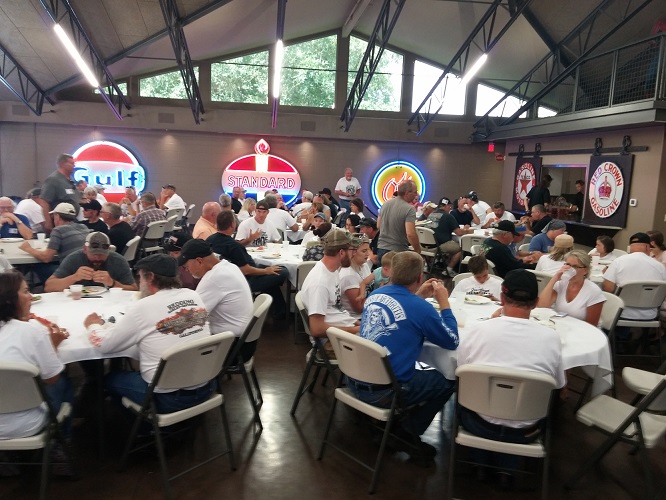 Lunch was good and I don't think anybody went away hungry.
Before we left on Wednesday morning before the lunch ride I wanted to ride my bike around the hotel to check out some of the other bikes. As I rode it I could hear a grinding sound and felt it a little as well. I thought it might have been something in my rear brake pads. John thought so to and after a while it seemed to go away. Well on the ride to lunch I heard a squeaking sound and when I stopped Scott Oakes said that I had a rear wheel bearing going out. So after lunch I nursed it back to the hotel and talked to Big BF about it. He was very busy so I asked him if I could get the wheel off could he put the new bearing in. Bill was kind enough to lend be his bike lift and John, George, Steve and our new friend Tim jumped in to get the wheel off. Of course we had plenty of other supervisors around to help us as well.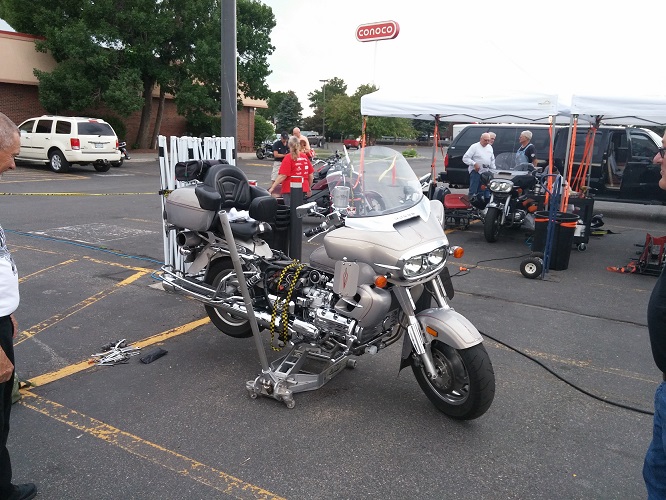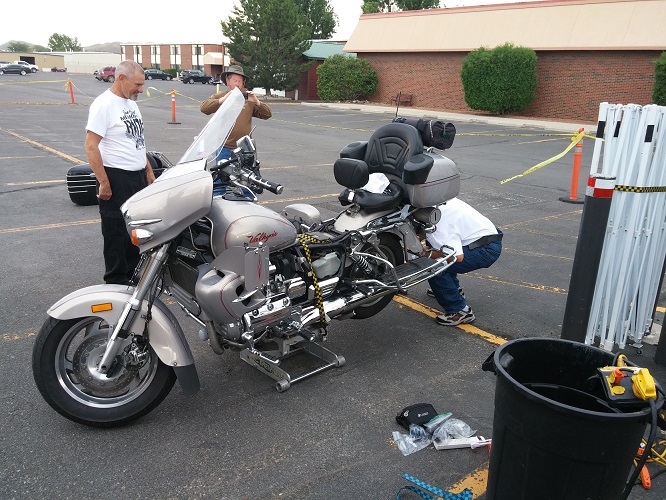 Well to make a long story a bit shorter we had it all done in about an hour and a half. When Bill knocked out the old bearing it just fell to pieces. He put the new one in and all is well. Many of you might remember last year my U joint went out in Bangor Maine. My bike now has 162000 miles on it now. It couldn't have happened in a better place other than my own driveway. A big thank you to Big BF for the loan of his jack and expertise. Also to John, George, Steve and Tim for helping me out.
After we got it done George and I went to check out Pompeys Pillar. This is the site where William Clark carved his name into a rock in 1806.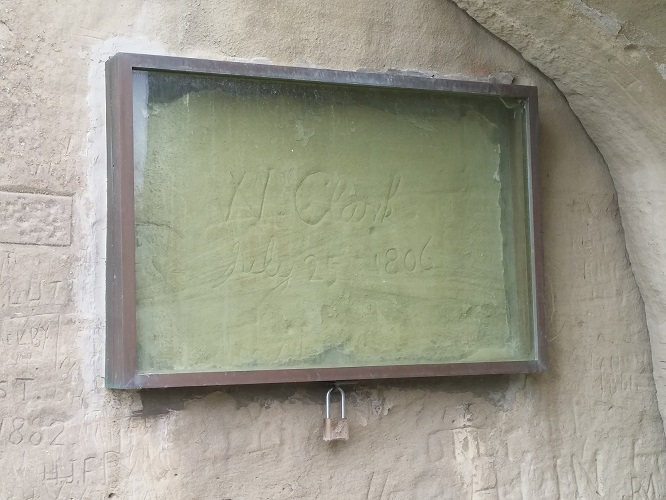 Pretty hard to see behind the glass.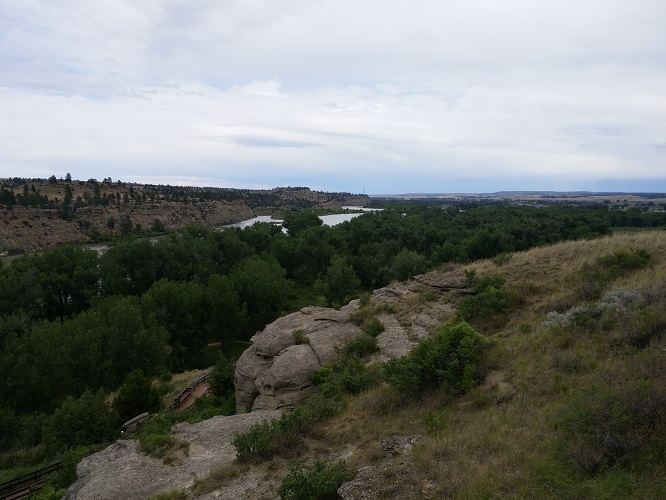 View of the Yellowstone river from the top.
George and I hit a bit more rain coming and going but not to bad.
Wednesday was also the pie auction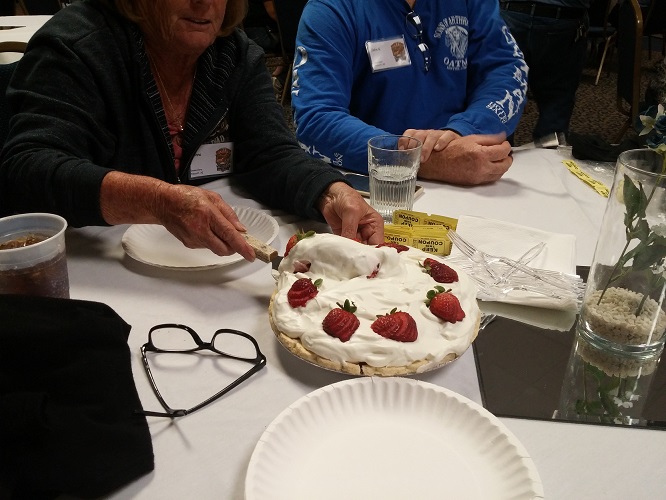 We all chipped in and won this great sugar free strawberry pie. Man was it good and you would never know it was sugar free.
Day 10
Day 10 was the last day for the rally. I just wanted to hang out and watch the bike games and check out the bike show.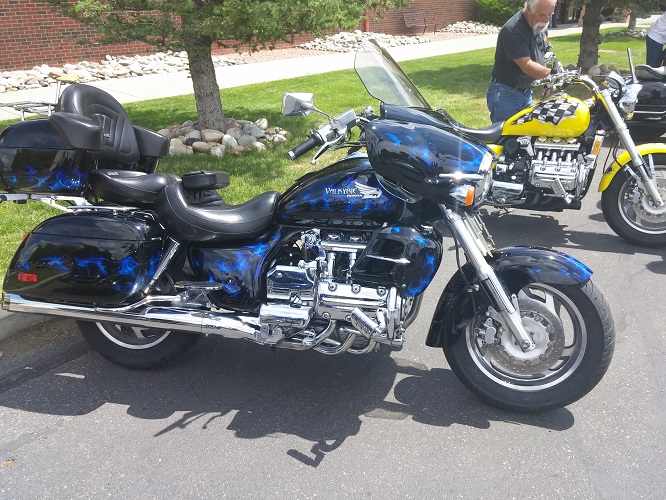 Lots of great looking bikes.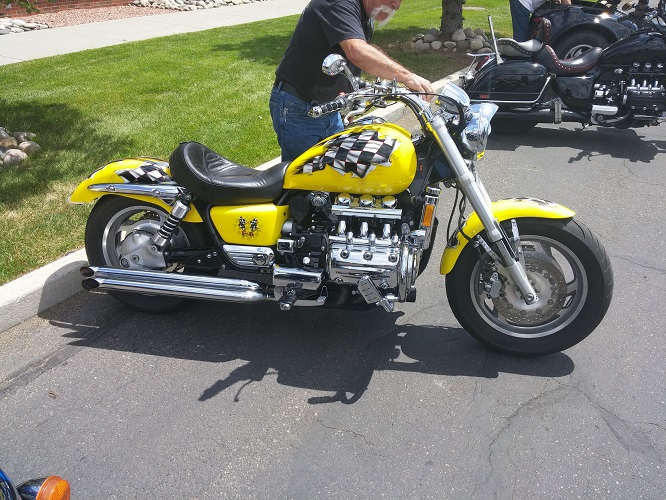 Willow shining up his bike for the show.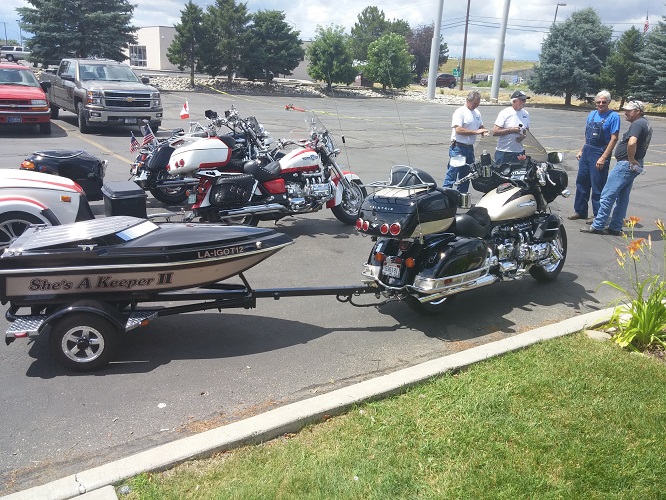 Some nice trailers as well.
Later that evening came the big dinner and give aways.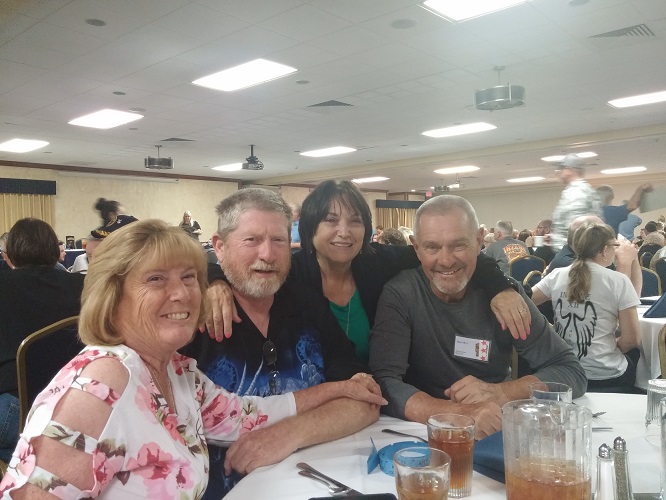 Donna, John, Margo and George.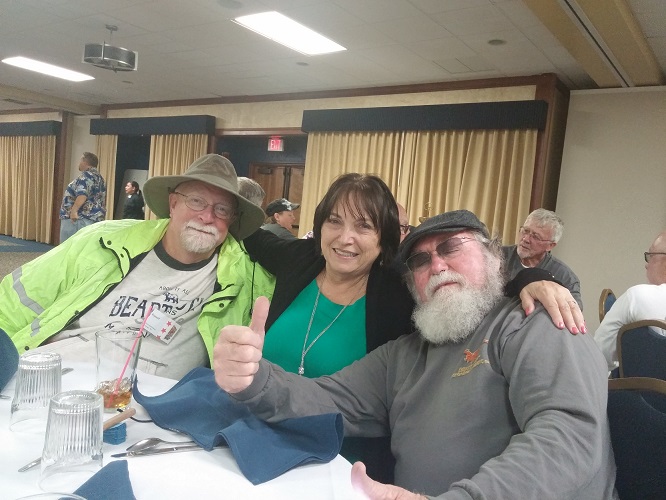 Bigwolf, Margo and Dick.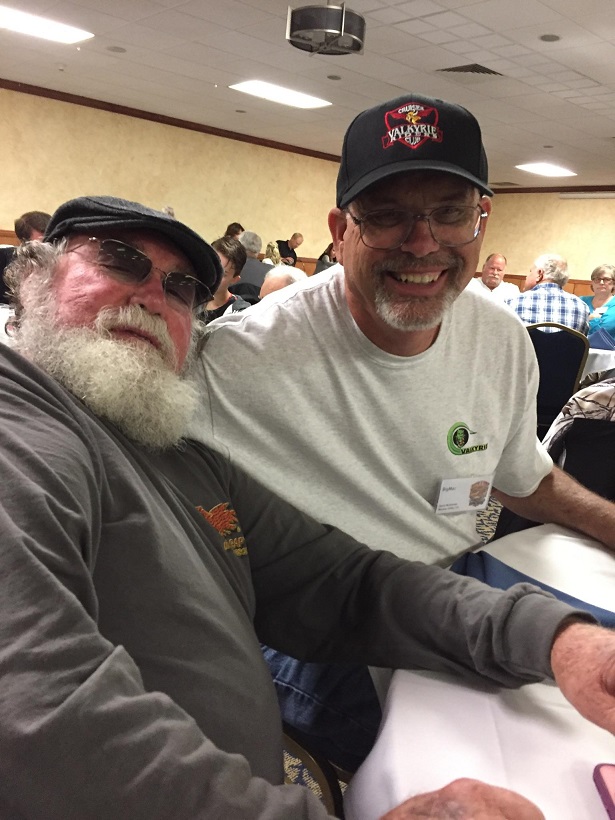 BigMac and Dick
We won a few prizes in the drawing and it was a lot of fun. The dinner was great with plenty to eat.
Day 11
Day 11 and it's time to make our way home. John and Donna headed to Cody WY, George and I took off for Pocatello ID and Steve went west to Bremerton WA.. Of course from this point on I can only tell you how my ride went.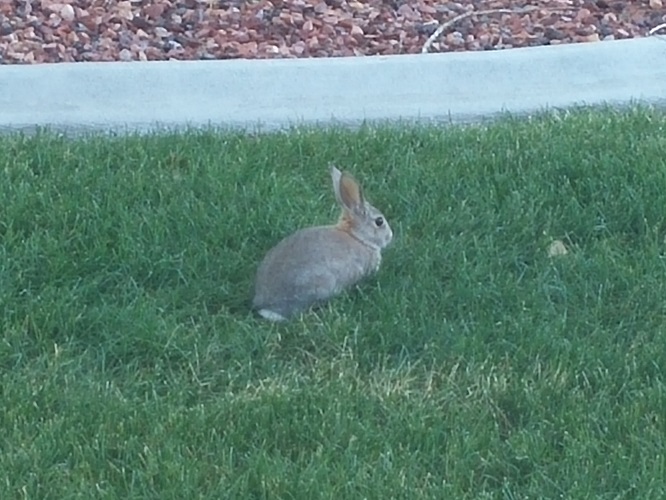 This little fellow was having his breakfast outside my bedroom window.
George had mapped out this great route up to Chief Joseph highway and then to Beartooth hwy back into Yellowstone Park.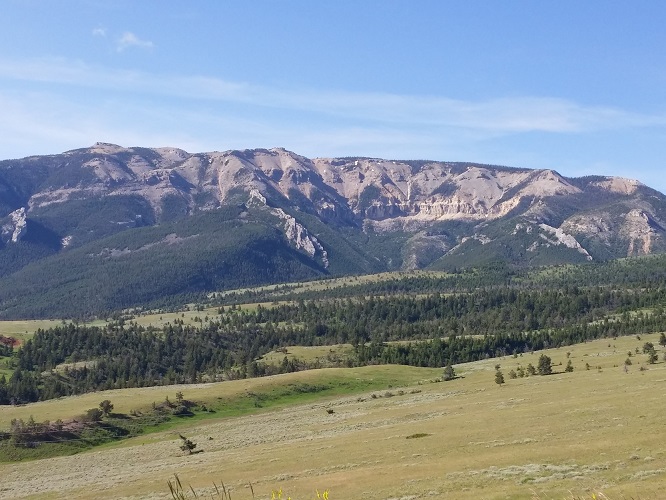 Man what a road!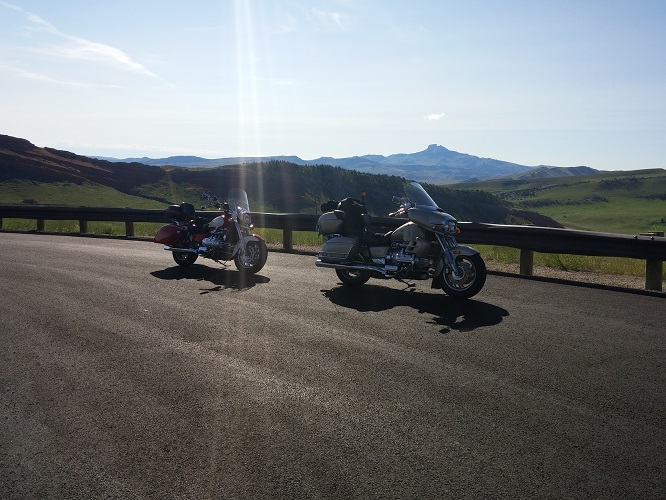 Wonderful views.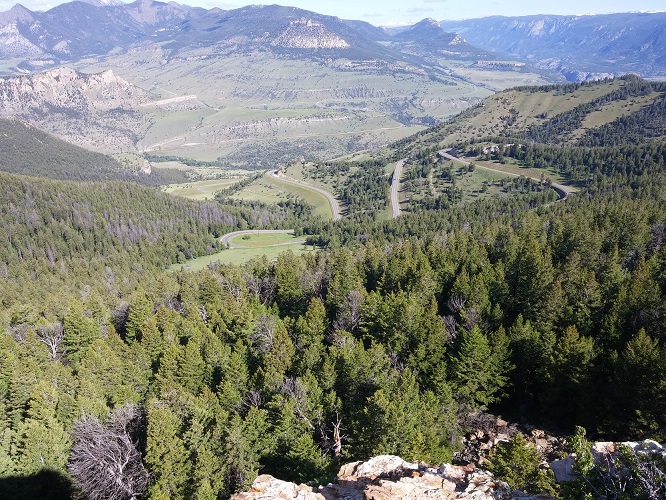 You can see the great road ahead of you below.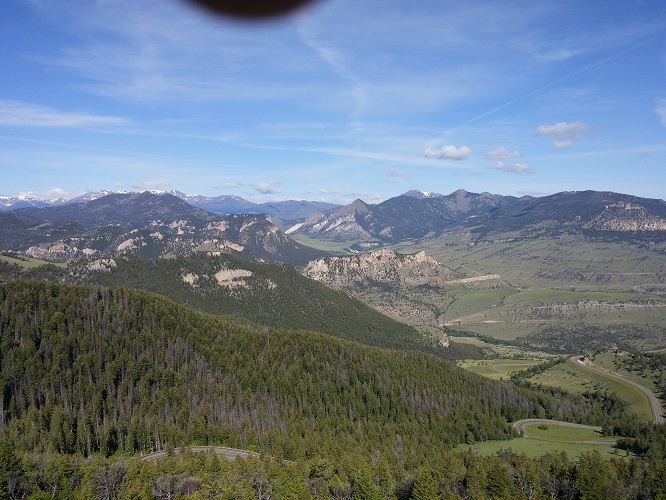 You can see for miles.
We made our way back into the Park from the north entrance. Beautiful roads and views as always. If you stopped to take pictures of all the great views you would never get out of there.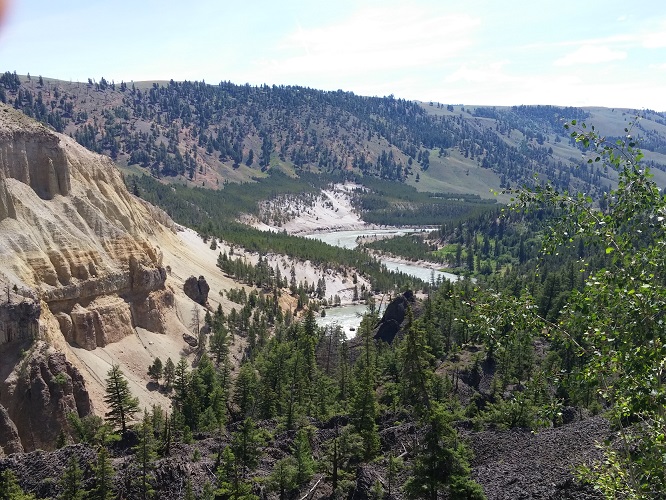 Yellowstone river.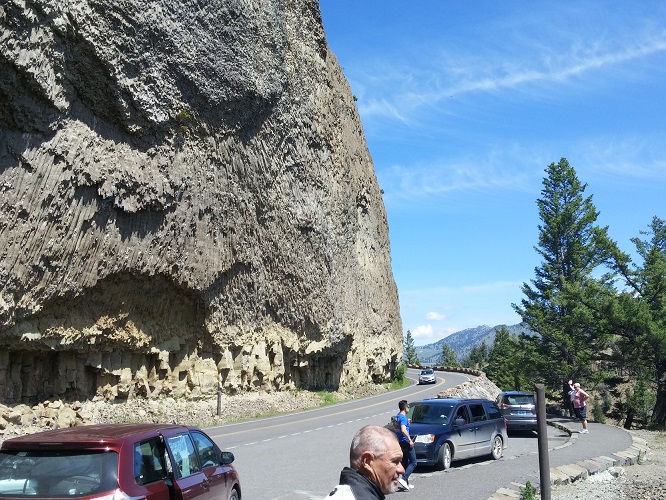 Fantastic rock formations.
We stopped for lunch and gas in West Yellowstone. To me it's a bit of a tourist trap so once we ate we were on our way. We made good time going thru the Park and once we got out it was 70 plus mph once again. Pocatello was the last time George and I would be together. He was headed to Boise and I was headed to Cedar City. Thank you George for the great ride this day.
Day 12
Day 12 is just a super slab day for me. 414 miles to Cedar City and back into the heat. I left around 7:30am from Pocatello and got into Cedar City at 3:30pm. I would stop about every 100 miles or so not to get to tired. Although it did start to warm up it wasn't so bad I needed my cool vest.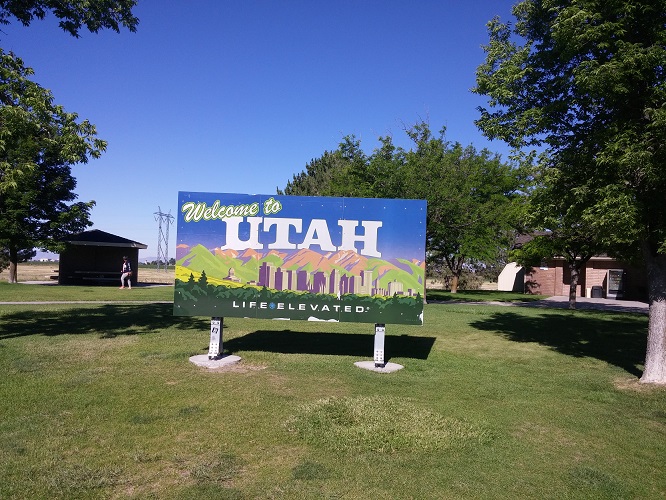 A rest stop as I enter Utah.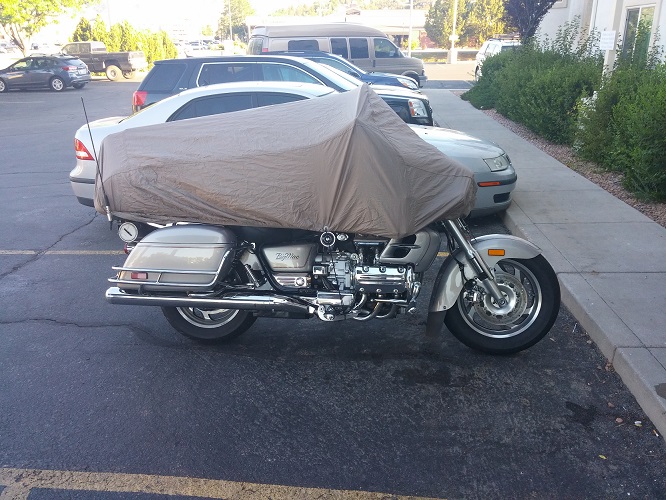 All cleaned up and ready for bed. Now it's my turn!
Day 13
Day 13 is yet another super slab day. Just 415 miles to go. I get up early as the heat will be the worst on this part of my ride home. I left at 6:15am mountian time. It was nice to gain an hour coming home. I stopped in north Las Vegas for gas and a break. Starting to get hot now, around 92 degrees at 8:30am. From there it's Baker. I fill up the tank and decide to stop at the Mad Greek for a Strawberry shake.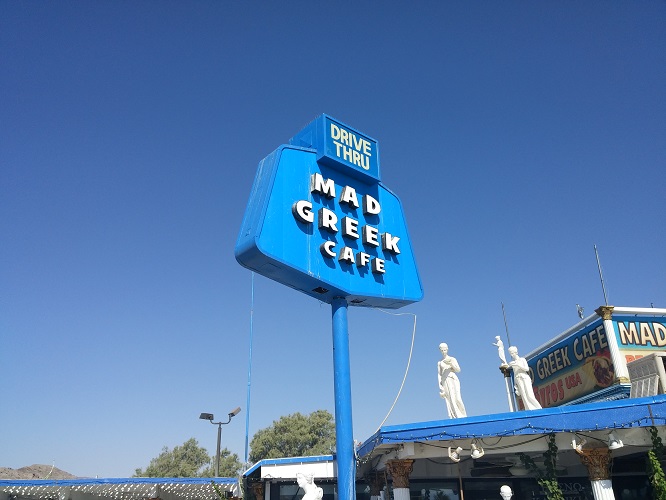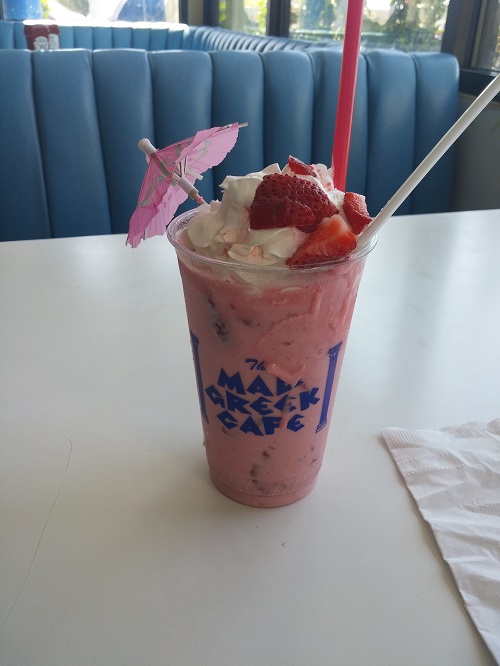 If you ever pass thru Baker you have to stop at the Mad Greek. Many flavors of shakes and food as well. It got to 99 degrees at 10 am here but I still didn't put on my cool vest. As I left Baker it cooled down a bit and wasn't to bad.150 miles to go from there and I did it without stopping. I was in my garage at
12 noon on the dot. My bike turned 162,000 mile as I hit the garage as well.
I was pretty tired when I got home and wondered how many long rides I have in me. After a few days rest I think I'm ready again to hit the road.
Now some details.
Fuel used 92.5 gal
Cost of fuel $241.03
Average MPG 34.32
Highest price for gas was in Baker Ca. 3.79 a gallon.
Lowest price for gas was in Montana at 2.09 per gallon.
Best mileage was 44.5mpg
Worst mileage was 29 mpg.
Hopefully I'll be ready and able for next year.
BigMac
Southern California Event Calendar

Utah Ride Home