Here is my ride report for my InZane 2016 trip.
Joining me on this great adventure is John Gera, Dennis Laitinen (Dennis from Blythe), George Ostan (Nautibrit).
Day 1
It's Friday June 10th 5am and I'm loaded up and ready to ride. It was a cool clear morning and I'm headed east to Blythe Cal. to hook up with Dennis. I wanted to leave early to beat some of the heat I was expecting in Blythe. I'm glad I did because it was in the low 90s when I arrived at 7:45am. After a brief rest and drink Dennis was ready to go and so was I. We had planned to ride to Johns house in Prescott but there was a fire along our route on Hwy 89. George was also going to meet up there. So I called John to tell them we would head to Phoenix to pick up George and take hwy 17 north.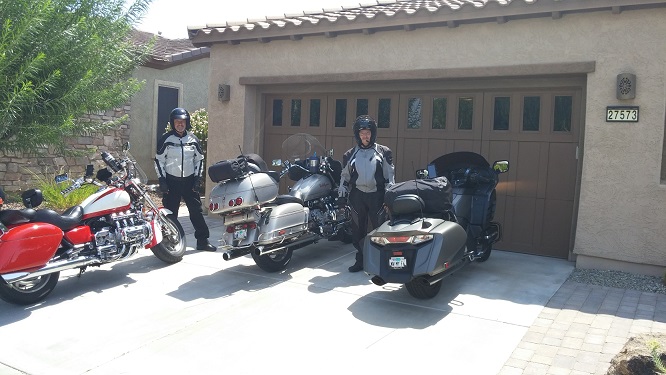 Dennis and George ready to ride!
It was in the mid to upper 90s in Phoenix by the time we got there around 10:30am. We took a brief break and some water and hit the road once again. It was about a 2 hour ride to Johns place but it did cool down a bit as we gained elevation.
We pulled into John's around 12:30 to a nice open garage to get out of the sun. Donna and John were of course there to meet up as we drove up.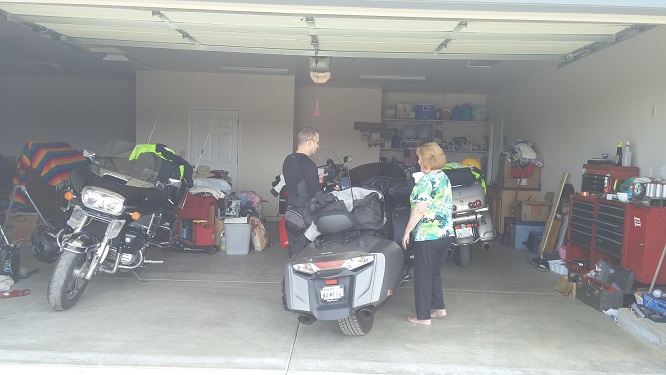 Donna had prepared a nice lunch for us and we got to look around John's and Donna's new place. What a great piece of land and wonderful home they have. After a brief tour and lunch it was again time to hit the road toward Gallup N.M.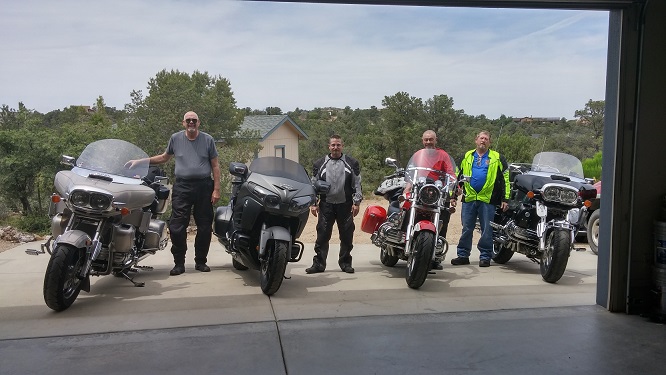 John has an fuel delivery issue with his bike not 2 miles from his house. We pulled over to the side of the road to figure out what the problem was.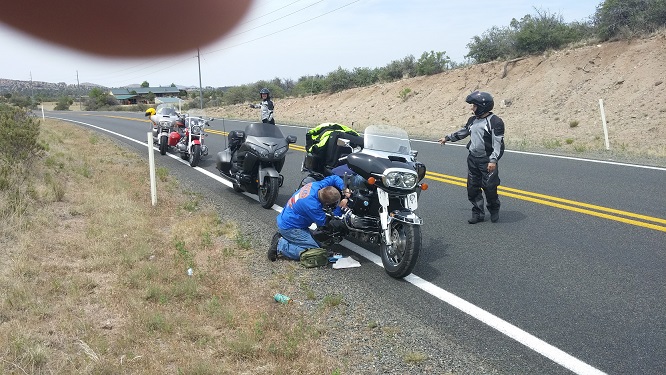 Found out it was the vacuum line on the petcock had come loose.
Heading for Gallup we took some nice roads towards Payson and hit the hwy 40 at Winslow AZ. We stopped in Winslow at the Flying J to gas and take a break. We got in just at dark to the Holiday Inn in Gallup. For me it was a 701 mile day, for the others not so much of course. Luckily there was a Denny's right across the parking lot for dinner.
Day 2
Early start to the day as we had to reach Weatherford OK. 619 miles of super slab for us but we're up for the ride. We made a stop at the Route 66 Casino for fuel and butt break. We made it a habit of stopping around every 100 miles or so for a break.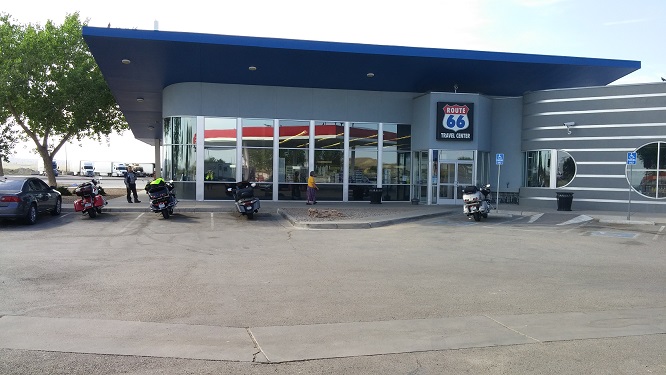 This was around 30 miles west of Albuquerque N.M.
Here's another break in Santa Rosa N.M.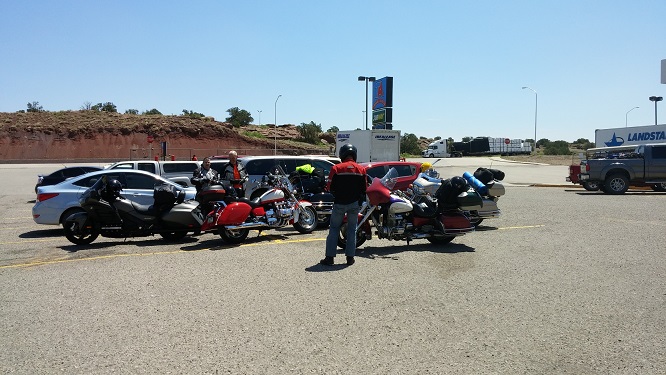 We decided to have lunch at the Subway and met this fellow on a Valk heading home to Houston TX.
Well we finally made it into Texas and on the way thru Amarillo we passed the Cadillac ranch. I just couldn't pass this up without stopping.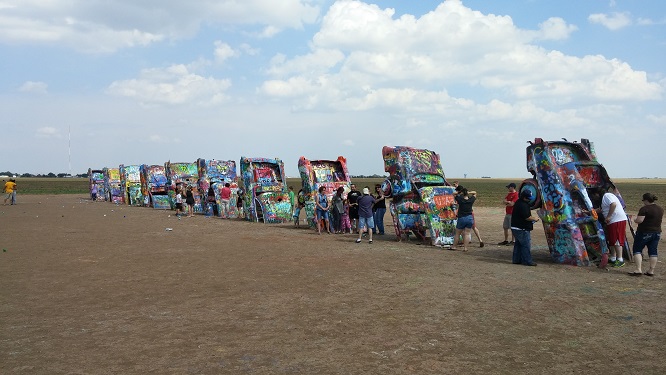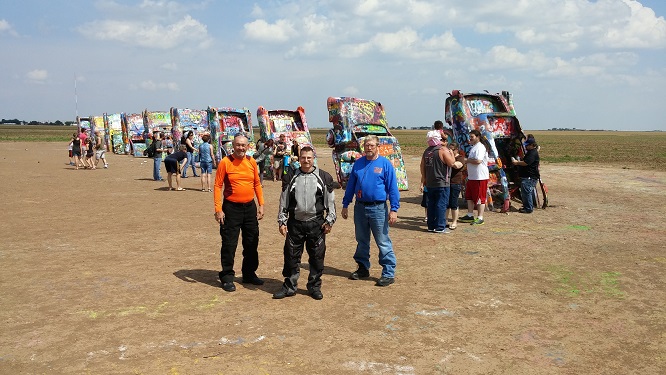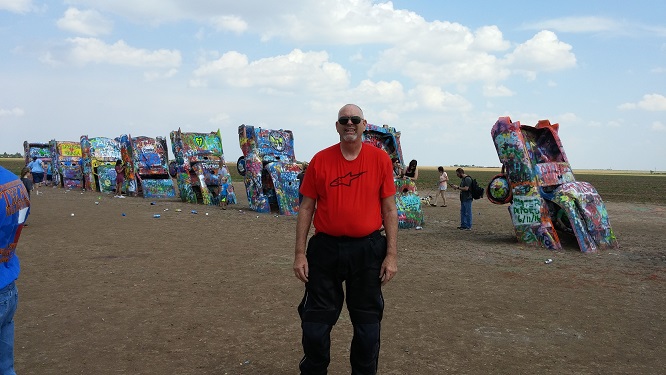 Very interesting place for sure. The paint is so thick that when it falls off a fellow there makes key chains from the pieces.
The ride thru Texas was good except we did hit some winds that where gusty at times.
We got into Weatherford Oklahoma and checked in at the Comfort Inn. After a short while the power went off in the hotel. We went over and had some Chinese food close by and hoped that the power would be back on by the time we returned. It was still out but came on a short time later. It was out for about an hour and 45 minutes.
Day 3
Once again an early start to our day. This day we head to Greenville Illinois another 600+ miles ahead of us. We see rain in the forecast ahead of us and hope to out run it. Our route took us up hwy 44 thru OK and we were not aware that it was a toll road. I have to say toll roads are a big pain in the ass especially if your on a bike. The first booth we all had to dig out $1.15 and they want exact change. At one of the toll booth the rain started to come down. So we pulled over to the largest McDonalds and only McDonalds over an Interstate.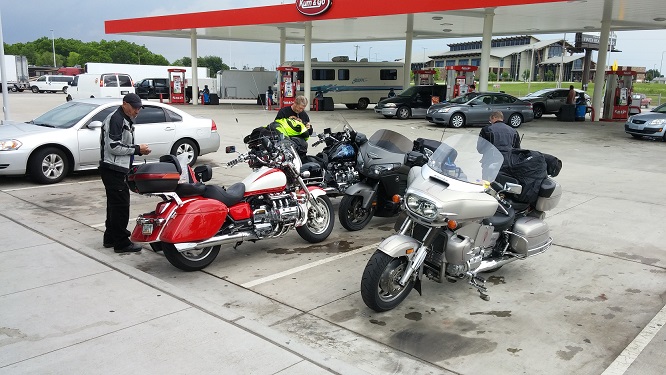 We stopped later to find out more info on how many more toll booths and get more change as well.
Well we finally hit the rain. I must say it is probably the worst rain I have ever had to ride thru and I've been riding for around 50 years. You could hardly see 100 feet in front of you. Unfortunately John had another one of his fuel problems and had to pull over on the side of the hwy in this storm. I was ahead at the time and couldn't pull over safely so I went on to the next off ramp. I texted Dennis and told him where I was and to get off there. It was a Shell station so we could all dry out a bit. This time it was John's vent tube to the gas tank that got blocked with water. He vented his fuel cap and we got on our way.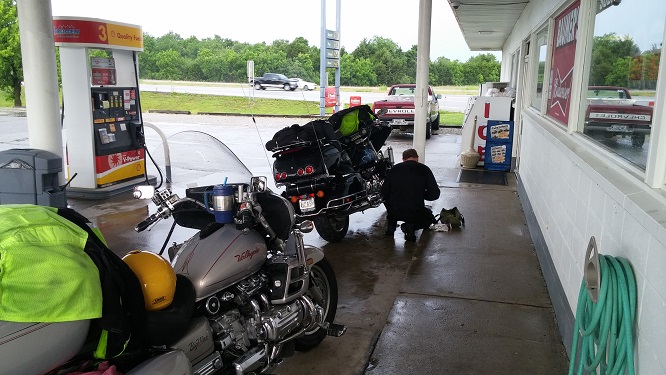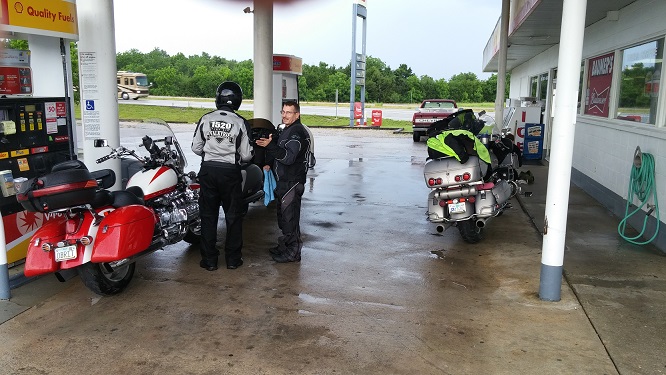 After that little bit of drama we stopped in Saint Robert, MO. for gas and to dry out some more. As we were riding we had lightning and thunder all around us as well as more hard rain.
As you can see water got into some of our boots! But not mine or George's.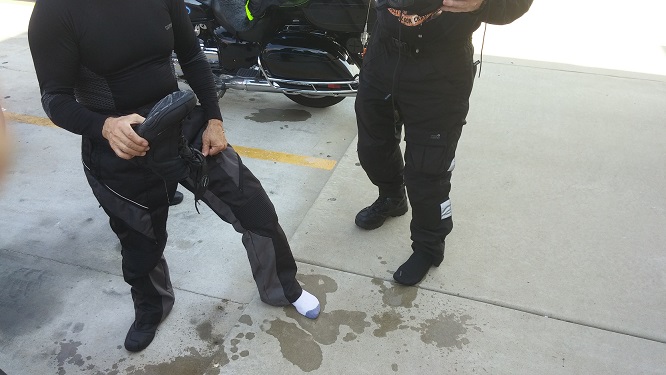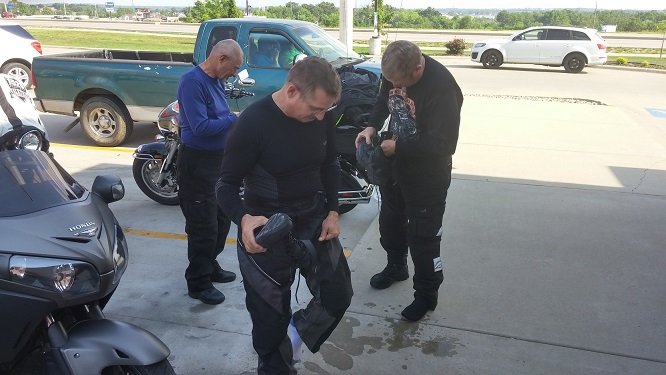 I must say that was pretty funny!
We had some lunch and we could see more storms a coming so we hit the road again. We made it into Greenville MO with no more rain or problems. Since we had a late lunch we skipped dinner that night and just snacked a bit.
Day 4
This is our last day before we make it into Morgantown, West Virginia. 586 miles to InZane. After this day the riding will be much easier and we get to look around a bit.
This is our first stop of the day in Marshall Ill.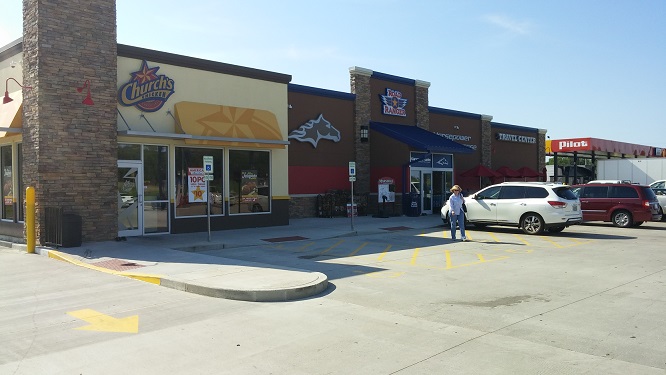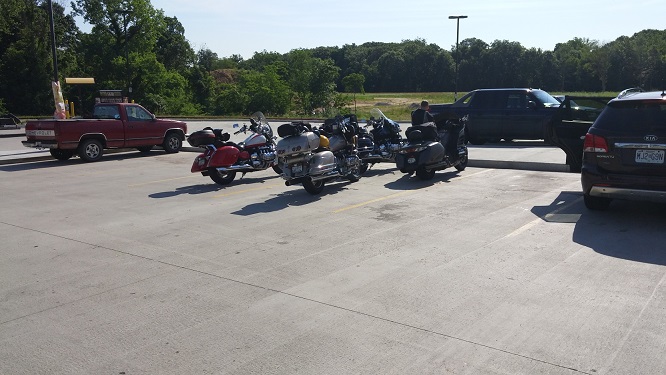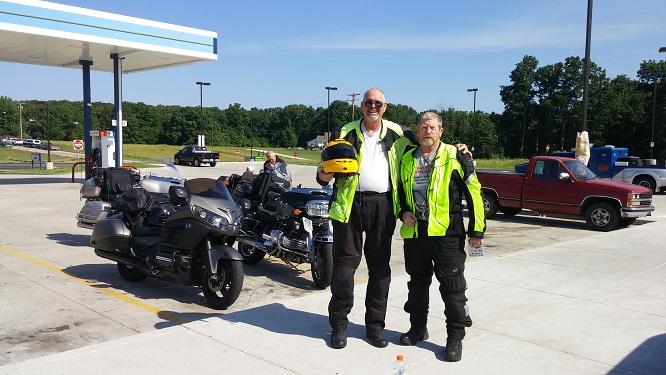 I took this picture for Elmer who had given me his yellow helmet and Jacket. I couldn't wear the jacket but it fit John perfect. Thanks again my friend.
Stopped in Zanesville OH. for a stop for gas and another break. This is where the first InZane was held. One more stop until we make our final destination.
This is the Pennsylvania West Virginia state line with 30 miles to go.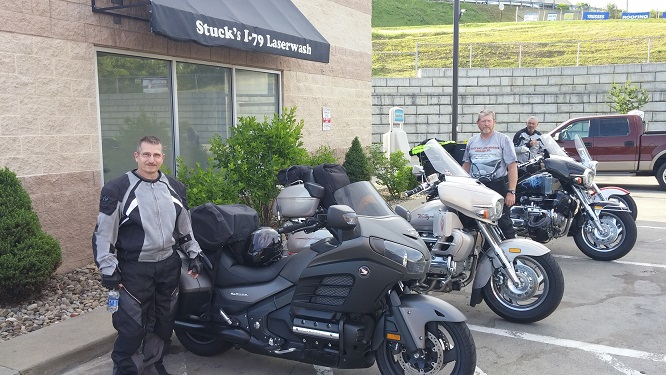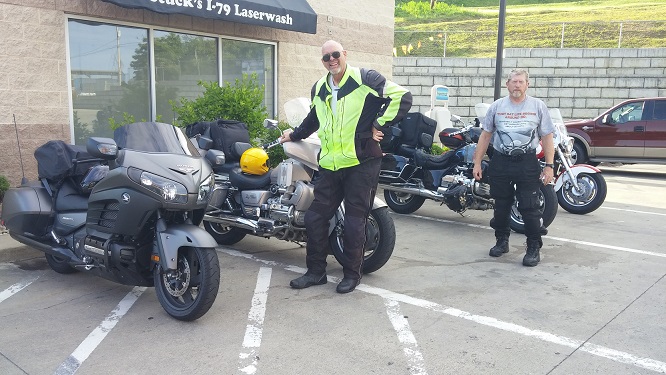 Don't we look fresh and ready to ride another 200 miles!
We Made it!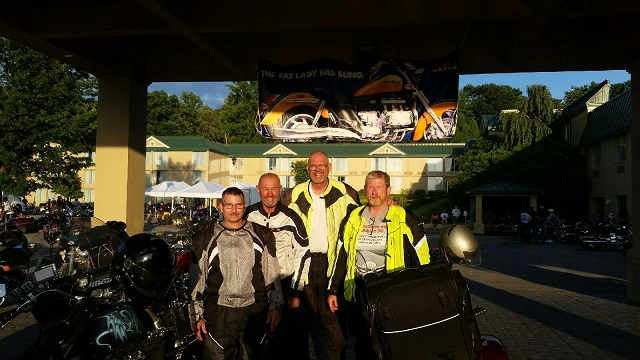 Tired but happy to be here!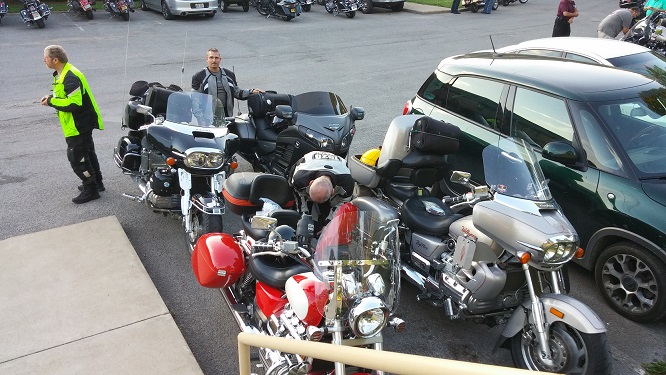 Unload the bikes and freshen up a bit. Then we get a bite to eat and socialize for a while.
Day 5
This is a rest day for us. We need to do a little laundry and find some vacuum hose for John's bike. I lost my cup on some rough roads so we also stopped by a local dealership and John and I found one's to put on our handle bars.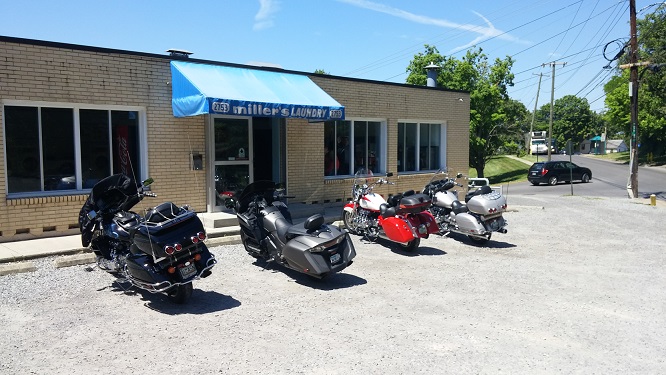 Ah, the glamour of taking a road trip on a bike!
Here's some pictures of some of the bikes.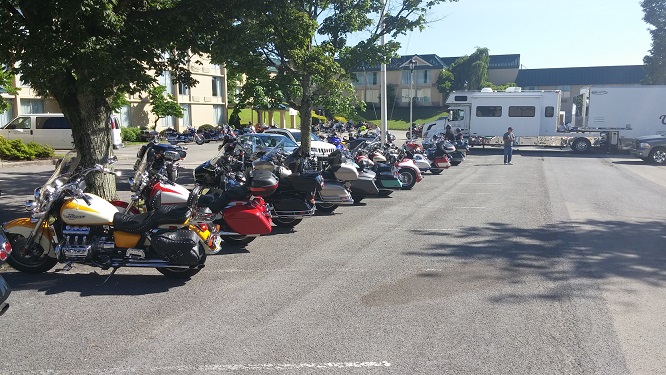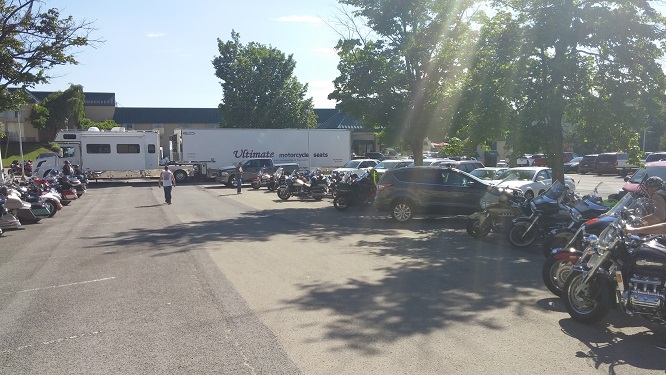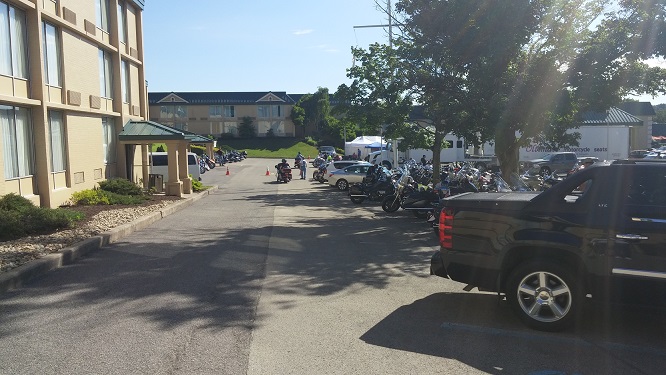 Day 6
We decided to take a ride into the Appalachian Mountains. George has a great ride planned for us. He was really good at doing research and finding all the great roads during our ride.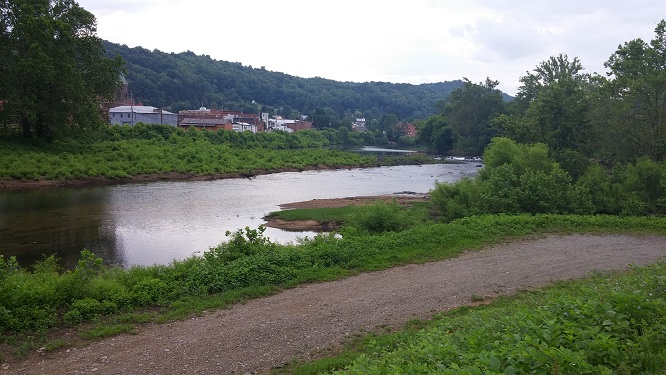 Beautiful rivers!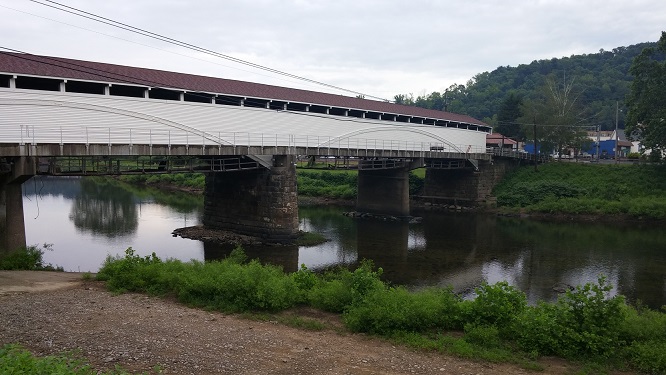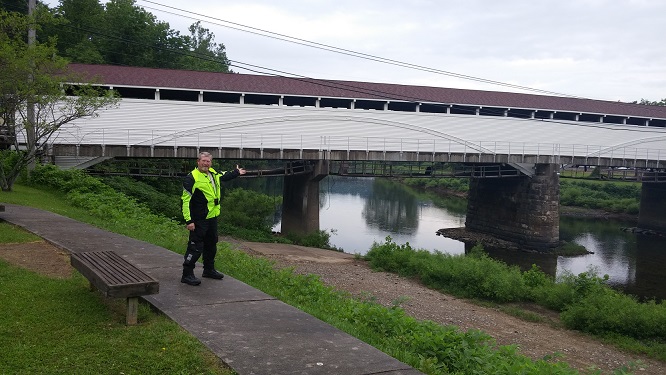 Cool covered bridge but it was closed for repairs.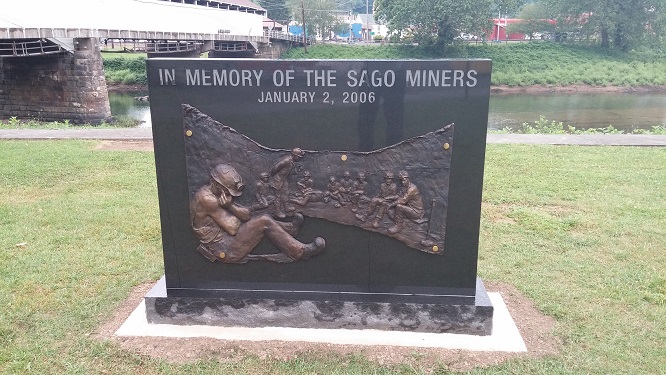 A memorial for the Saco miners killed in 2006.
There are such wonderful roads in Virginia and West Virginia. Here are some of the pictures we took along our route.
This is an intersection a few miles from the town of Hightown.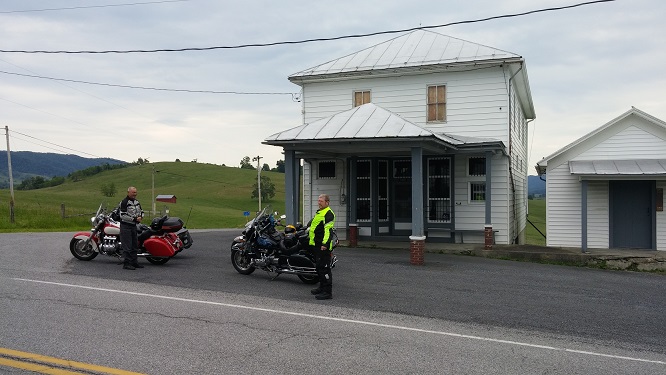 None of these building were occupied.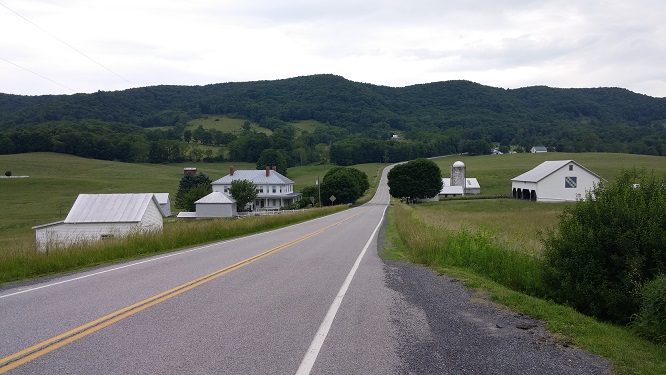 This was a working farm though.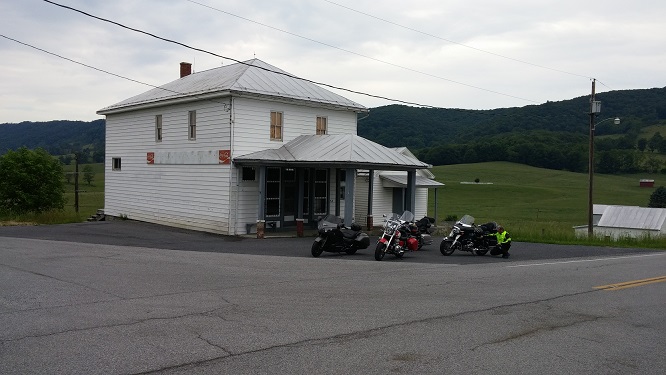 Absolutely beautiful country.
Time for a bit of lunch. The service wasn't to good though.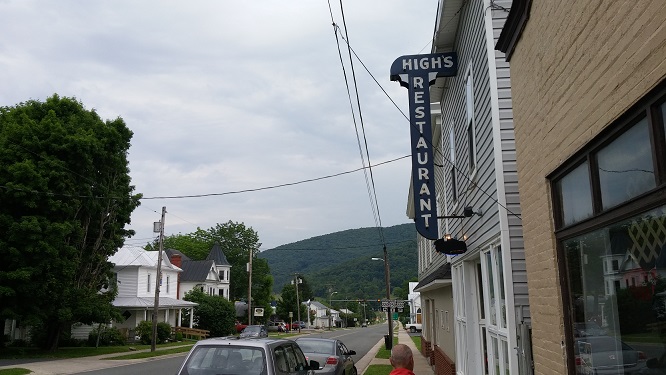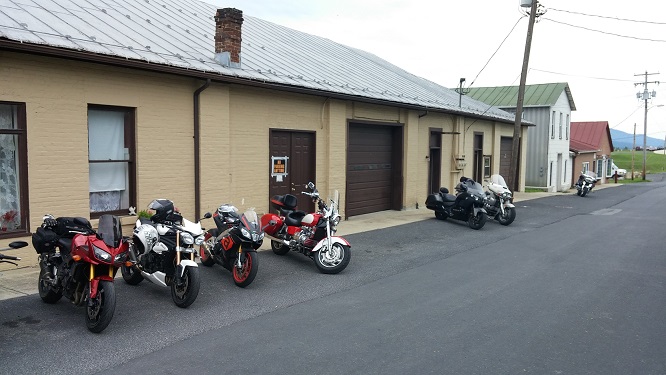 Met a group of riders from Minnasota. There wimps, they trailered them to some point here.
Here is some pictures of the beautiful country we saw on this day.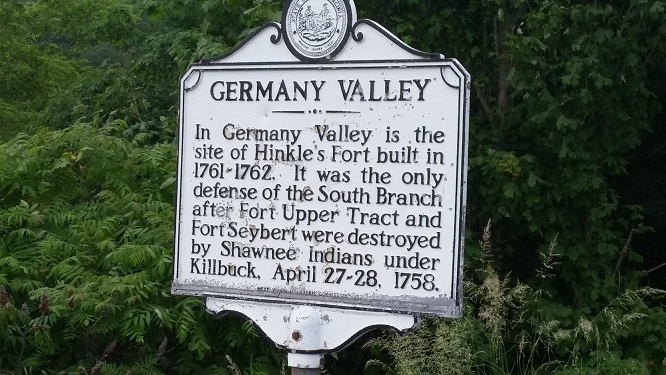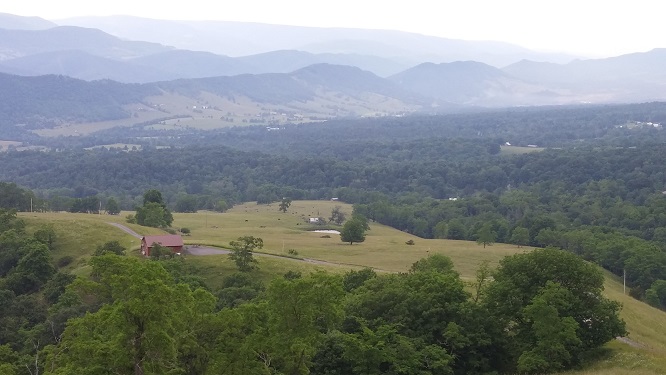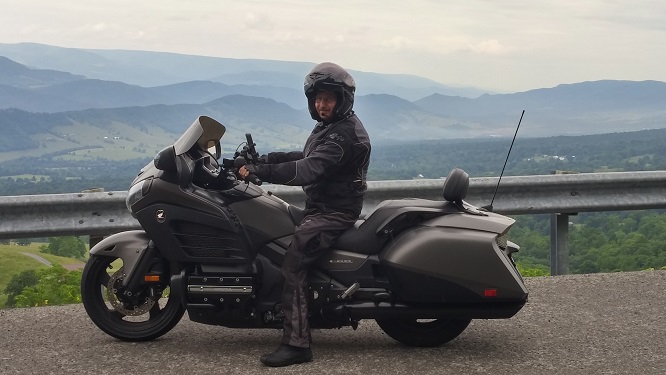 Dennis having the ride of his life!
We did a 284 mile ride on this day. This is a fellow we ran into at a rest stop.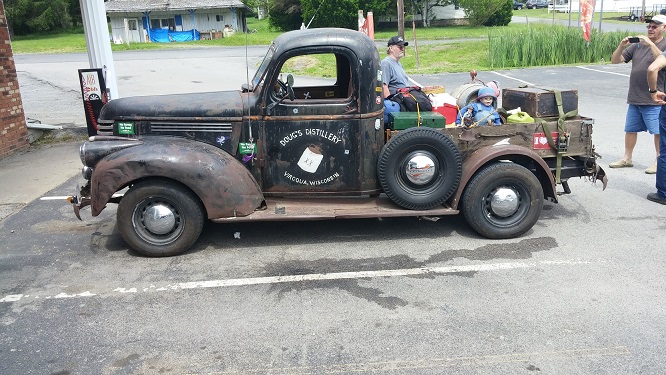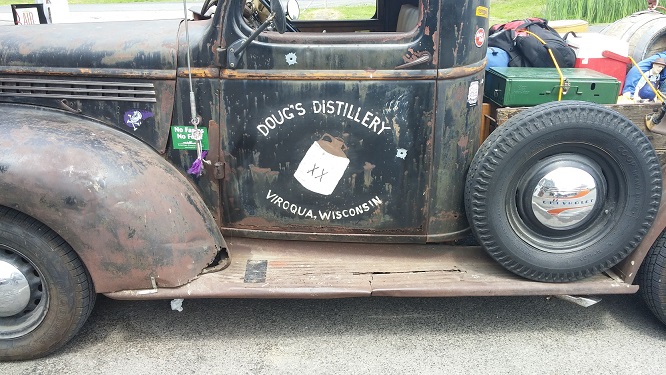 Quite a fellow on a road trip. 1946 Chevy, no air, power steering or brakes. He has a 1962 Chevy 6 cylinder and newer trans and rear end.
Later that evening we went to the pie auction and they had a Roy Orbison impersonator that was excellent. We all enjoyed it and one of our table members won a banana cream pie and shared it with us. Man was it good!
Day 7
This is the last day for the InZane rally and I think I heard them say the count was close to 400 people. We stayed close this day and I'm glad we did because we had a brief storms come thru twice.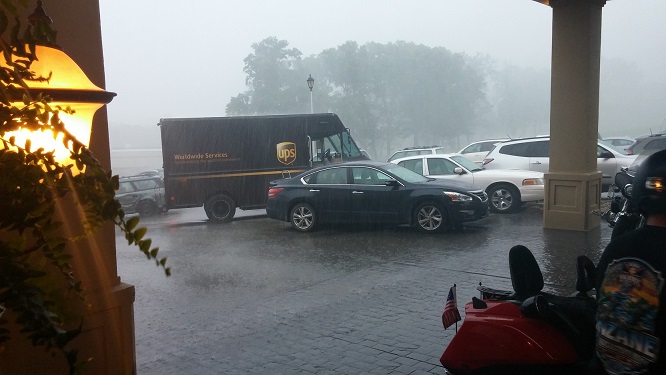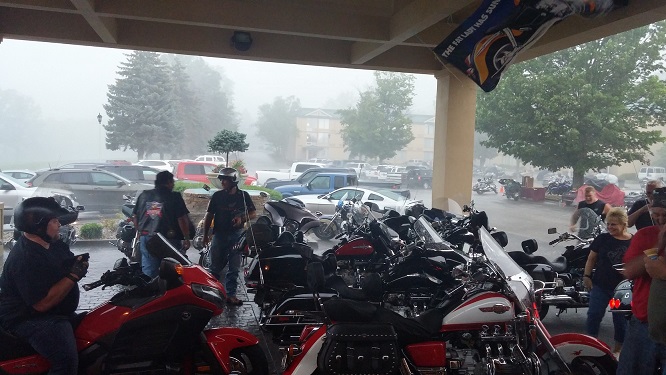 Some got their bikes under cover. Fortunately we covered ours earlier.
I Stayed back while the others went for a walk down to the lake. Luckily they were eating lunch when the storm came thru.
It cleared up nicely for the Bike show and shine.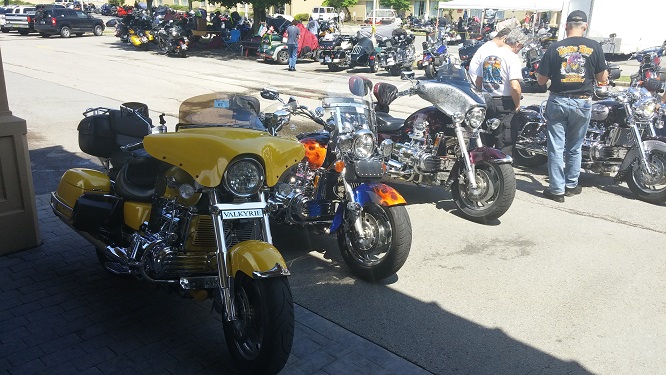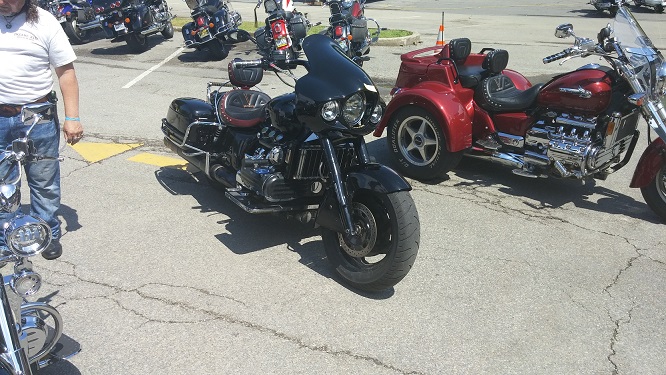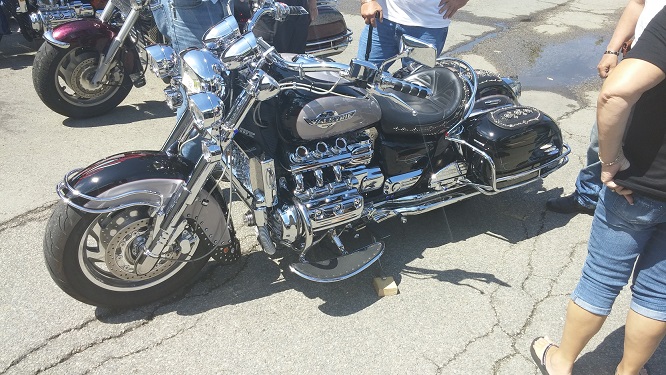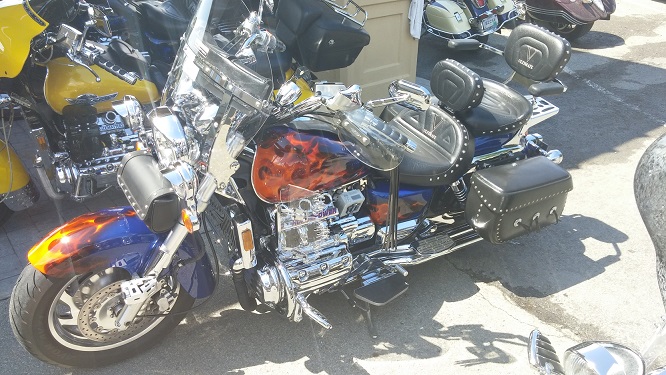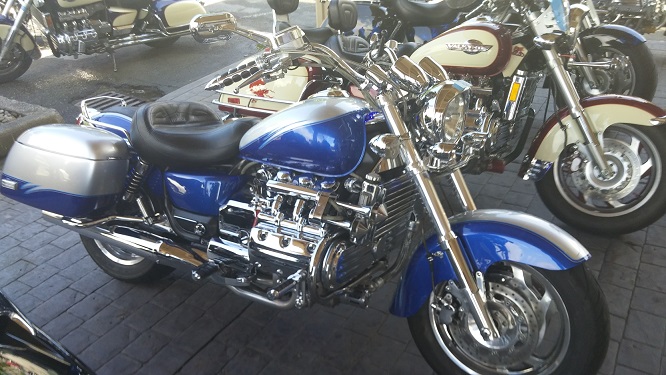 Many beautiful bikes to be sure!
The final dinner started at 6pm. Lots of prizes and fun.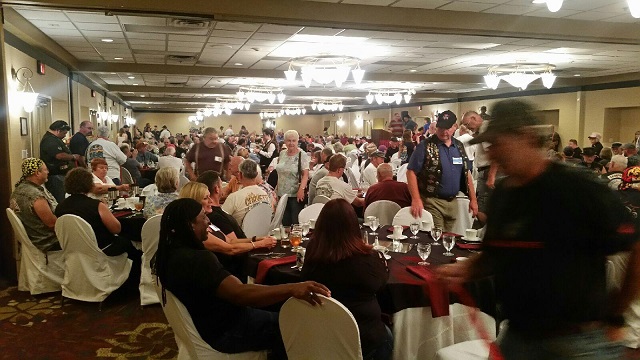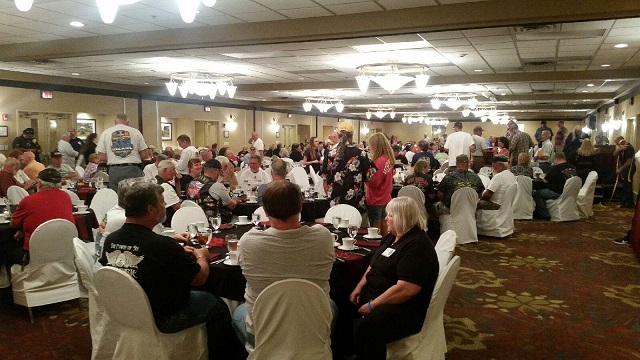 We didn't win anything though.
The Party ended around 9pm so we socialized a little more then went back to our room to figure out our next days ride.
The officers of the VRCC did a wonderful job of putting this together.
Day 8
Heading out for Maine. Our first nite on this part of our journey will be in Scranton Pennsylvania. The power went out at 2:30 this morning so we checked out in the dark so to speak.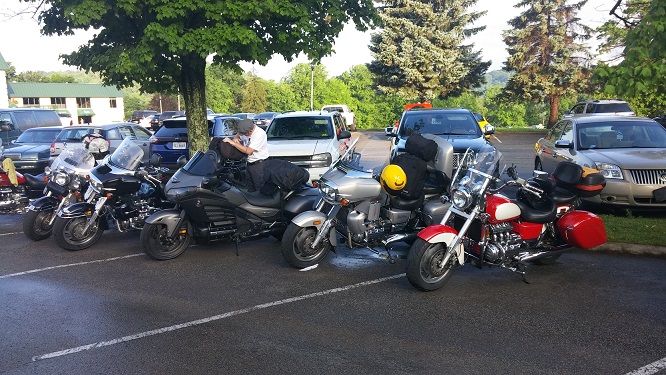 John's getting ready to ride this morning.
We stopped at Gettysburg along our way. There is so much to see you really need a full day to explore it all.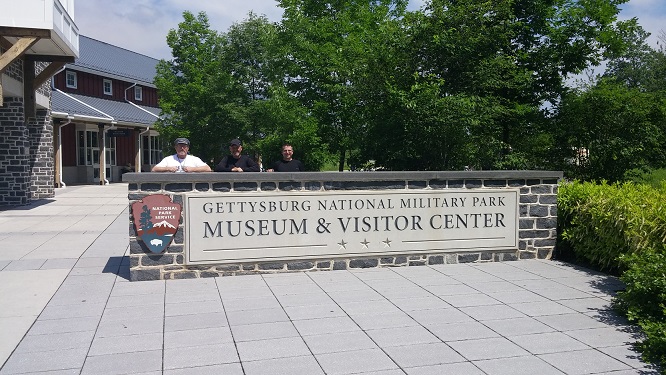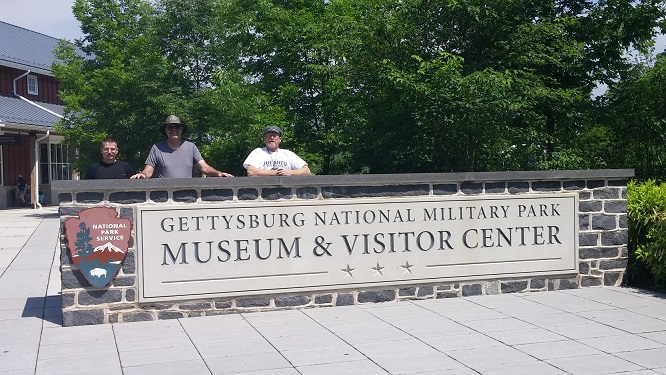 Thought I would get in a picture.
This place is so big I had no idea.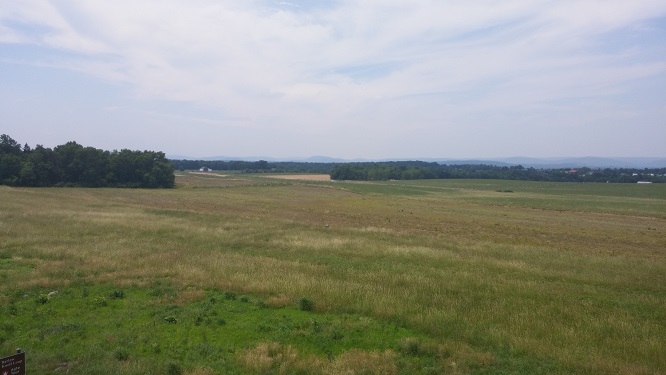 Over 10,000 soles lost there lives on the first day.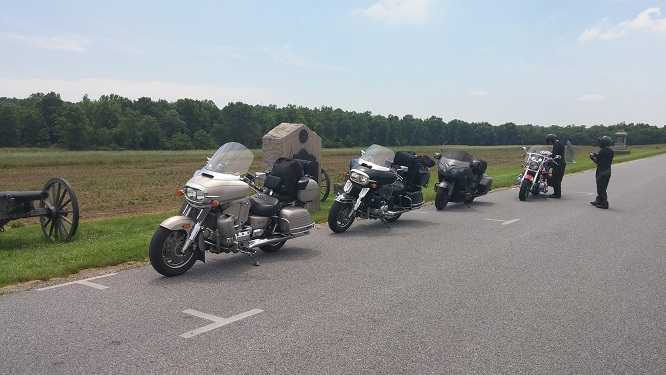 Looks like that cannon is pointed right at my bike.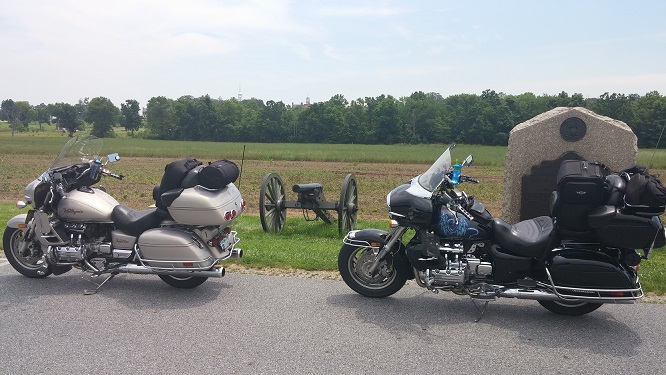 375 miles and we made it to Scranton PA. Seemed like a short ride this day.
Day 9
Lancaster, New Hampshire is our destination for today. We had a beautiful ride thru the Hudson river valley along the Hudson river of course. For some reason we didn't stop to take any pictures along the way. Wish I had now though. We made a stop in Plattekill N.Y. at a rest stop for gas and found this fellow doing the same thing in his 29 all steel Ford. He put an older Hemi in it. I waited for him to start it up but I was disappointed that it was so quiet.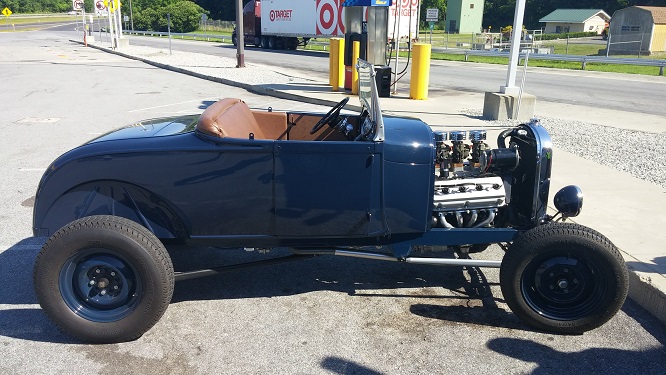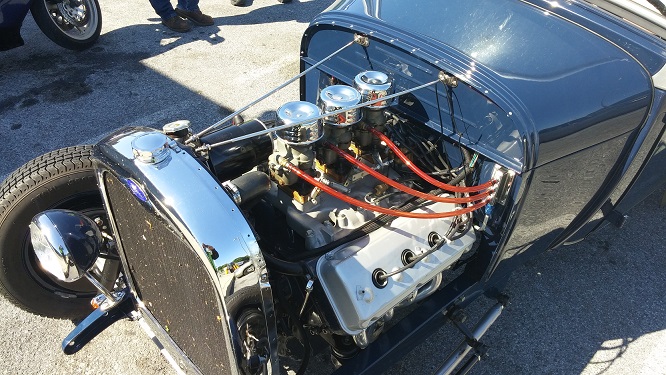 Somewhere along the way we got stuck in some traffic.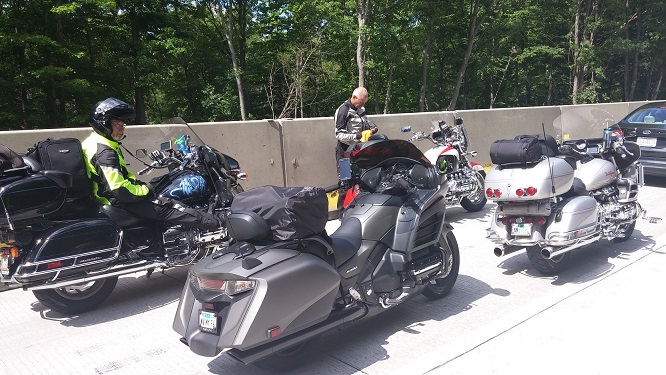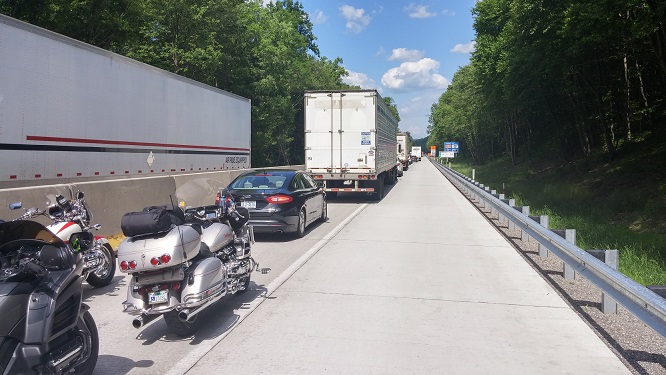 Some kind of road work ahead of us.
We had to go thru Albany for a bit and I must say it sucked. Hot and traffic in what looked liked the slums. People just sitting on the steps of there homes watching traffic go by.
Here we are in our hotel in Lancaster, New Hampshire.
This was a great place to spend the night.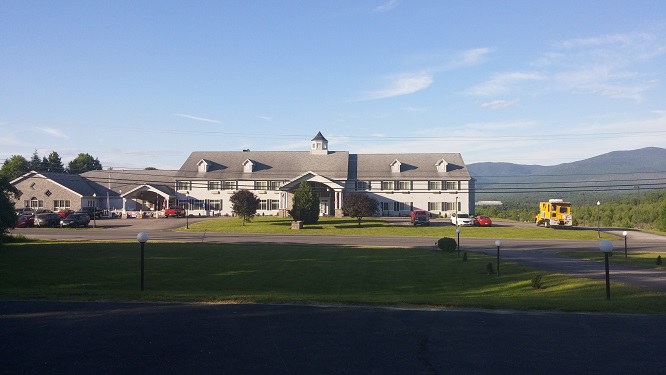 Unpacking the bikes after a day in the saddle.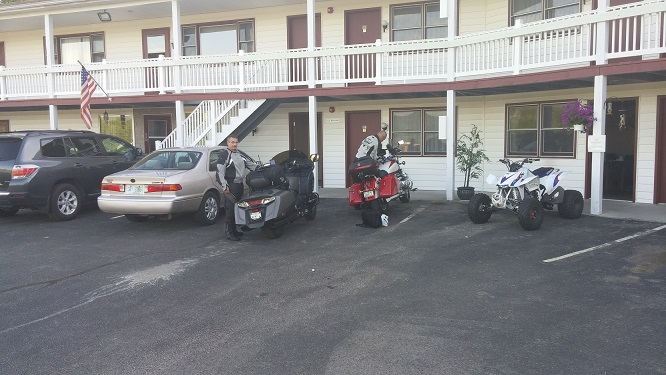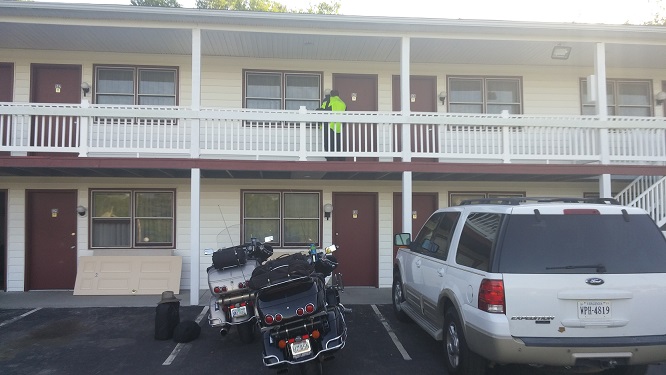 Time for a little laundry as well. At least for Dennis and I. Fortunately there was an ice cream shop next door.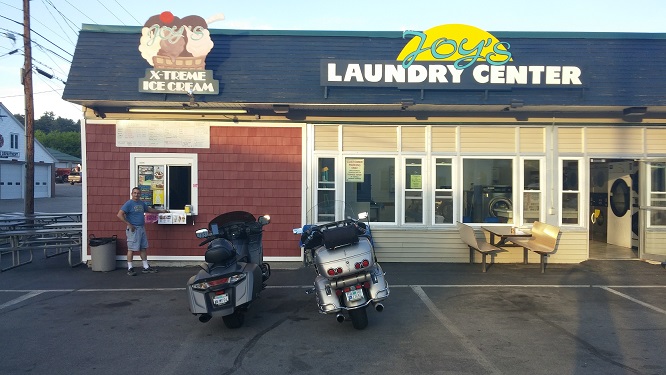 Relaxing on the balcony of our rooms.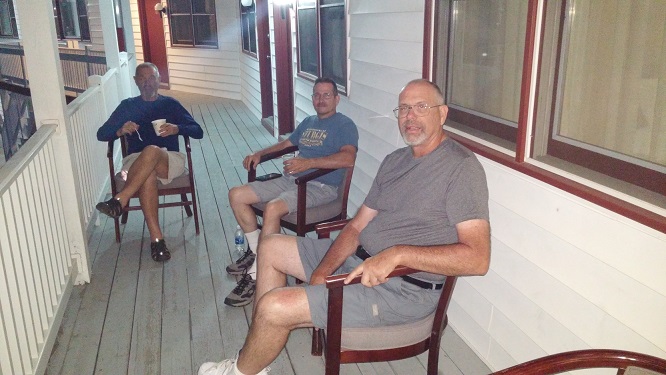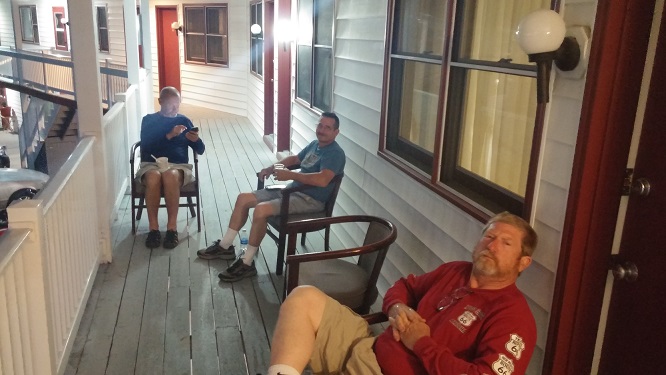 I Really like this location.
Day 10
We left New Hampshire and are now in the state of Maine. We will be in Bangor this evening. Before we got to our hotel we stopped for lunch at this very nice restaurant in Bangor called Seasons. I had the fish and chips that was excellent. We got in early and checked into our rooms. We had wanted to take a quick trip into Bar Harbor for a look around. For a few days I kept hearing a clunking sound coming from my bike. As we were going to the on ramp to the hwy to Bar Harbor it got worse and I said I have to find out what it was. So we turned around back to the hotel and determined that the U Joint was going out. Now the problem is how do we change it on a hotel parking lot? Well I happen to have a spare one with me. So I googled Harbor Freight stores to see if they had one in Bangor. What I wanted to do is go buy a motorcycle jack and use it then take it back when I was done. Well I called a cab and he took me over to HF and we got the last jack in stock. I also picked up a 27 mm socket and some rags.
So we all jumped in to get the job done. As we started Connie and Michael drove up on their new Valks to spend the evening with us. It was great to see them so far from home.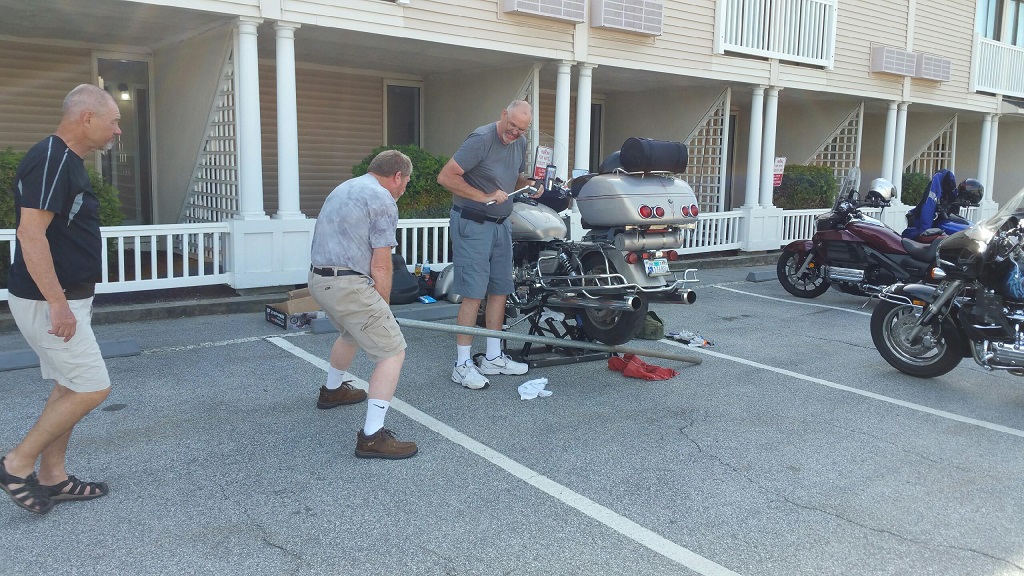 Here's John using a pole for leverage to pull my wheel up.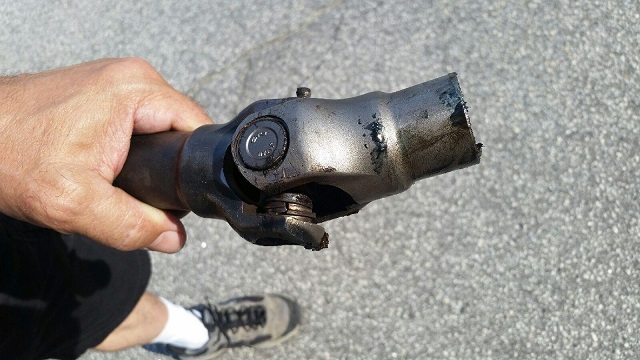 Here is the bad u joint.
I can't thank John, George and Dennis enough for helping me with this task.
As we were trying to get the u joint boot on, which by the way was a big pain in the ass. Jimmy T and Dave from Texas drove up to join us for the evening as well. It took a total of about 4 hours to complete the job. The next morning I used Uber for the first time to take the jack back to HF. We got it done in time to enjoy a nice dinner with all and test out the bike.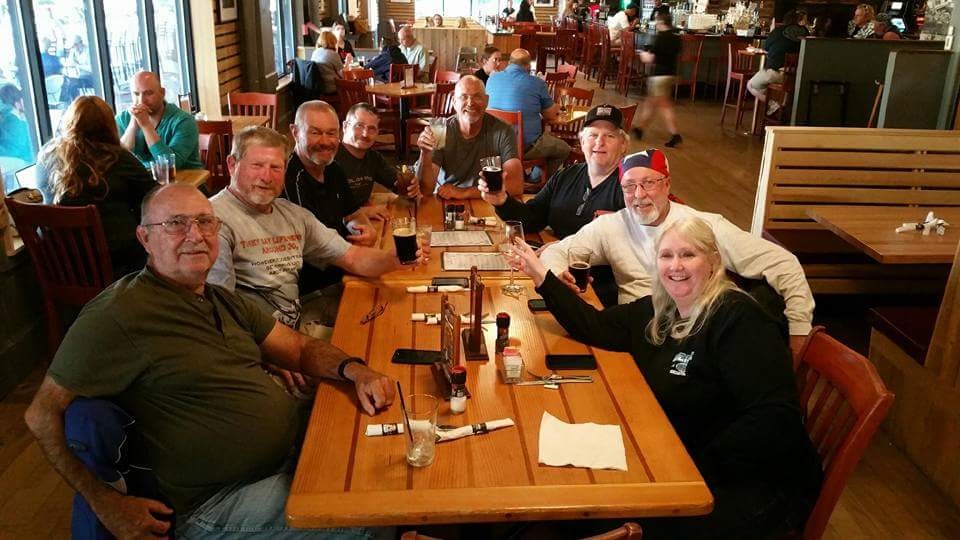 Great time having dinner with from left Michael, John, George, Dennis, Dave, Jimmy T, Disco Dave, and Connie.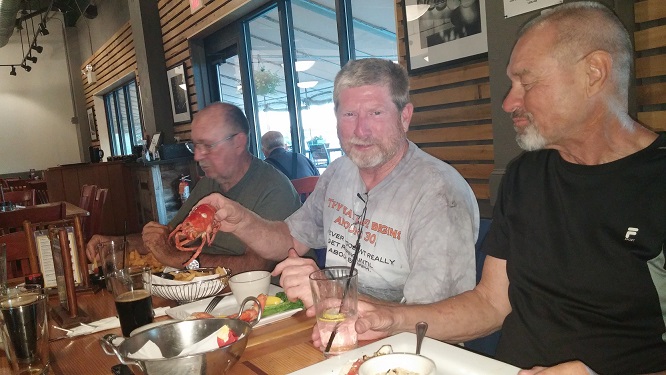 John having his first Lobster.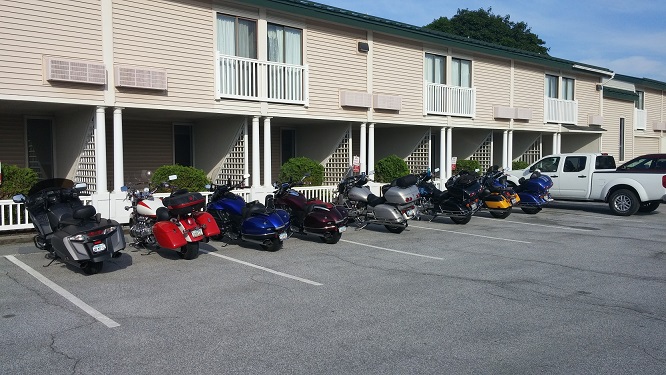 A bunch of nice looking bikes in Bangor.
Day 11
On this morning we are planning on taking a tour thru Bar Harbor. Jimmy T and Disco Dave are going to join us until lunch. Unfortunately Connie and Michael have to leave and head south for home as they have a commitment. I took the Uber back to HF and had no problem taking the jack back for a refund. The four of us are returning to Bangor for the night after our ride on this day.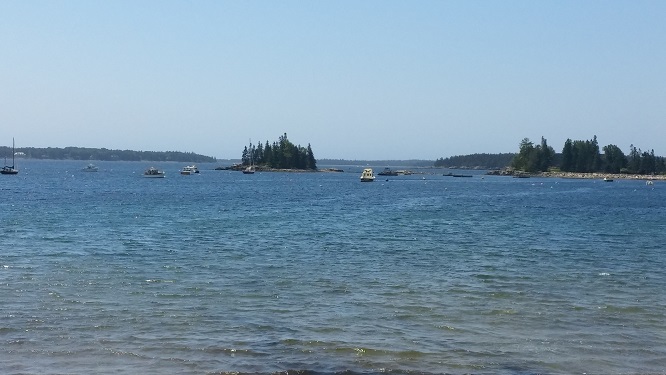 Spectacular views.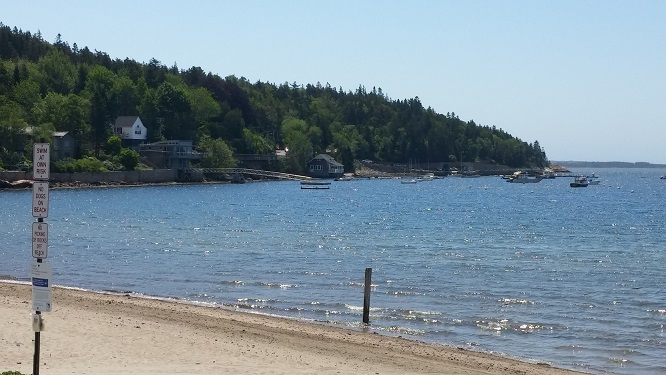 Weather was perfect on this day.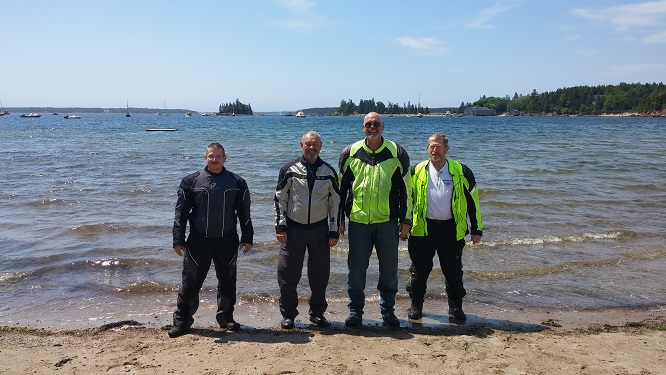 Getting our feet wet in the Atlantic Ocean.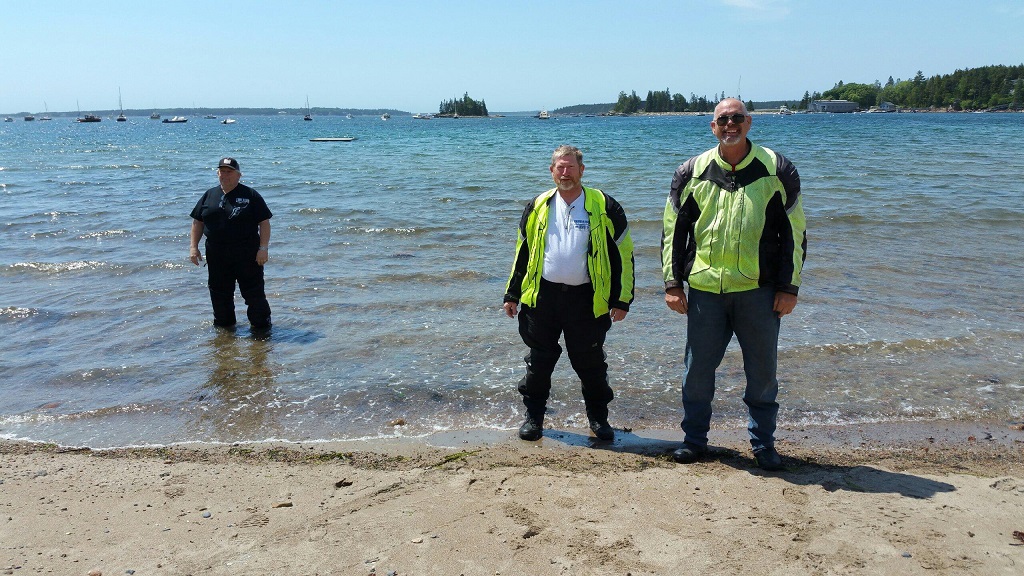 Jimmy T taking it a little deeper. He said his boots are water proof.
After a nice ride it was time for lunch.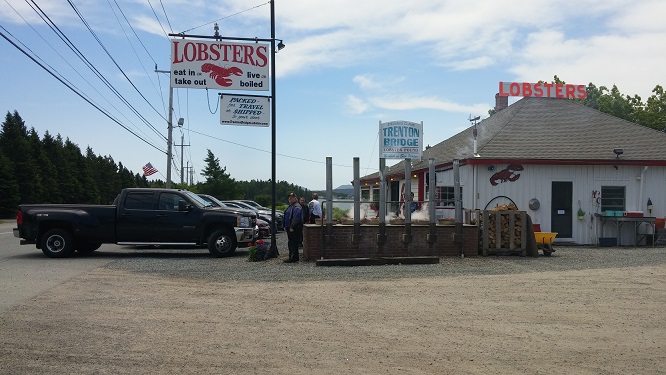 Take your pick!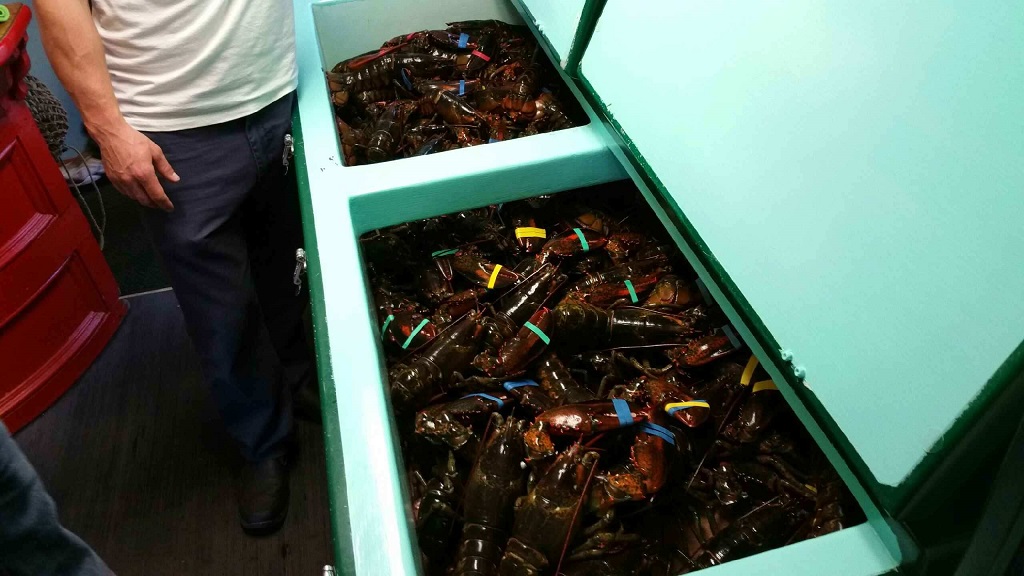 I'll like this one!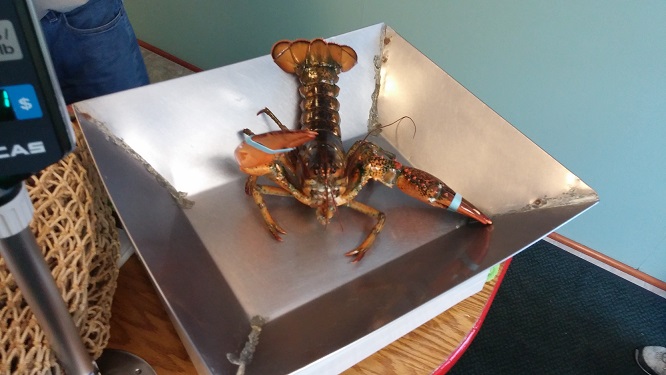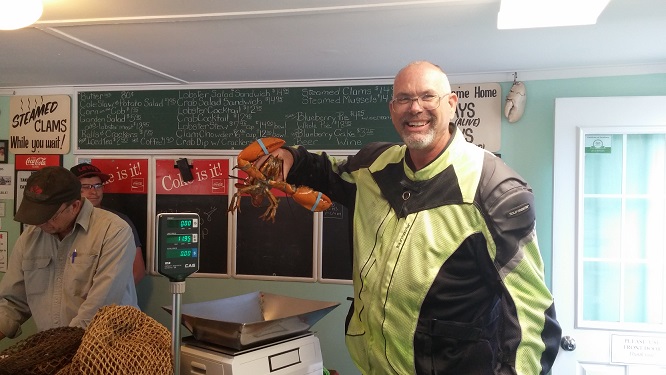 We all ate well this day!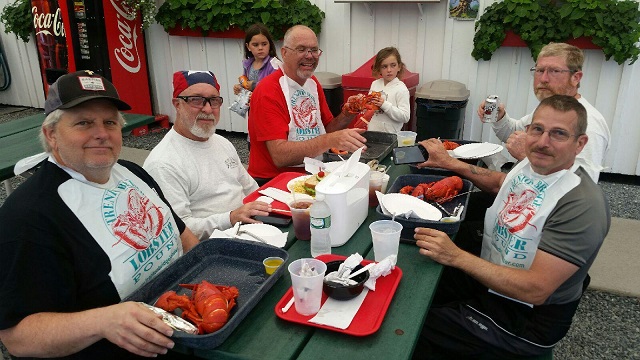 After lunch Jimmy and Dave had to leave us and head back to Texas.
The 4 of us decided to check out the Acadia national park. After checking out the visitor center and talking to a fellow valk owner who happen to see us it was up to the top of Cadillac Mountain. The road was great for motorcycles but it did get a bit windy. Once at the top you have almost a 360 degree view of Bar Harbor. But man was it windy at the top! It would almost blow you off your feet. I heard its that way most the time. Also it's the first place in the USA that is touched by the sun.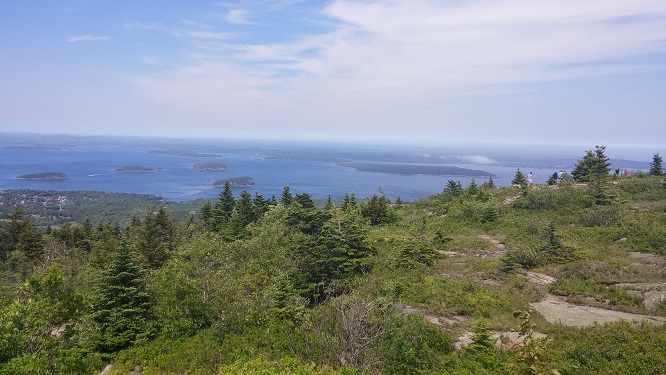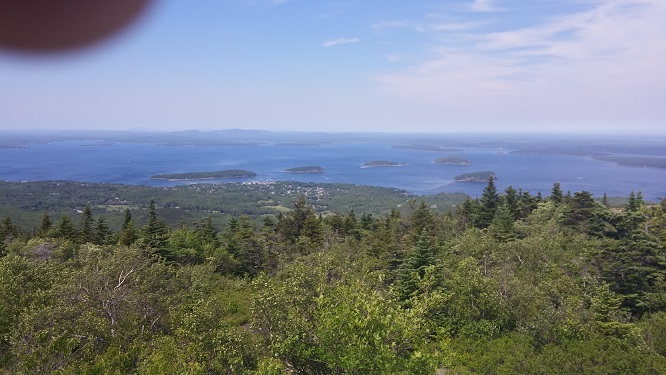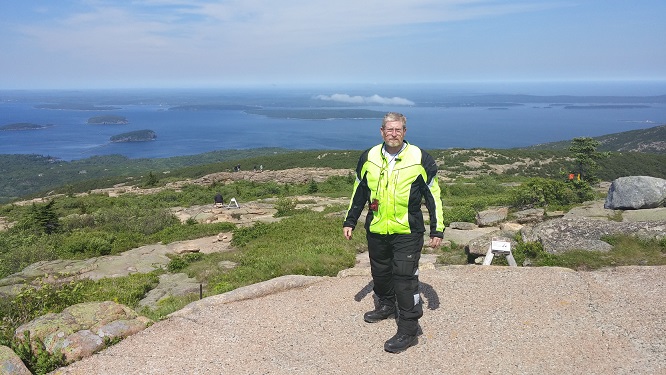 John almost getting blown over. It was very cool as well with the wind chill factor.
Dennis made a great video of us riding down this mountain but I can't figure out how to post it on this web page.
So it's back to Bangor and a good nights rest for tomorrow.
Day 12
Today we are going to Madawaska Maine. It is one of the 4 corners of the US. On the way we stopped at this great rest area of a view of Mt, Katadin.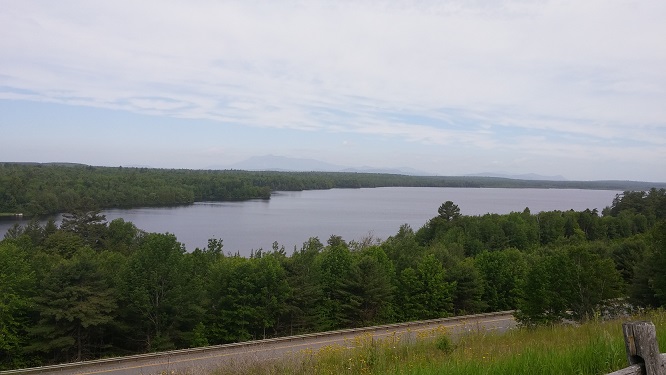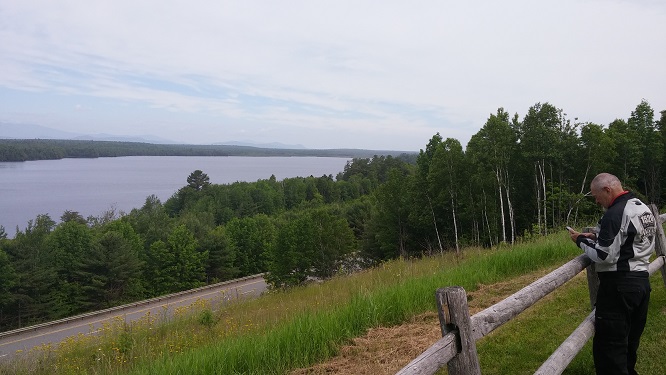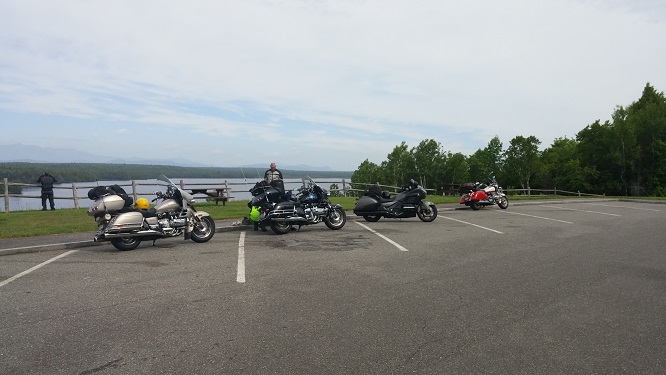 It was a little hazy but beautiful all the same.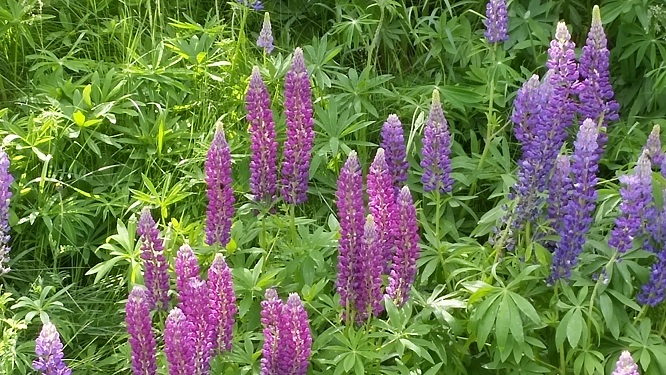 These flowers are called Lupins. They are everywhere and are just beautiful!
Here we are in Madawaska.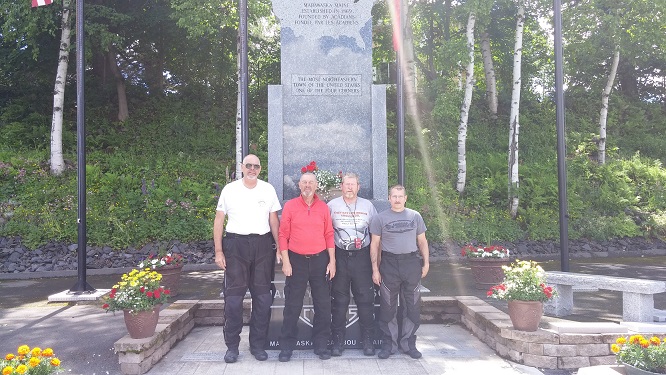 This is one of the 4 corners of the US that you would want to hit for sure.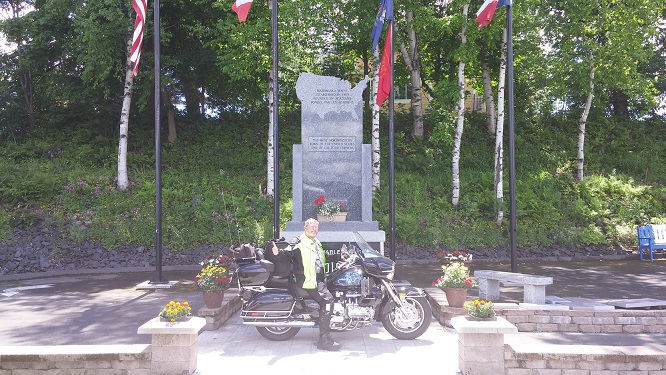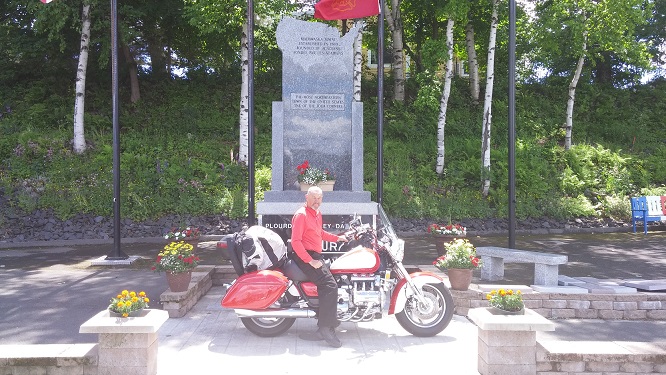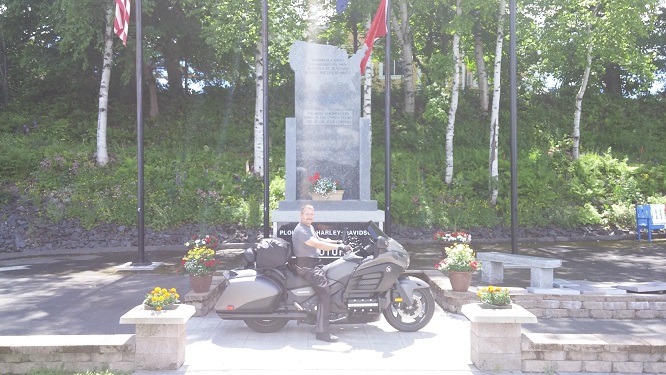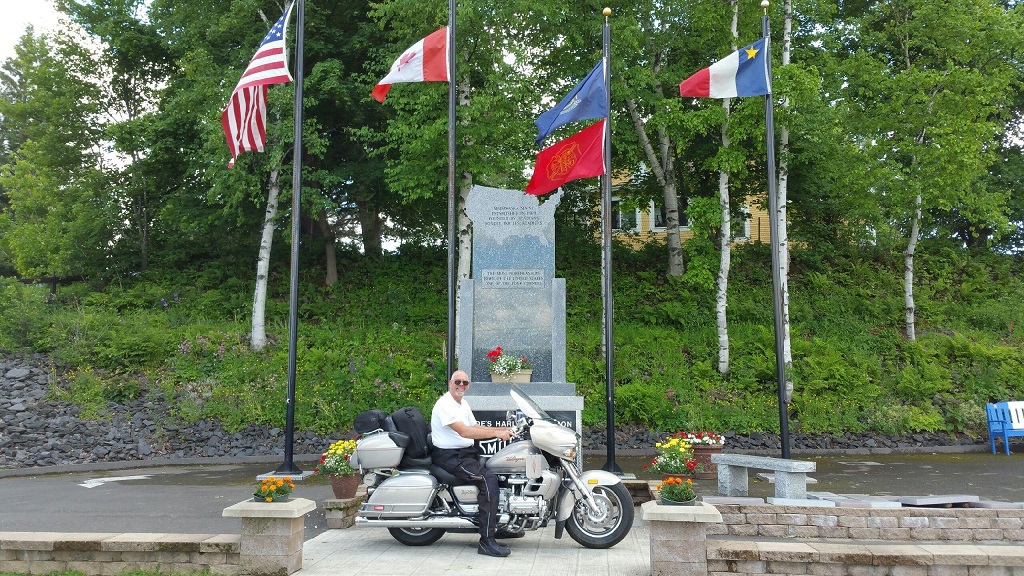 I don't know how my picture got bigger.
We stopped for lunch while we were in town and then made our way south. We stopped a this nice motel called the Katahdin Valley Motel. The room we got was nice with two bedrooms with 2 beds in each room. It had a full kitchen with washer and dryer although we didn't use them. On our way to dinner we came across some of the local wild life.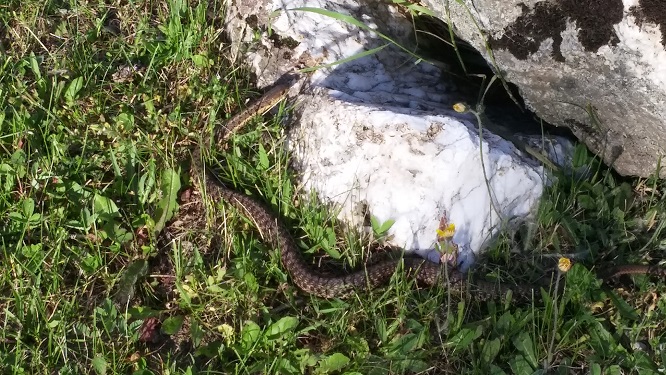 The room was above the garage.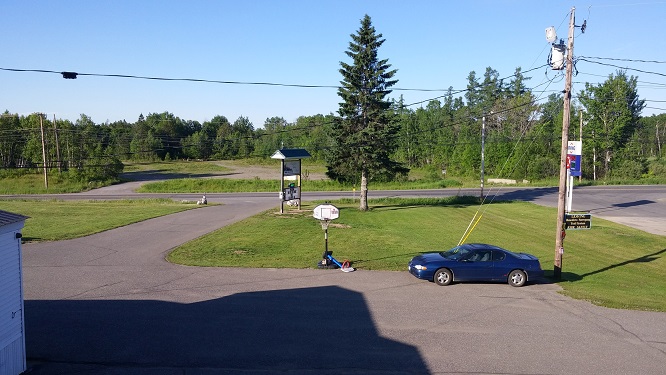 Day 13
Today we're going to head east for the coast of Maine to Brunswick. It will be around 330 miles of country roads so it will take awhile.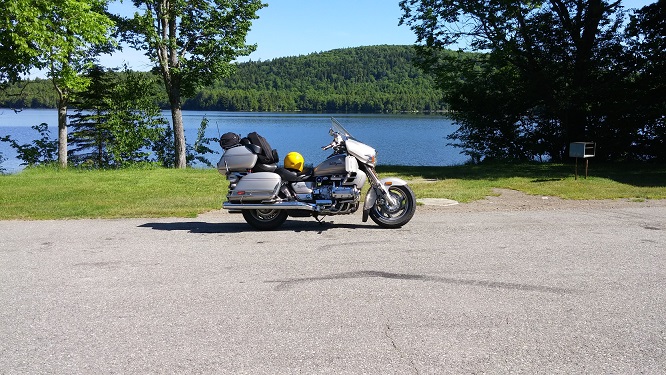 Just another beautiful lake!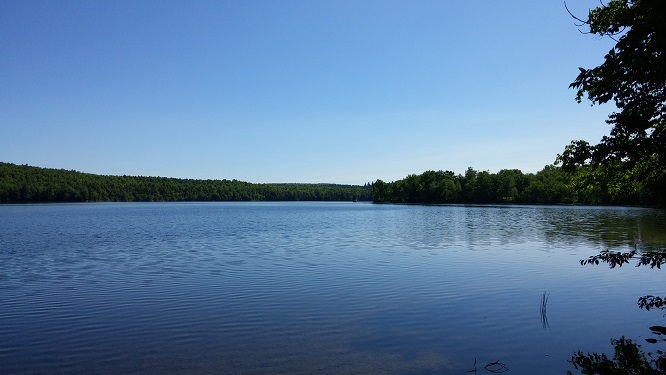 George's cell phone came off it's cradle and fell on the road at about 50 mph. We stopped and he found it after a few minutes. I can't believe it still worked although it had a cracked screen.
Went across this cool bridge and had to stop.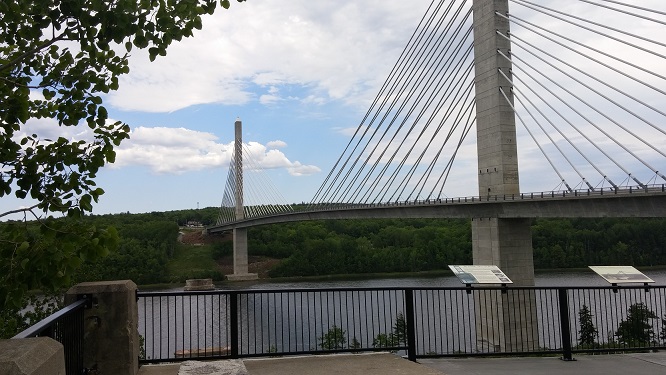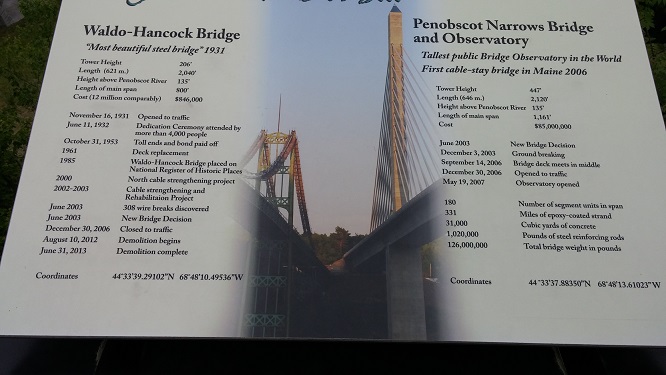 Here's our motel in Brunswick Maine. They were nice and let us wash our bikes with there hose and gave us rags.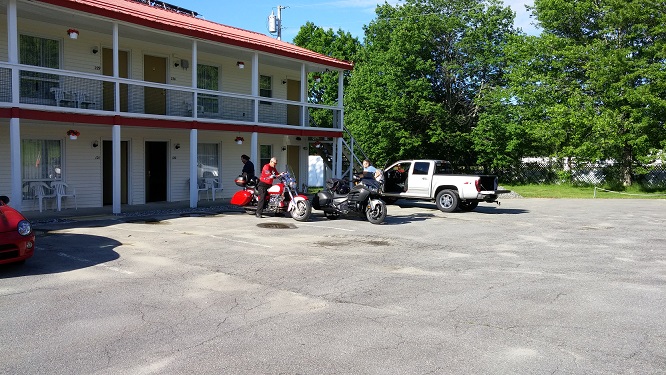 Day 14
We're heading west today towards Cooperstown N.Y. 347 miles on back roads. Looks like we got lucky on missing the storms so far.
One of our stops was in this great little town in Danbury, New Hampshire.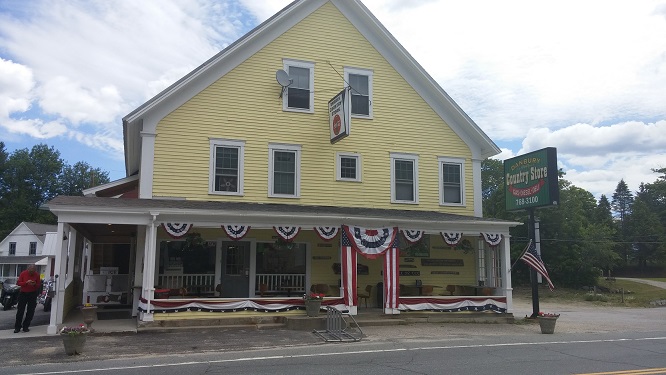 Nice country store.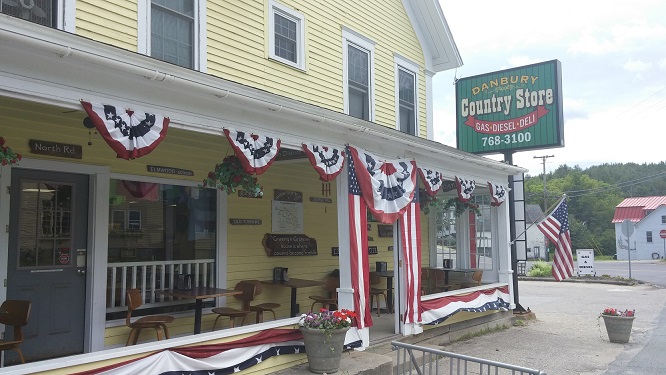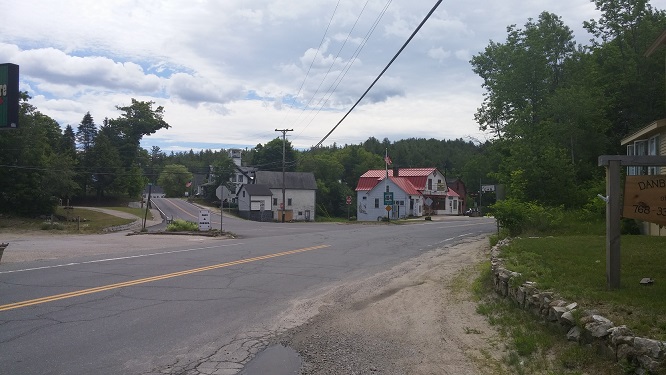 Main intersection.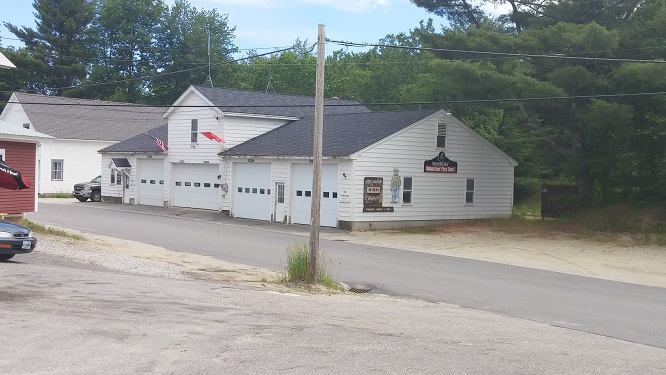 Fire Department.
Here's a stop in Newbury N.H.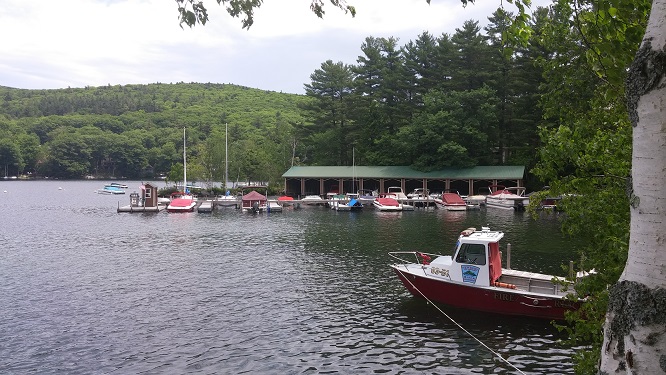 When this lake is frozen in the winter they have auto races on it.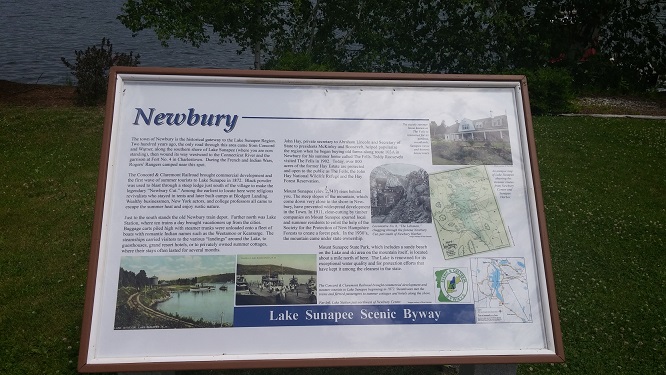 Just a great place!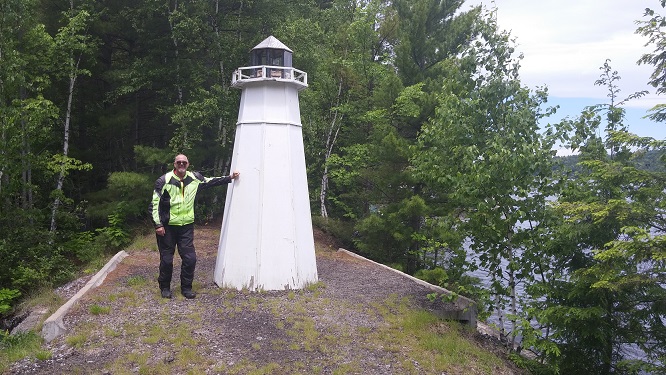 Would you believe this is the only Lighthouse we saw on the whole trip!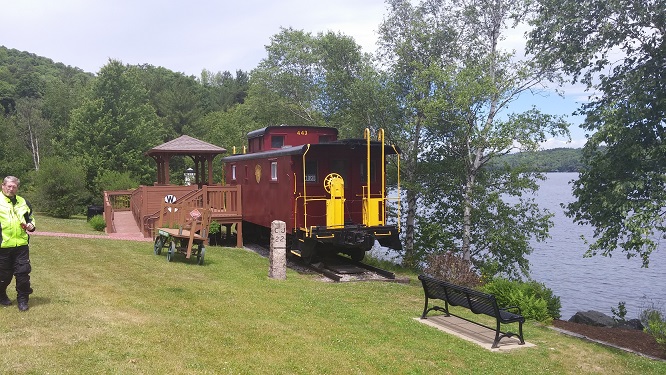 This caboose was a museum but was closed at the time.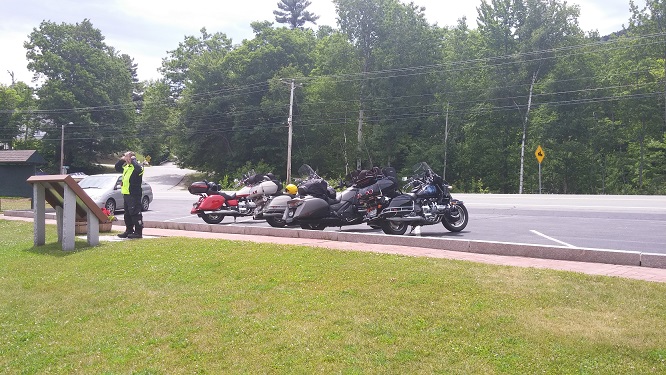 John taking out his ear plugs.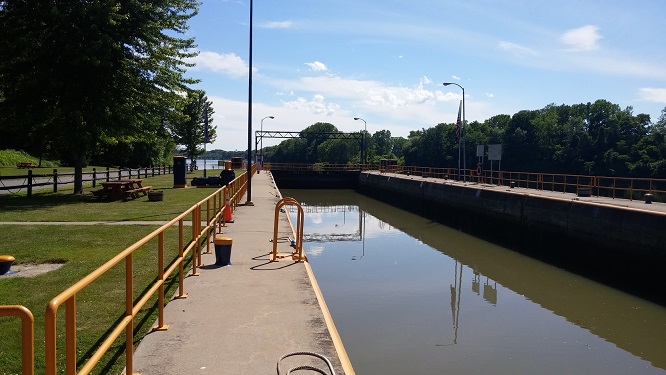 After this stop we found ourselves in in beautiful up state N.Y.
We just had to take a look at these locks on the Erie Canal.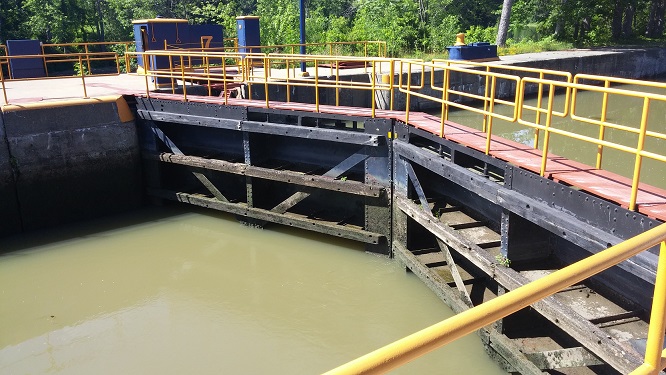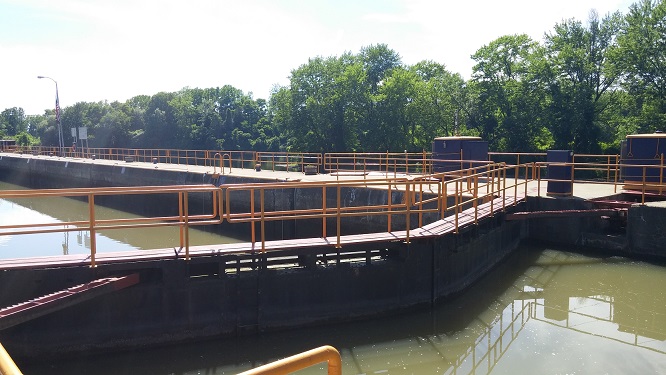 Really a cool piece of engineering for sure.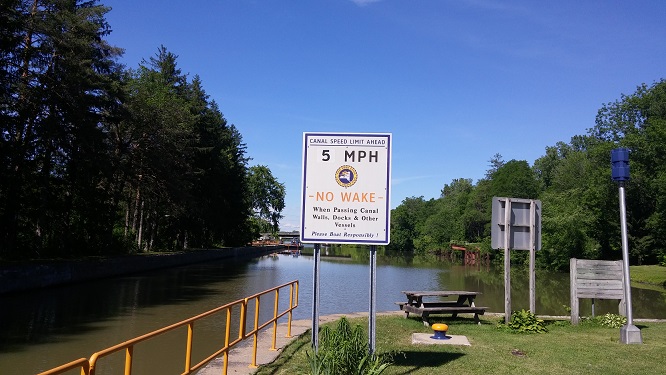 You better slow down!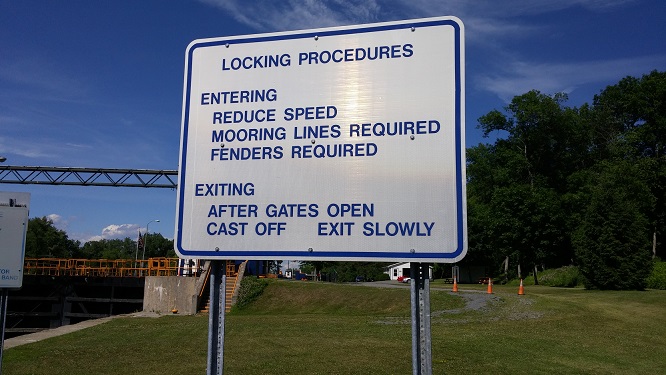 And follow the rules!
We look around for about 20 minutes and decided it was time to get some lunch in Fort Edward.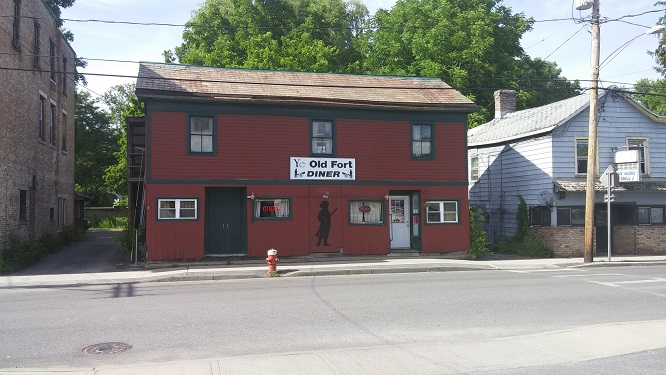 The outside didn't look like much but the service and food was good.
After lunch once again in the saddle we found our way to the N.Y. Vermont state line.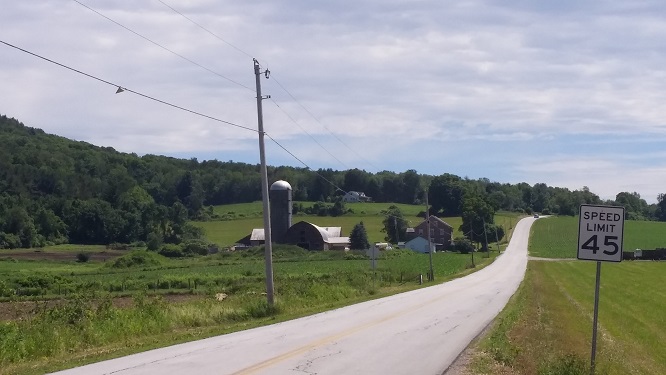 Such beautiful country roads.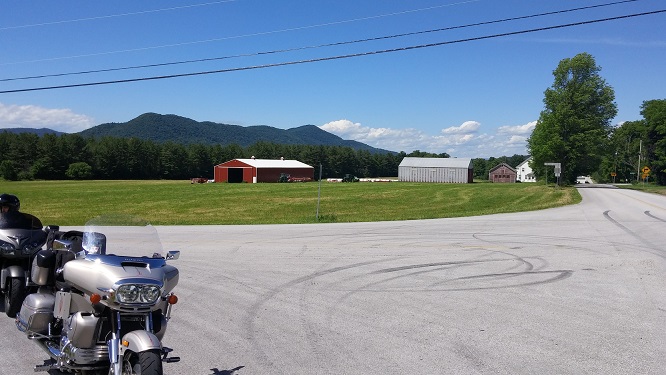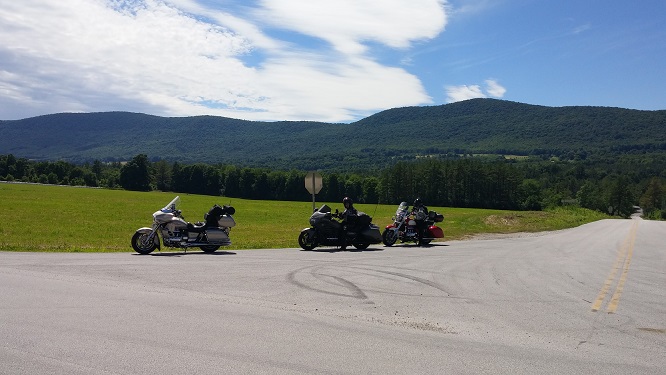 Vermont is just Beautiful!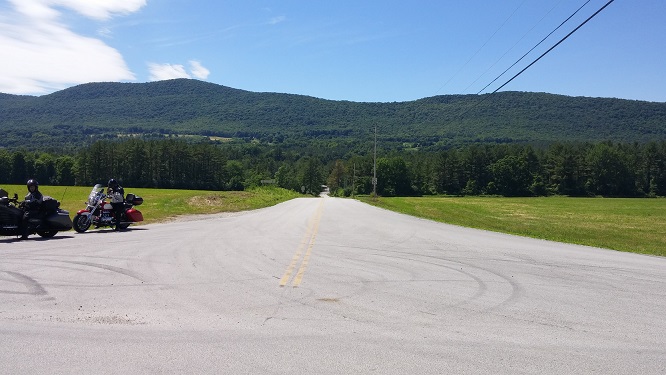 And some big Marshmallows in the distance.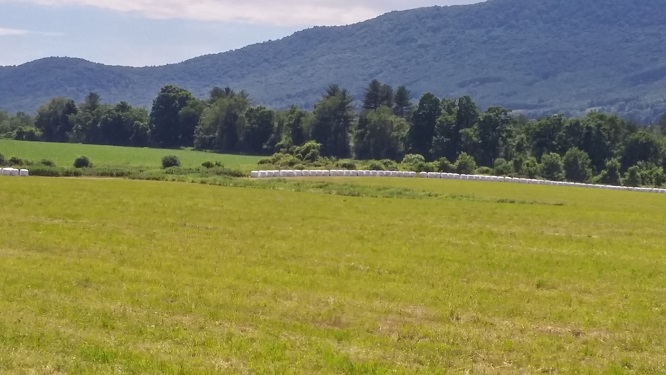 Day 15
At this point we wanted to explore the Adirondacks the next day so we stayed one more day in Upper New York. Queensbury/Glens Falls was a stay for the night at the Days Inn.
The Adirondacks are one of the most beautiful places I've ever seen. Water and lakes everywhere.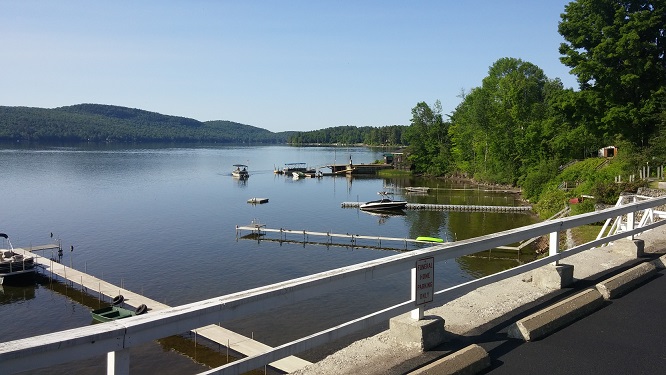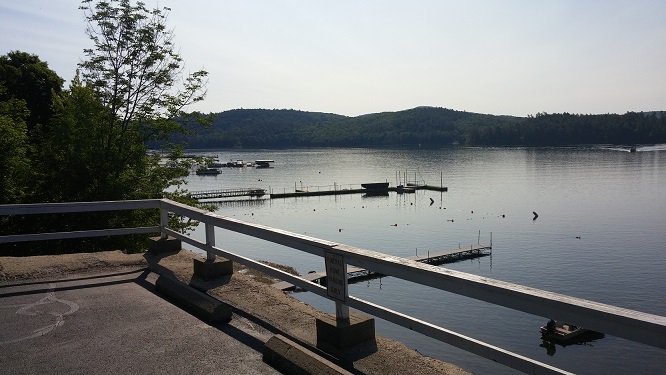 We parked in a funeral home parking lot.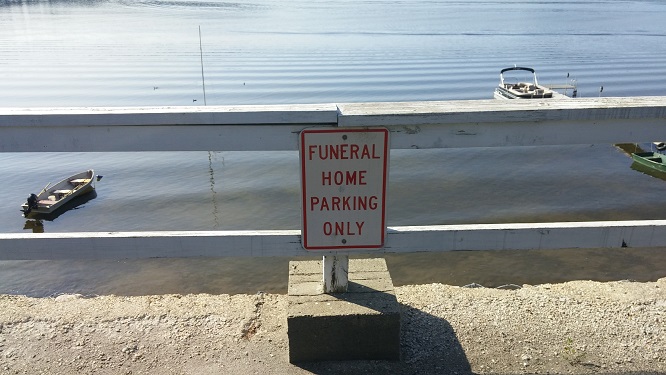 We didn't think they would mind.
The town of Schroon had a great Veterans memorial.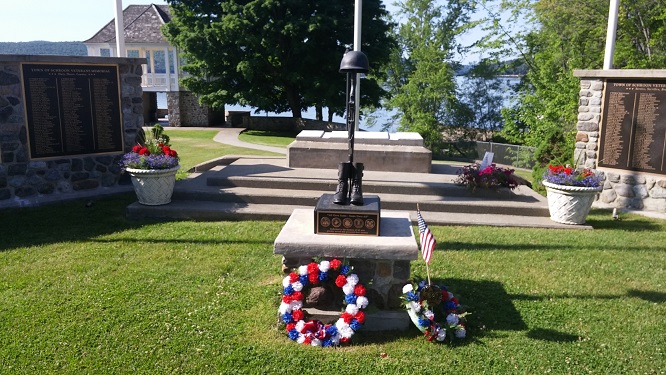 Nice little town as well.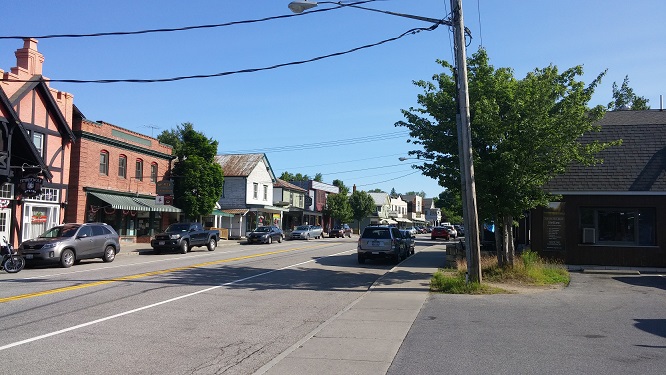 Touring thru the Adirondacks we passed Lake Placid.
Here are the ski jumps they use in the Olympics.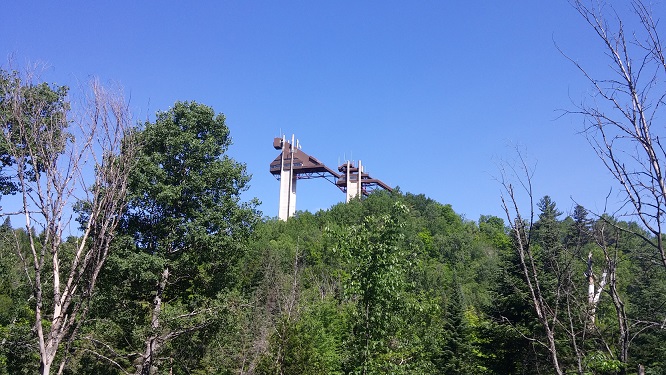 Something's just can't wait.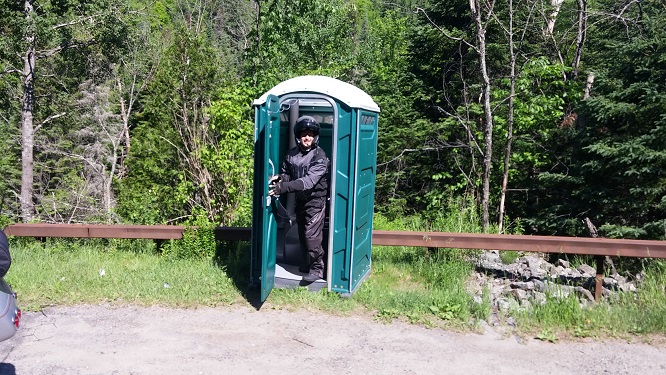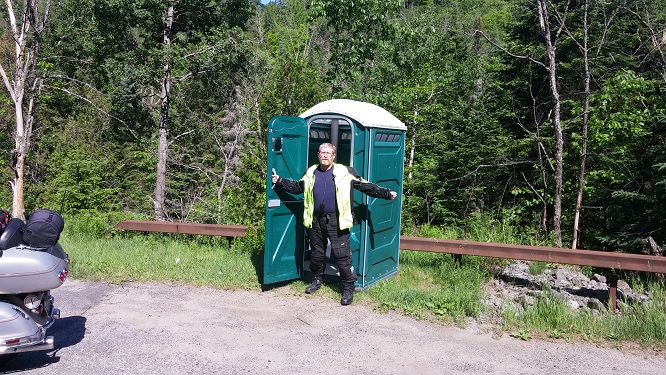 These are pictures of Tupper Lake. It's on both sides of the road and is so pretty.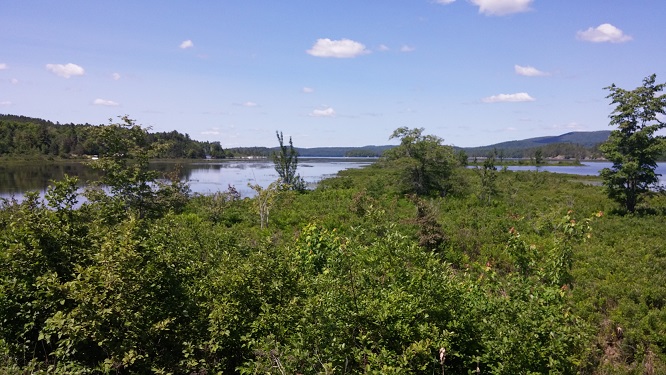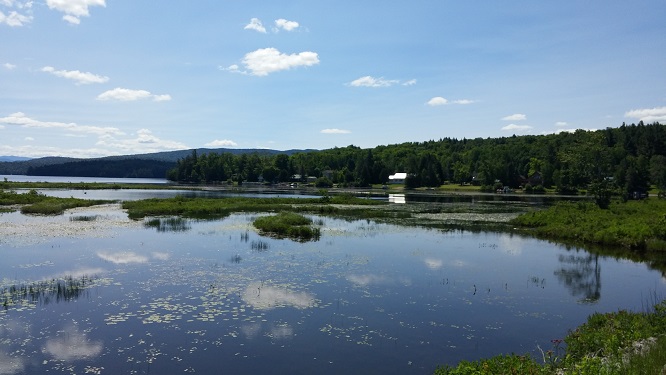 Now the bike shot!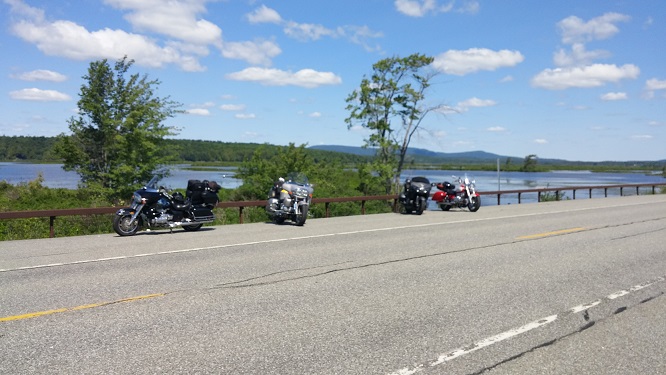 And to think this is all frozen in the winter.
After all that boring beauty "LOL" we found a lunch stop in Vestal N.Y.. This place was called Michaels and was recommended by a local so we gave it a try. It looked so fancy we were almost afraid to go in.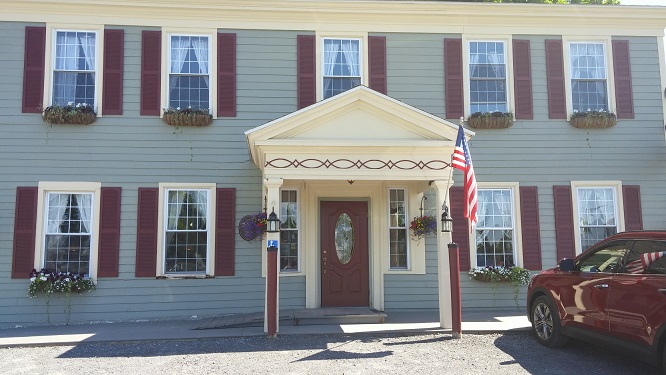 They treated us very well and the food was great and reasonably priced as well.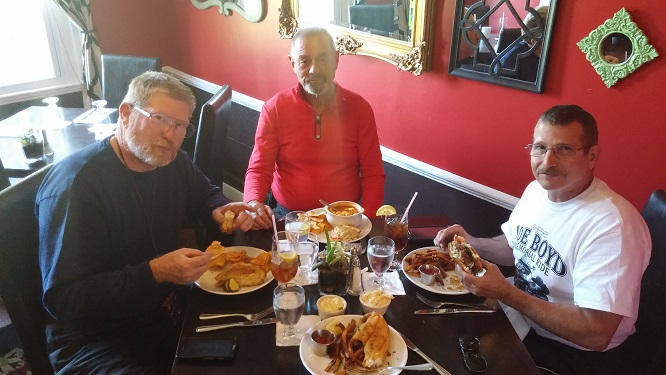 Day 16
We stayed in Vestal for the night. This was our last day before we make out way west for home. Looking at the weather we thought we needed to make up some miles to get around it. So not so many pictures of this part of the trip. We went from N.Y. to Pennsylvania , Ohio into Indiana for the night. 595 mile behind us and closer to home. We did stop for a break in Sunbury Ohio and checked out a Harley dealer there. Dennis and I bought a seat pad.( ok I'll admit it my ass was getting sore) and John bought a shirt.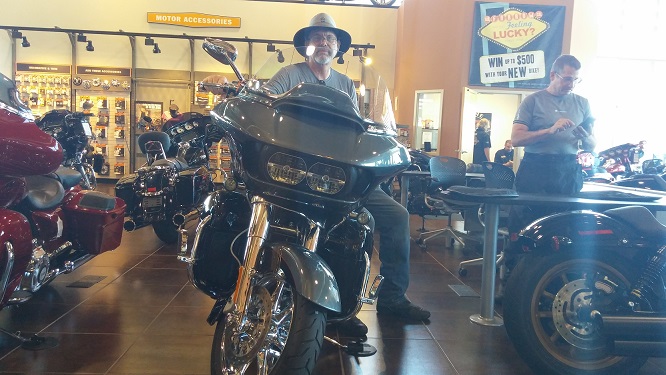 I checked out this new Road Glide while Dennis is checking his bank account. We left with just the seat pads!
We stayed in Richmond Indiana at a nice local motel. There was a Golden Corral down the street so after we unloaded it was time to eat. The foods not bad there and we all got our fill.
Day 17
Well the weather as been good to us these last few days and we are thankful for that for sure. We're going to try for Springfield MO. Looks like we're also going to go thru Indianapolis as well. We stopped for gas there as there was a fwy detour.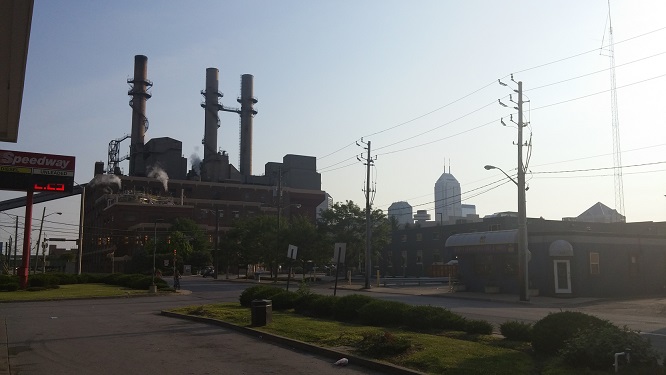 From what I saw of Indy I was not impressed!
We stopped in Brazil Indiana for a bite to eat at McDonalds.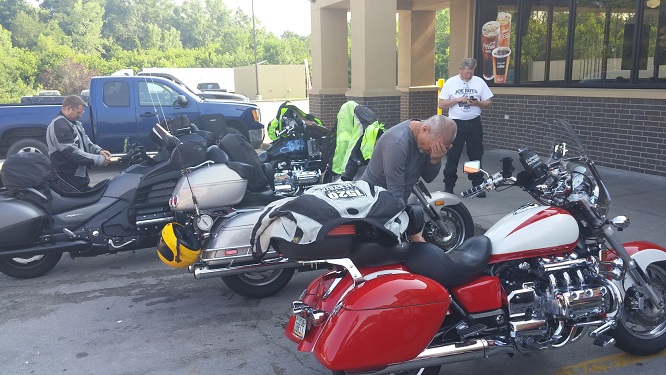 George is looking a little tired in this picture. After a meal he was ready to go again.
It was in the 90s in Indiana with high humidity.
Once again a stop in Eureka Missouri for fuel and John and I had a gator aid and ice cream.
After a while it looked like we were going to hit some rain so George pulled over and we suited up.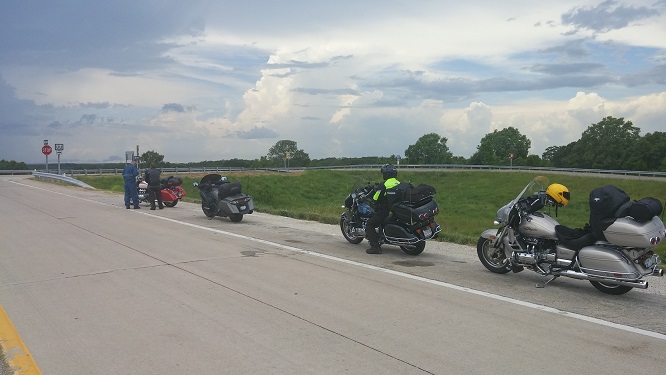 Weather is looking pretty bad ahead of us.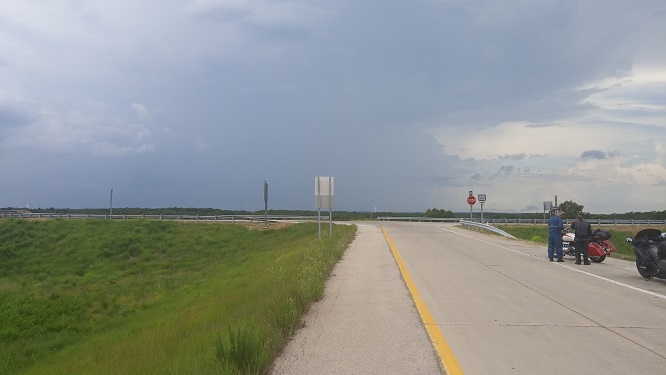 As it turn out we didn't get hit so hard with rain. Better safe than sorry though.
We made it all the way to Joplin MO to the Super 8 motel. We did a little over 600 miles but I had to do some laundry. John and Dennis joined me as the laundry mat was a few miles away. It was warm so we rode over in shorts and tennis shoes. It was almost a mistake because the weather closed in on us.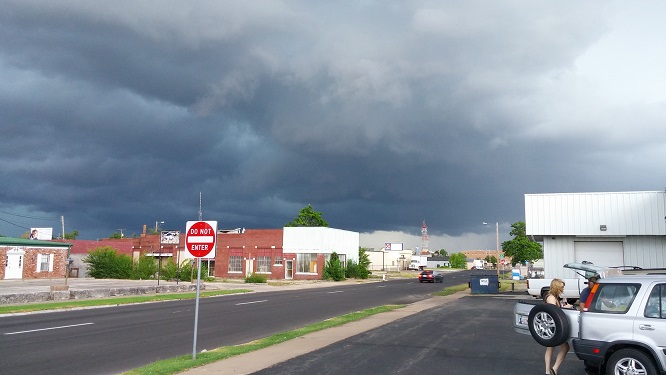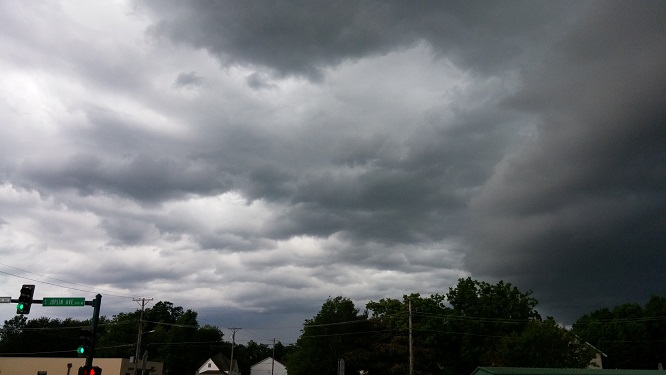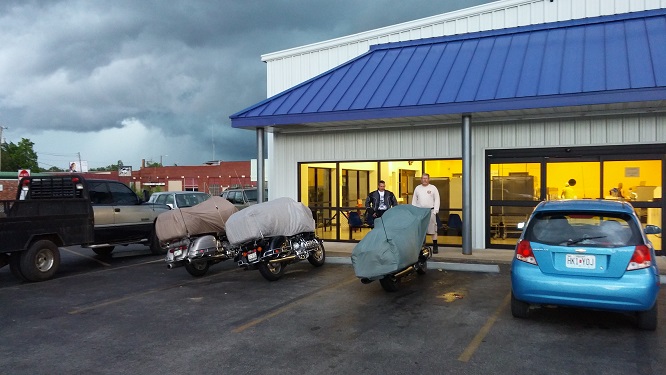 It really came down while we were doing the laundry. Thunder and lightning all around us. Fortunately it broke just about the time we headed back to the motel. So we made it back covered up the bike and went to dinner at Denny's. While eating it opened up again and just poured for about 45 minutes. It was pretty exciting for us but the locals said that this was normal for them.
Day 18
All along the trip George's bike just wasn't running well. He kept adding Seafoam to the gas but it didn't seem to help. So at dinner I said you know we never checked to see if he had a vacuum leak. The next morning I looked at his bike and sure enough one of the vacuum plugs was missing from the no. 5 carb intake. I put on a plug and boy the bike ran great. I feel bad I didn't think of it sooner and he didn't have to put in 30 bucks worth of Seafoam. But as John said "he has the cleanest carbs in the country". LOL
Our target for today is Tucumcari New Mexico. We might hit a bit of rain but the weather isn't to bad. We chose a route that although will be longer it will keep us off the toll roads of Oklahoma. It is route 166 across the bottom of Kansas. This route turned out to be just a wonderful ride thru cattle country and pastures. We stopped for gas in Cedar Vale KS which is a very small town.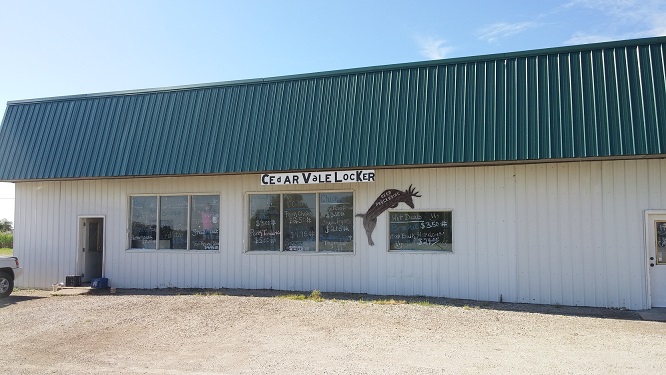 You can get your dear dressed out here.
And your gas across the street.
Next stop was Nash OK. just a gas station and nothing else. No store or restrooms.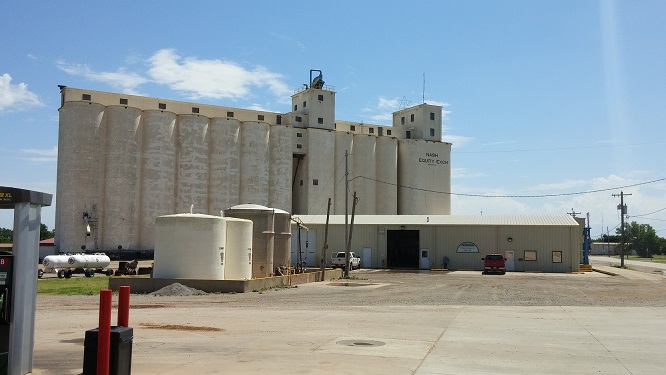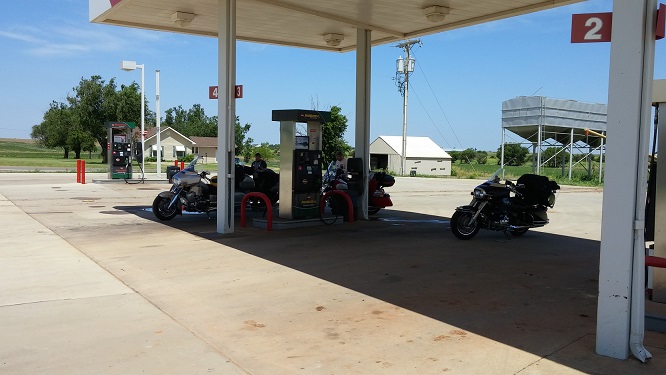 At least there was some shade.
We ate lunch at Ed's cafe in Shattuck OK which is yet another small town. The only other place was a Sonic drive in. I like to eat at the local places if possible and talk to the locals. I asked the fellows in Ed's what they do for excitement and he said that Ed's was about the extent of it. They had lived in the area all their lives. Cattle, farms and oil were the main forms of income. He said oil had slowed down a lot lately.
Hit a bit of road work coming into Amarillo TX but other than a little rain coming out of Joplin the weather had cleared nicely. We stopped at a Truck stop just inside the New Mexico border called Russell's Truck stop and Museum. What a surprise it was for this fellow Russell has this fantastic car museum on the property. You could spend a lot of time there if you wanted.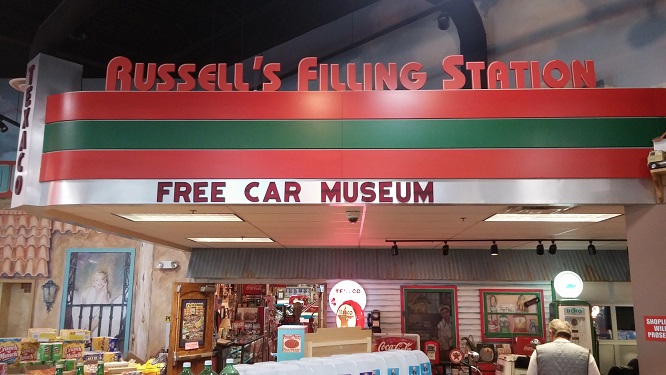 I took a lot of pictures but can't possibly show them all.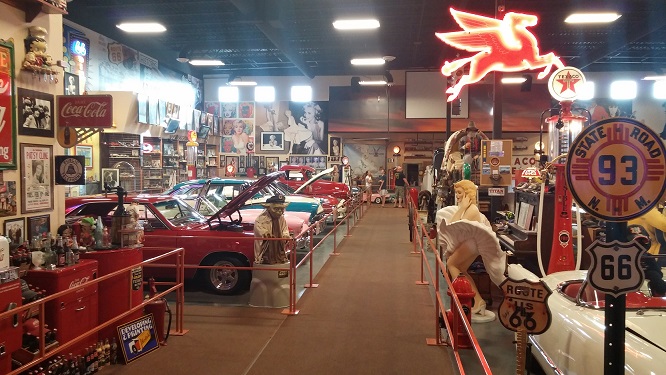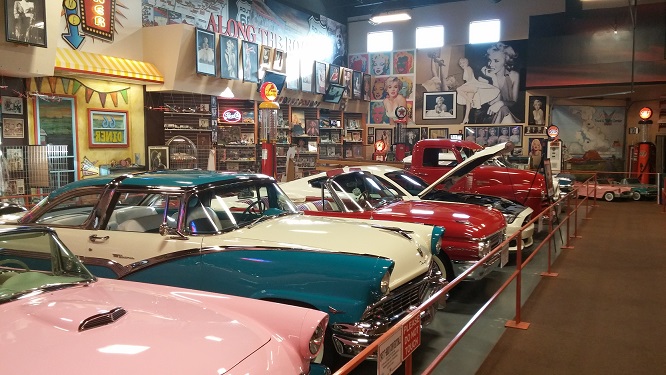 The fellow told me that this is just a portion of the cars Russell has. He rotates them out now and then as well.
Now we're off to Tucumcari for the night. It was just another 34 miles down the hwy from Russell's.
Day 19
One more long day and we reach John's place. Although warm it doesn't seem so bad as the humidity is lower. We have used our cool vests but only for a short time on our way back.
We stopped for gas in Gallup at the Navajo Travel Plaza. They had a couple of neat old cars on display as well.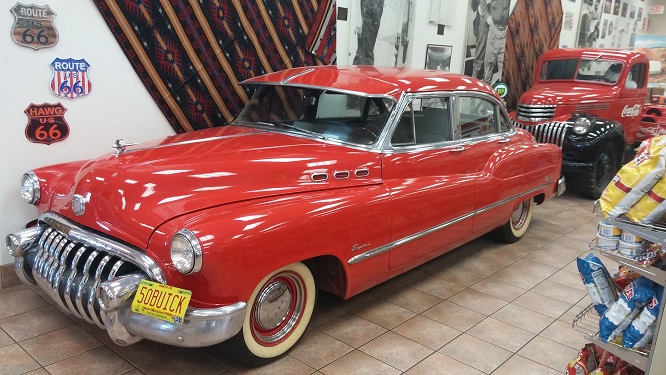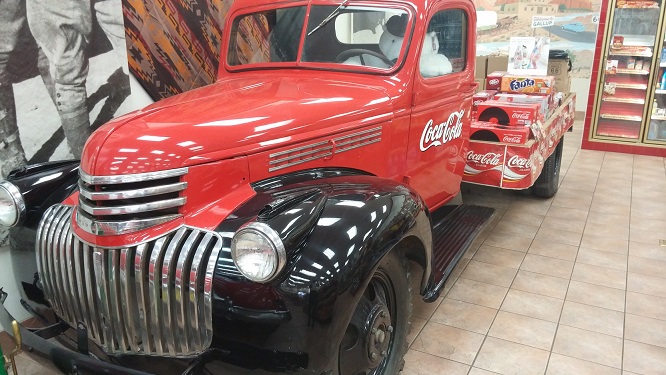 They has lots of fireworks as well. We didn't pick any up though.
I had a problem with my throttle grip rotating on my sleeve. John also had a brief fuel problem as well. So we pulled off to check it out and my grip would slide off. Well fortunately George had a hose clamp that worked perfectly to hold my grip on. John's bike just needed a break because it started up fine and ran all the way home.
When we reached Holbrook this is where George broke off with us to head for Phoenix. He took the more scenic route thru Payson to try and stay cool. I don't blame him it was going to be hot down there for sure. So we said our goodbyes and split off. It was great to have George join us on this ride. He was a great planner and fun to be around. I'll ride with him anytime anywhere. Thanks George for the great memories and fellowship. John, Dennis and I jumped back on the 40 to Ash Fork AZ to pick up the 89 hwy. We did make a stop in Williams for a break. That's just a neat little town for sure. Lots of tourist though.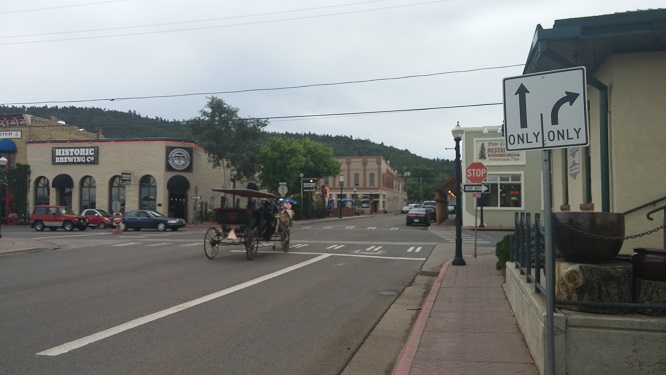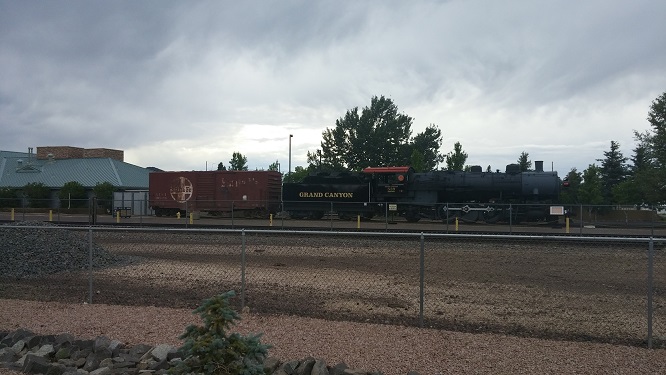 Now it's time for the run to John's place. We've been lucky today as the rain came thru ahead of us. You could tell as some of the roads were wet.
Got to John's around 6:45pm and pulled into his garage for a well deserved rest. Got off the bikes talked for a while with Donna then hit the showers. Boy did that feel great to get cleaned and cooled off. Donna made a nice dinner for us and we just relaxed all evening. Dennis and I stayed 2 nights with John and Donna and it was wonderful to just hang out with them. Giving my ass a break was nice too.
Day 20
Here's some of the view from John's property.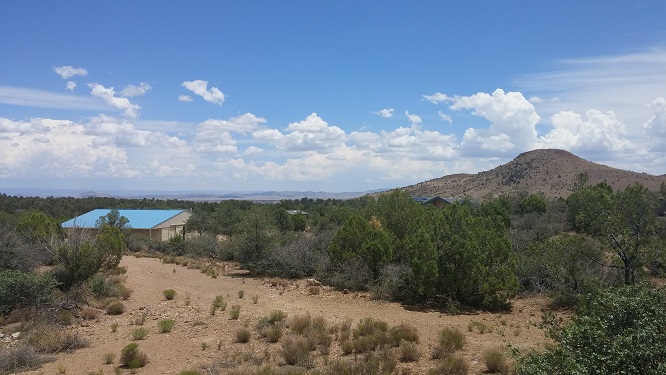 That's his barn in the fore ground.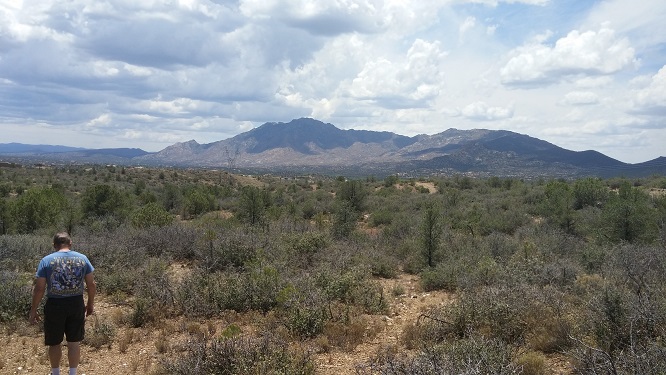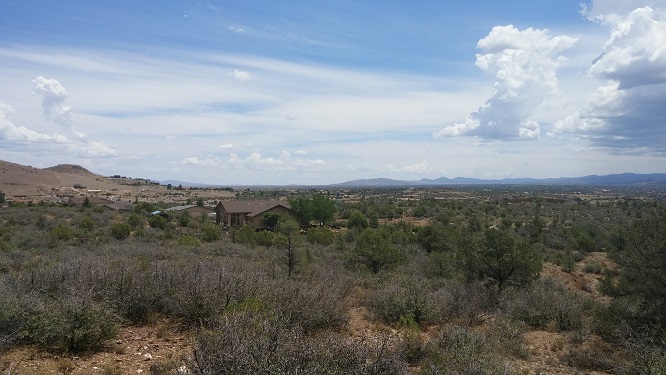 Beautiful in all directions.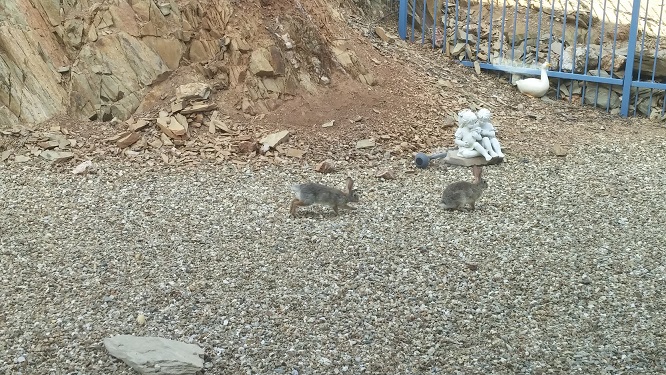 Donna has names for them all! LOL
Some of the wild life in his yard. We saw Bunnies, Quail, and many types of birds. He also has dear and coyotes and javalinas as well. It's a great place to retire for sure.
John and I have ridden together every summer for the last 4 or 5 years I think. We have put on many thousands of miles and I really enjoy his company. I want to thank John for joining me on this wonderful adventure and I hope we can do many more in the future. And thanks to you and Donna for opening up you home to me and making me feel so welcome. These memories will be with me forever.
Day 21
Dennis and I leave early to beat the heat into Blythe CA. We did hit a little rain going thru Scull Valley but that was about it. Here's a picture of us coming off Yarnell .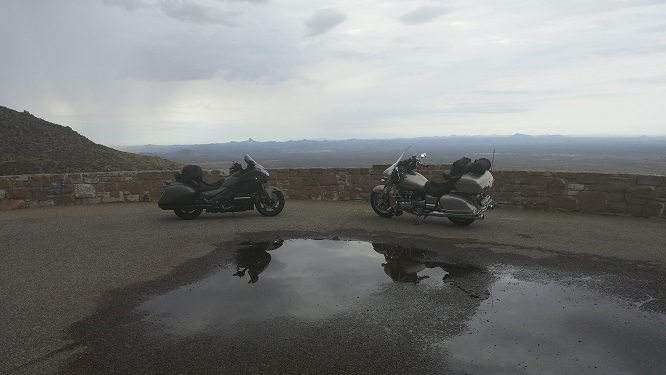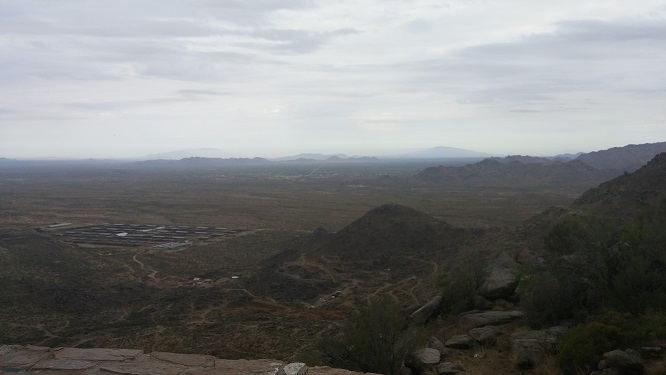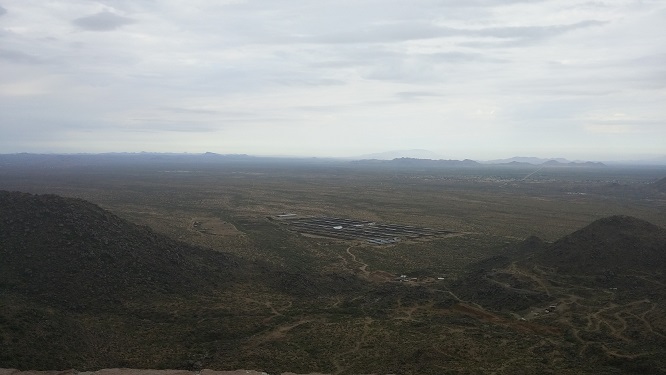 Nice and cool now, but from here out it's going to warm up fast.
We got into Blythe around 10:30am and it was already in the 90's. Dennis's house was cool and we both had a shower. It was pretty much just staying inside to keep cool and hanging out. Tammy came home and had pre made and nice Lasagna dinner for us. His daughter and grandchildren came by for dinner as well. His granddaughter Kristina is so cute. She invited me to her 5 birthday party which was so very nice of her. Thank you Dennis and Tammy for the hospitality and friendship. It was great that you were able to take the time off from work and join us on this ride. As with George and John I'll ride with you anywhere anytime. By the way we're all jealous of that F6B.
Day 22
It's an early start for me so I hit the road at 5am and it was already in the upper 80's. It's only 164 miles from Blythe my house so just about 2 and a half hours. I got in just before 8am after getting gas to log my miles and gas use. It's always great to get home but I'm already looking forward to the next ride.
I took over 300 pictures but it would be impossible to post them all.
This concludes my report and now for the stats.
18 states I rode in.
California, Arizona, New Mexico, Texas, Oklahoma, Missouri,
Illinois, Ohio, West Virginia, Virginia, Pennsylvania, Maryland, New York, New Hampshire, Maine, Vermont, Indiana and Kansas.
Now for some of our observations.
Beautiful grave yards in the middle of towns with schools near by.
Lot's of women mowing lawn on their riding lawn mowers.
Lot's of good roads but more bad because of freezing.
Lots of old buildings, 100 years + some really nice, some falling down around the owners.
Large churches, especially the catholic ones. Red brick with high bell towers. Many small old churches in 100 year old buildings.
Downtown Albany and Scranton sucked.
American flags everywhere.
Anywhere near a lake lots of old boats just sitting on the side of the road with grass growing around them.
Lots of Harley's at the ends of long driveways for sale.
Lobster rolls at McDonalds.
Many logging trucks who drive crazy.
Everyone is selling firewood at around $5.00 a bundle.
No Billboards in New England, Nice!
Everyone seemed to be smoking.
These are for my bike only.
Bike has 154,044 miles
Total miles 8060
Fuel used 218.6 gal.
Price for fuel $528.30
Avg. MPG 36.87
Lowest MPG 28.7
Highest MPG 43.5
Avg. cost for fuel 2.41 per gal.
Lowest paid 1.95 gal
Highest paid 2.59 gal
Motel cost $763.50 my half.
Cash spent on stuff and food $600.00
Total cost for trip $1,891.80
I'd say it's money well spent!
Southern California Event Calendar