GSVR NEWS
They Love the Valkyrie in Europe too!
SIZE DOES MATTER!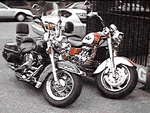 HONDA VALKERIE/6FC
Nicholas Frankl
European Correspondent.
Road Kings', Softails', Lowriders'. Harley Davidson's, don't you just love em? Not if you have ever ridden (or been a passenger) on a Honda Valkerie/ F6C. Simply put, there is no finer custom engine or bike anywhere in the world than this pure silk flat-six Goldwing derived unit and the torqueshaft driven chassis that allows this Godzilla of heavyweights to out perform and outhandle bikes half it's weight and size.
It's difficult not to be impressed just by the sheer size and proportion of the Valkerie, the bike oozes style, with lashings of chrome running from the handle bars to the three into one exhaust, enough even to embarrass a silversmith at The Queen's jewelers Asprey. The down side, or so you might think, is manoeuvrability or lack there of. Not so. Although weighing in at over 300kg and a meter wide, the Valkerie provides the more proficient rider (and some skill as well as thigh muscle is helpful) with excellent rideability. The engine provides power in any gear, the bike remaining highly stable at almost any speed and even whilst dicing with the town stuff, as I did for 10 days in London: What all this size buys you is Ferrari-like status and unbelievable street cred.
Kings Road is the "Cool Britannia" capital. Anything that moves, moves more slowly there then anywhere else in Europe - it's no good rushing as you can't admire the plentiful view, and it can't admire you, either. The three or so miles are clogged every weekend with all manner of hip machinery, but if you really want to get noticed, ditch the R1 and slide onto a Valkerie. Now, the UK readers will scoff at my remarks, as most bikers crave speed, agility and a name ending in "Blade". Embarrassingly for them, the Valkerie is as fast to 75mph as any 900cc crotch rocket. Flat out, I'm told 145 is not over ambitious, certainly with the seamless power band providing what feels like 100,000lb of torque I am not going to argue.
| | |
| --- | --- |
| Harley might though. They might suggest that Honda has just cherry picked it's components, bolted it all together so that it won't rattle itself back into component form (how beastly of them) and given the punter a comfortable long distance mile cruntcher that will go forever and look the business until one of those mighty asteroids does actually make Earth contact. Harley might even suggest that in doing so, Honda have eliminated the core values of real cruising. I think not. Jumping from 6FC onto a Heritage Softail, I just couldn't believe what hard work it was to Go, Stop and steer. Sure the bike looks good (if a little timid compared to the monster) but to turn a standard Softail into anything resembling a true performance competitor, you would have to spend many thousands on top of an already heady list price. | |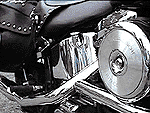 The US spec machine I rode was naked of any ancillary bits like, panniers or screen, both of which I would, sorry will, order for the Valk I buy. Apart from glowing indicators and "Made in USA" the bike was Euro spec although I suspect many more than the UK allotted 70 a year have arrived from overseas.
Once you get the hang of the size and riding position, which some found to be not perfect, the wrists taking too much strain, the Valk you either fall in love with and adore or not. But no-one is will be left indifferent. "I haven't lusted after a bike for 10 years" said a painter climbing off his '81 Moto-Guzzi, " but that is something else". He wasn't alone in admiration. More than once I had to wade through a crowd to get back to my transport.
But I think I'll leave the last word to a man who truly knows style and performance. Walking along the paddock at the Monaco Grand Prix I came across a black Valk and no less than Gerhard Berger, the former Grand Prix star and winner of 10 GP's. "I love it" he boasted in his wide Austrian accent, "with this engine, forget that Harley rattle shit, I'll never go back". He isn't alone.
Honda Valkerie/6FC

Engine          Liquid-cooled 12 v horizontally opposed 6-cylinder
Max Power       100 bhp at 6,000 rpm
Max Torque      100lb at 5000 rpm
Dimensions      (L*W*H) 2,530 * 980 * 1,185
Tyres           (very large) Front      150/80 - R17 72H - Dunlops
                             Rear       180/70 - R16 77H
Pwr/weight      0.32bhp/kg
Dry Weight      309kg