| | | |
| --- | --- | --- |
| valkyrie central | | |
---
January 8, 2005
Looks like something is shaping up for Homerville Ga.
Lunch at Jimbo's Log Kitchen and after that, whatever...
Jimbo's Log Kitchen
(912) 487-2142
600 W Dame Ave
Homerville, GA 31634
Folks will be coming from Florida and Georgia for some Q and all around good times. At this point it looks like nothing is very well organized (what's new about that with us) except the lunch quinine. People may be staying in Homerville, Valdosta and or Waycross. People may be taking a ride through the swamp park and they may not. Stay tuned to the VRCC Florida board for final details.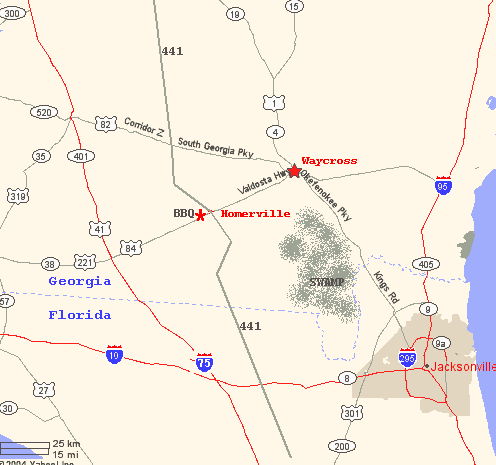 Waycross Tourism Bureau and Visitor Center
315-A Plant Avenue, Waycross, Georgia 31501
ph. 912-283-3744, fax 912-283-0121
Email- waycrosstour@accessatc.net
Comfort Inn - 1903 Memorial Drive, 912-283-3300
Days Inn - 2016 Memorial Drive, 912-285-4700
Hampton Inn - 1720 Brunswick Hwy, 912-285-5515
Holiday Inn - 1725 Memorial Drive, 912-283-4490
Jameson Inn - 950 City Blvd, 912-283-3800
Pinecrest Motel - 1761 Memorial Drive, 912-283-3580
Super 8 Motel - 132 Havana Ave, 912-285-8885
Coupon and Discounts
http://www.swampgeorgia.com/discounts.html
In Waycross, your group can explore the dark waters of the Okefenokee Swamp, visit an actual 1870's pioneer homestead, climb aboard a 1912 Baldwin Steam Locomotive at the Okefenokee Heritage Center, and catch a glimpse of "Stucky", the mummified dog at Southern Forest World.
Waycross and Swamp Information
http://www.swampgeorgia.com/index.html