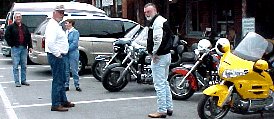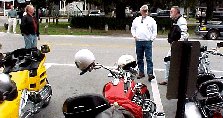 A small but congenial group made it through the cold and rain to gather in Micanopy Saturday.
Poor Red got drenched riding from Clearwater but along the way he picked up Bill who was on a futuristic Valkyrie. Bruce, on his trusty steed Ali, rolled in last but never least.
After parting company Pat and I stopped by the Ocala Honda dealer and saw, what I dare say very few have ever seen, a familiar looking 2000 Valkyrie standard, converted to a trike. See it from the front and the rear.