1st Inaugural Hoosier State Ride In a Huge Success!
By Paul Weber, state coordinator
That's the feeling I got on Saturday during the Inaugural Midwest/Hoosier Ride-IN! We (Scott Townsend, Don Smith and Joe Smith) had discussed the potential for a State Valkyrie Ride-IN on April 30th of this last spring (read more on this meeting)..
We decided it would be a good idea, and tried to compromise on a good location for the gathering and the ride itself. Since Indiana is a rather large state, north to south (I know, there's Texas, California, and others that are bigger, but we're here in the Midwest, where the law keeps us from going much past the double nickel in most roadways) we had to look for a central location to get the closest opportunity for the most people.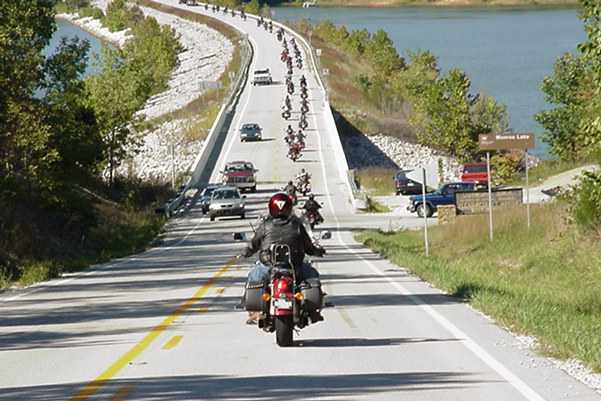 We decided Indianapolis would be a starting place, and later it was refined to Greenwood (south side of Indy). Then a ride destination was needed. Time was critical, so we wanted an hour out to the venue. Nashville, IN is an artist colony settled in the hills of Southern Indiana, with many interesting roads in and out, also near Brown County State Park, a fine place for short rides and scenery.
Scott sent announcements out to the Hoosier members via the listing from the VRCC and VOAi national sites, and we did get some responses back from a number of people requesting more information. We worked on the plans for the gathering and ride, and refined them as best we could. Scott kept saying "build it, and they will come!". I was leary, as I had heard from others about how hard it was to organize such an event, and get any real turnout.
Our first State organizational meeting was only able to garner the four VRCC members mentioned at the start of this article. We continued to post on the regional board, the VRCC calander, Competition Accessories pages and smaller posts on the general message board. After talking with oZ about some details and suggestions, I was more enthused and encouraged about the event.
Every day we had more responses to our posts and personal e-mails. I can't tell you how many late nights I spent sending messages to our membership to encourage attendance. We had set the date after checking to be sure there were no local college football games or other events to conflict with our group ride, and we also had to deal with weather. As it turned out, the weather was our nemisis! Weather reports were calling for clear skies (NO RAIN, but we had a rain date!), but we had cool weather. VERY COOL weather, as in RECORD LOWS (40 degrees in the morning). This kept several away, but not the dedicated!!!
>>Click on this link for the next page..
.