Calico Ghost Town - Accordin to Cactus Dale, "The SoCal Valkyrie gang is headin to town! Cover the hogs, the women, the chrome, and board up the windows!" The SoCal Valkyrie Gang has been seen lately slaughterin hogs, polishin thar 6-shooters, and raisin a ruckus in Arizona, and now thar a comin here. Rumor has it thar lookin fer the Harley Gang, fer trying to fence in the range. "If'n they find the Harley gang, the smoke is gonna fly."



Lill from Lill's Saloon says,"The Valkyrie Gang is the greatest, and they have the shiniest 6-shooters in these here parts! They'll rid us of the Harley Gang by using them shiney 6-shooters on em. Then we'll throw a shindig at Lill's Saloon the town'll never furget!"
November 22, '03
Pictures, Pictures, Pictures
The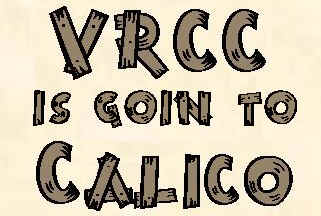 Sign Me Up Partner!
Join us as we sneak into Calico the less traveled trail in search of adventure, fortune, and the Harley Gang!
(No freeway will be used or harmed in the making of this ride, cept for a short gallop from Barstow to Calico)
Once we git thar, and pay our $6.00, we'll take over the town of Calico, and then we'll have us some cowboy chow!



Made by lovely Lill's hands at
Lill's Saloon!
So git yur hats & spurs out, and polish yur 6-shooters!
Thars gonna be a show-down!