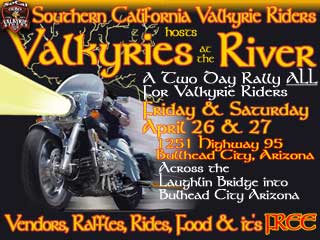 River Ride Central
Click on the Banner for the Site Map
The Road Map is Below
We Have A Place All Picked Out In
Bullhead City
It has restrooms and everything (well a big bush & easy access to the river for the 2nd Annual Across The River or Die, Captain Webb Memorial Swim).
What more could a Valkyrie Rider need?
Shade, you say....Nearby!
Rest Rooms, you say....We Got Em !
Gasoline, you say....Just Down The Street!
Something to Slake Your Thrist, you say....We'll Have It!
Plenty Of Valks & Valk Goodies to Oogle At, you say....OF COURSE!
A Place To Rest Your Road Weary Bones & Some Shade So You Can Stop
Workin' On Your Tan For A Bit, you say....Well NOW, You're Askin For Alot,
BUT WE'LL HAVE IT!
Where is this Parking Lot of Paradise Known as
River Ride Central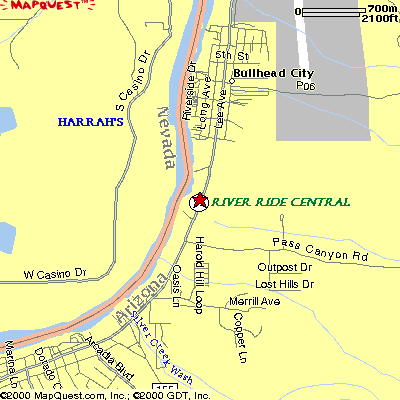 1251 Highway 95
River Ride Central is about a mile from the Best Western on Hwy 95.
When you get to Pass Canyon Road, you've gone too far. ( It's almost across the river from Harrah's.)


CAT Specialties & VMC Will Be There With More Good Stuff Than You Can Shake A Valkyrie At!
This is where we'll have the
BBQ
6pm

Friday's BBQ is being provided by
Slow Dance Chuck Wagon & BBQ.
Al (the BBQ Guy) Will be serving
Tri-Tip or Chicken Breast or Steak
Along with a Spear Pickle
& Choice of Salad or Cowboy Spicy Beans
Complete meal: Approx. $8.50
Bring Your Own Chair

& Where the 1000
Ride Down Main Street
&
Ride to Oatman
Will Begin & End.
River Ride Central
The Valkyrie Meeting Place!
Got a Suggestion on How We Should Be Doin' This - Contact the Laughlin Lads
Southern California Event Calendar
Southern California Valkyrie Riders